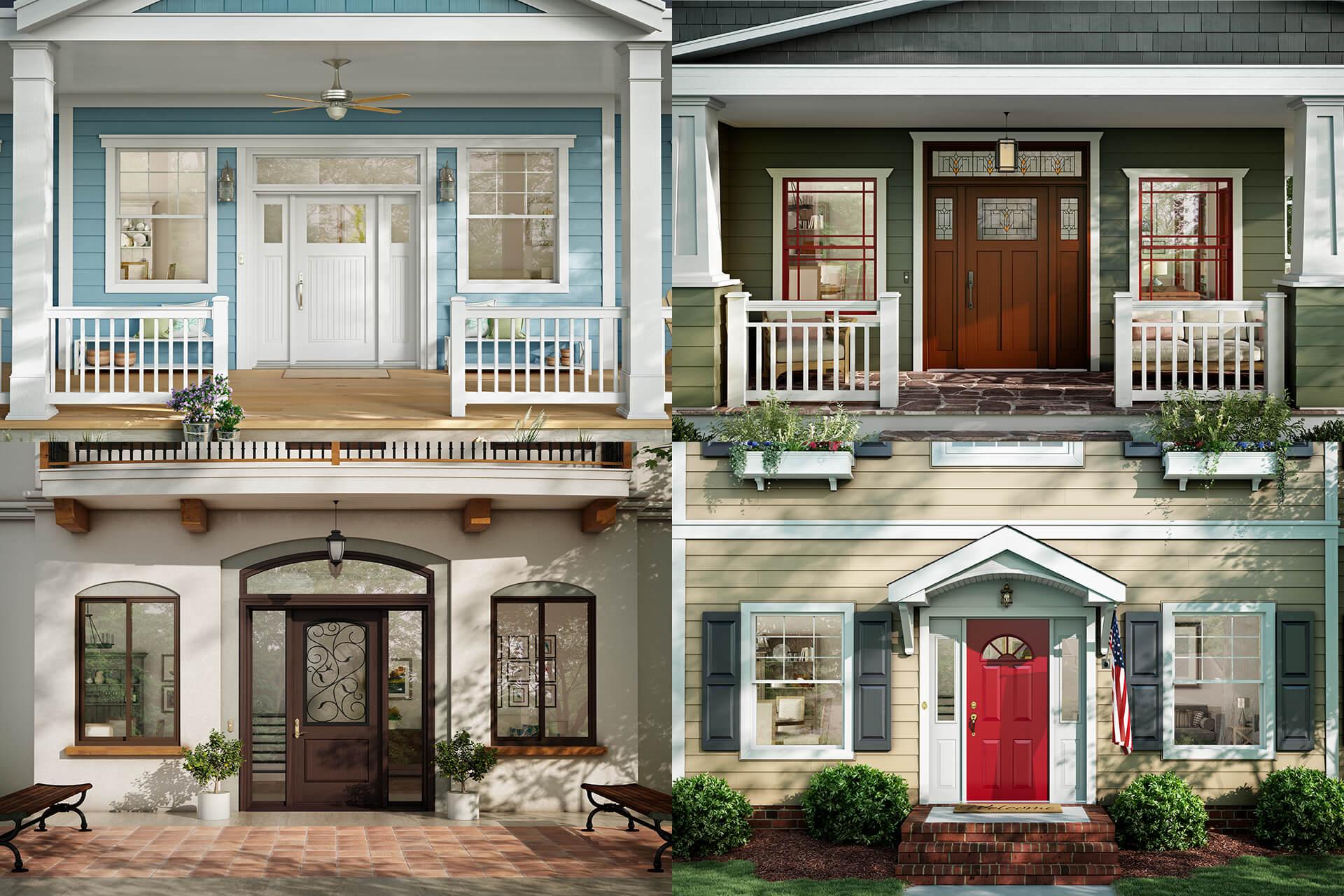 Get to know the most popular home architecture styles.
What draws you to your dream home? Is it form, or is it function? The home style that clicks with you may reflect those facets of your personality that make you who you are. Take a look at six of America's most popular home styles to see where you fit in.
Victorian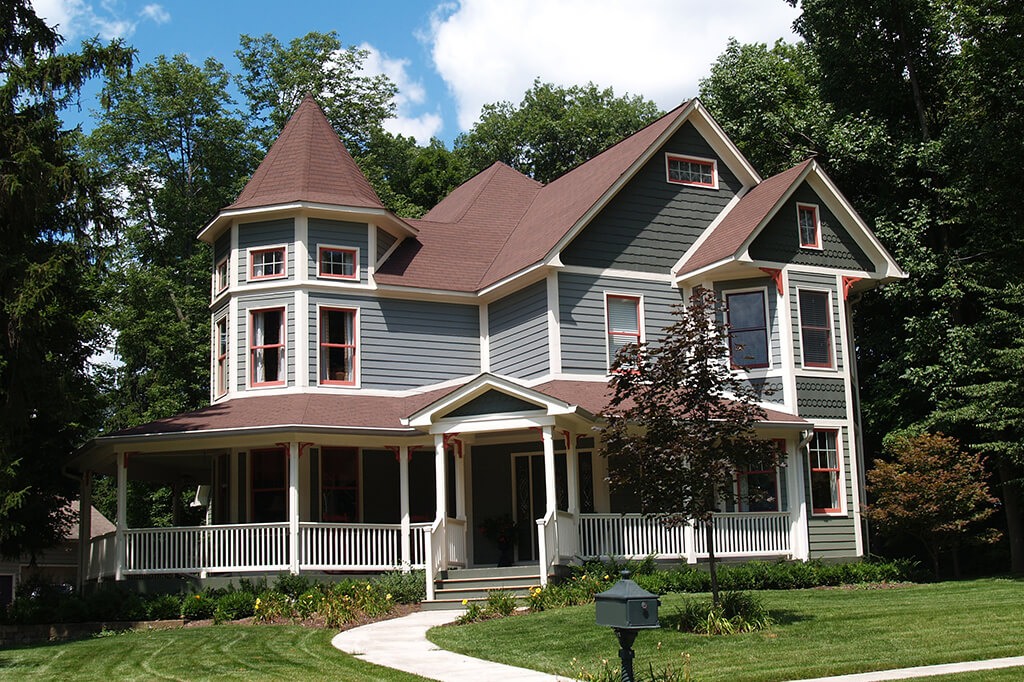 Well, aren't we fancy! If Victorian architecture is your choice, it's safe to say there's nothing subtle about you. You're a true romantic with an eye for intricate beauty.

These ornate home designs date back from the time of Queen Anne and Queen Victoria and are often reminiscent of frilly dollhouses or multi-tiered wedding cakes. Victorian-era homes stand tall and proud, usually two or three stories. They have steeply pitched roofs, octagonal towers, or turrets with pointed roofs. They also feature bay windows and a mix of different finishing textures and trim. Many have wraparound porches with entry doors featuring stained glass windows. To top it off, they are often painted in a variety of pastel shades to highlight each of the trim techniques.
Inside, these homes often feature high ceilings, ornate staircases, and more intricate wood trim. You may often find floor plans with nook areas such as butlers' pantries and window seats.
If you lean toward the Victorian style, we bow and curtsy to your refined taste.
Craftsman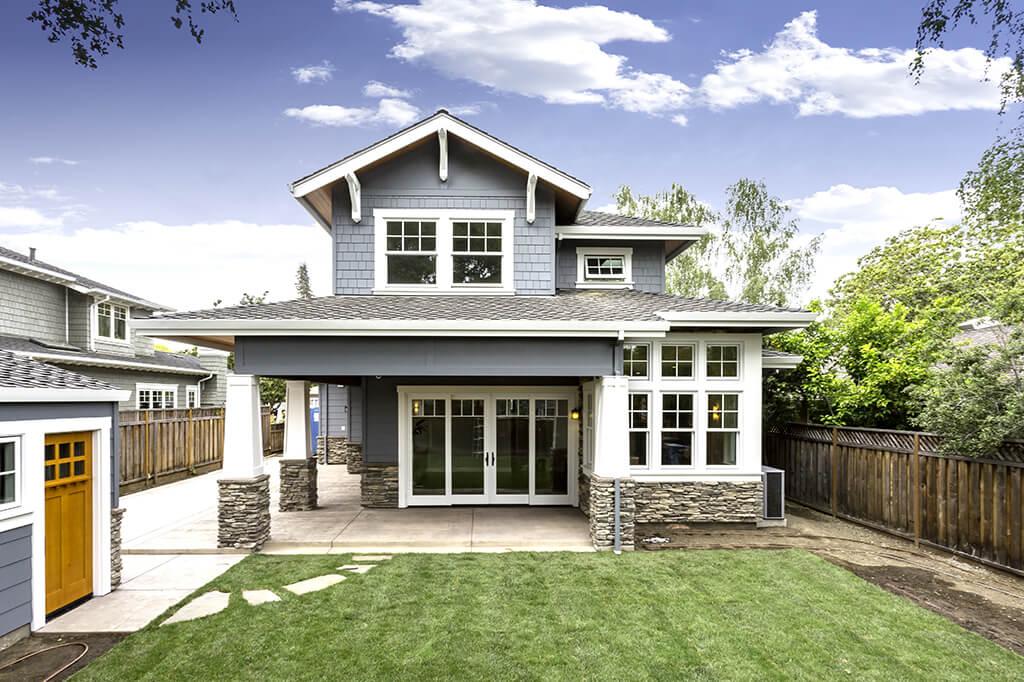 Practical and down to earth, you enjoy a relaxed vibe that emphasizes the beauty of simplicity. The American Craftsman movement evolved from the British Arts & Crafts architectural style around the turn of the 20th century, and it reflects a feeling of strength and longevity. This smart design inherently knows that you would appreciate a fully stocked built-in bookcase next to the fireplace.

The Craftsman movement is credited to Gustav Stickley, a furniture maker who emphasized simplicity in form, use of natural materials, and honesty in construction. His magazine, The Craftsman, published house plans in the early 20th century that promoted "superior design for the average person."
The popularity of the Craftsman bungalow has endured more than a century due to its cozy practicality and smart livability. The over-extended eaves of the Craftsman's triangular, low-slung roofs keep moisture away from the home and lend themselves to large front porches with thick, tapered columns, adding an outside living area that is fresh and inviting. Generally clad in wood, you'll also find many with stucco accents. These homes are usually one or one-and-a-half stories, compact, but full of charm.
Interiors are marked with thick, plain wooden trim around doors and windows, boxed ceiling beams, and fireplaces flanked by bookcases with windows above. Original Craftsman homes are designed to be small, with intimate living spaces, so open-concept floor plans of newer homes in this style can lose some of the natural authenticity.
Like a well-worn pair of jeans, Craftsman home lovers feel comfortable and right at home the moment they step in.
Traditional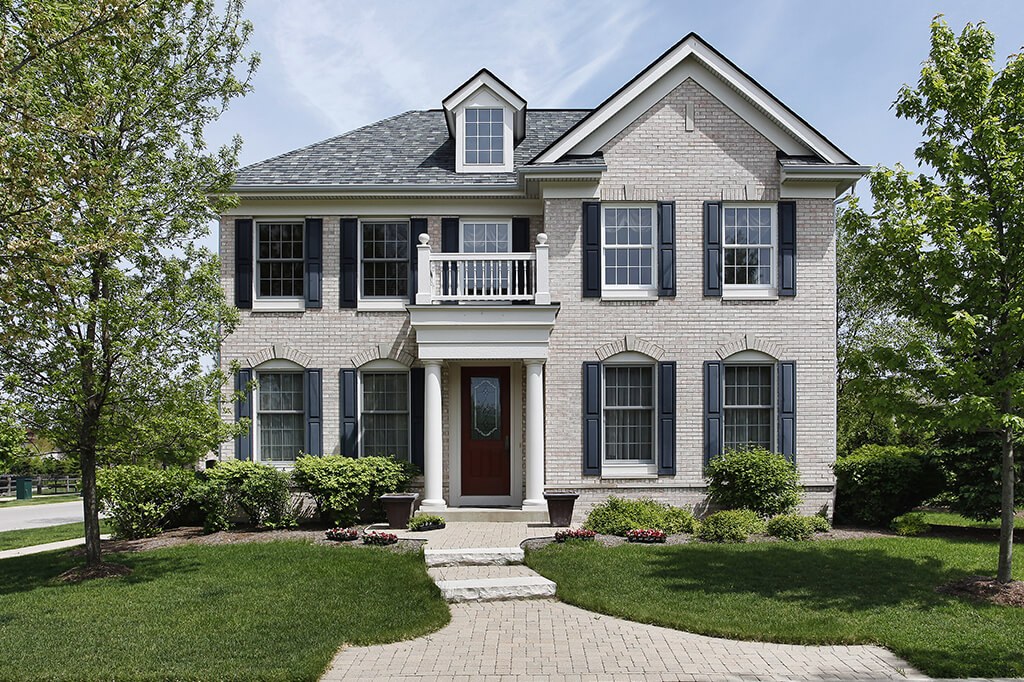 You're a classic. You know your style, and you aren't likely to waiver from it. Why stray from what looks good on you?

Traditional houses are defined a little differently by everyone. Traditional is often the style that you were raised with as a kid. Two-story Colonial homes with an entry foyer that may extend to the back of the house, flanked by a living room on one side and a dining room on the other, often come to mind. There are also Cape Cod, Country, Federalist, and Dutch Colonial designs included here, but Traditional usually follows a more historical attention to detail.
Although newer homes may look traditional on the outside when they actually offer open concepts inside, true traditional homes usually include a formal living room and a separate dining room, hardwood flooring, and a traditional staircase leading upstairs from the foyer. You'll find classic molding and wainscoting throughout. Bedrooms are typically on the second floor.
Traditional exteriors are usually brick or siding, with double-hung windows and entry doors with sidelites and transoms. They may also feature dentil molding and traditional louvered shutters.
Like a simple string of pearls with a little black dress, traditional architecture always looks polished and never loses its charm.
Learn more about Traditional home style.
Farmhouse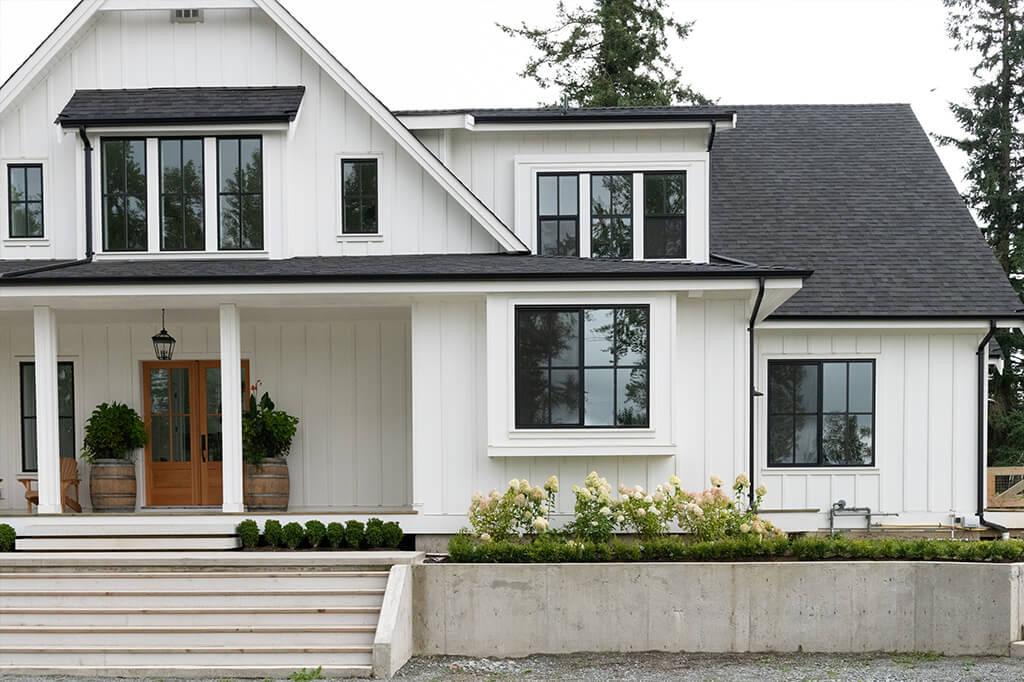 You don't mind getting your hands dirty, as long as you can wash up in a classic, deep farmhouse sink. And you love entertaining in the kitchen with everyone gathered around the island, chopping vegetables and sipping wine. This is where practical meets pretty, with clean simplicity and informal fun.

The great resurgence in Farmhouse style gets its roots from the rural homes of the Midwest. Generally, set miles away from bustling towns and cities, Farmhouses are self-described as built to house farmers and their families. But today, these homes can be found in busy neighborhoods and feature lots of open interior space, with wide-planked floors and expansive windows to view the crops – or just the kids in the backyard. Décor usually includes lots of white walls, rough-hewn beams, reclaimed wood open shelving, and shiplap.
The steep rooflines can feature gables and dormers and often are constructed of metal. Sided in wood or vinyl — sometimes with vertical panels— these homes have a multitude of large windows with dark trim. The porches or wraparound verandas may feature wood floors, and often the porch ceilings are painted in a soft sky blue. Just add a porch swing or daybed for lazy afternoons of sipping lemonade before a quick nap.
Your farming skills may only involve a few pots of geraniums or herbs growing in the kitchen windows, but your style appreciates a welcome feel where happiness grows.
Learn more about Farmhouse home style.
Modern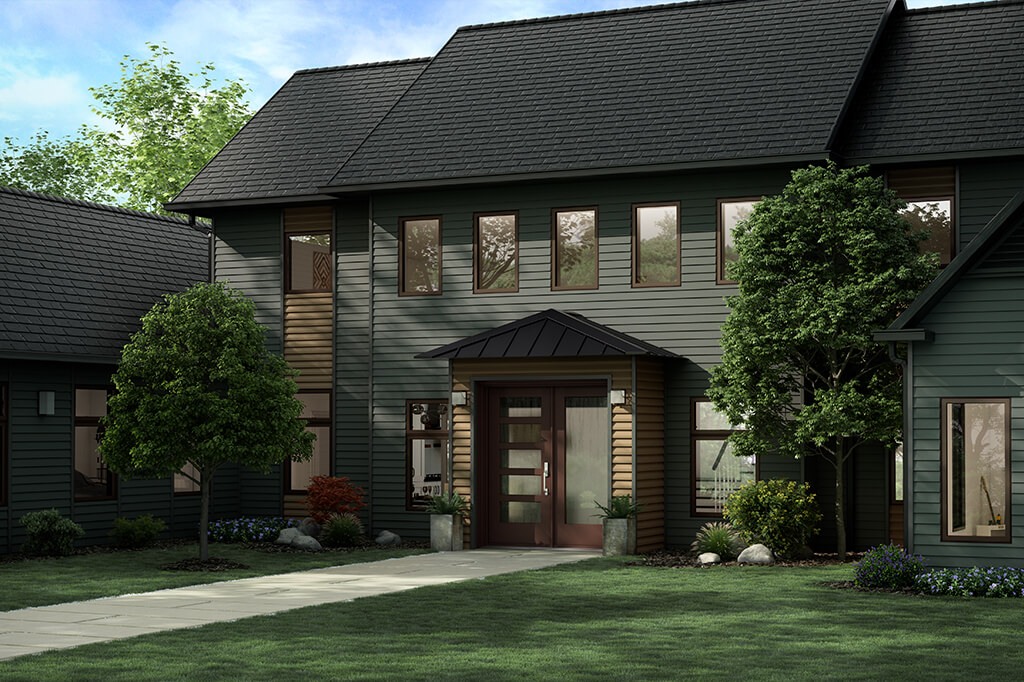 You have a taste for the sleek and sophisticated. Clean lines, dramatic backdrops, touches of chrome, and expanses of glass make you feel right at home. You have no patience for clutter or frills.

The definition of a Modern home is broad, from mid-century modern to a concrete industrial vibe to simple cubism. Siding can be created from almost anything wood, rock, concrete, or stone, but windows are almost always the largest surface. They make the most of the outdoor setting and, at night, cast a chic glow that allows a glimpse of the interior. Entry doors and garage doors often feature rectangular glass panels with little additional ornamentation.
Inside, pops of color can counterbalance the use of stark white and black. A lack of ornamentation within the architecture allows furniture and artwork to claim center stage. The simplicity of casement or sliding windows and doors keep everything dazzlingly clear.
As a modern enthusiast, you have an appreciation for the cutting edge and a flair for the dramatic. You love a good "Ta-Da!" moment that entertains and thrills.
Learn more about Modern home style.
Southwest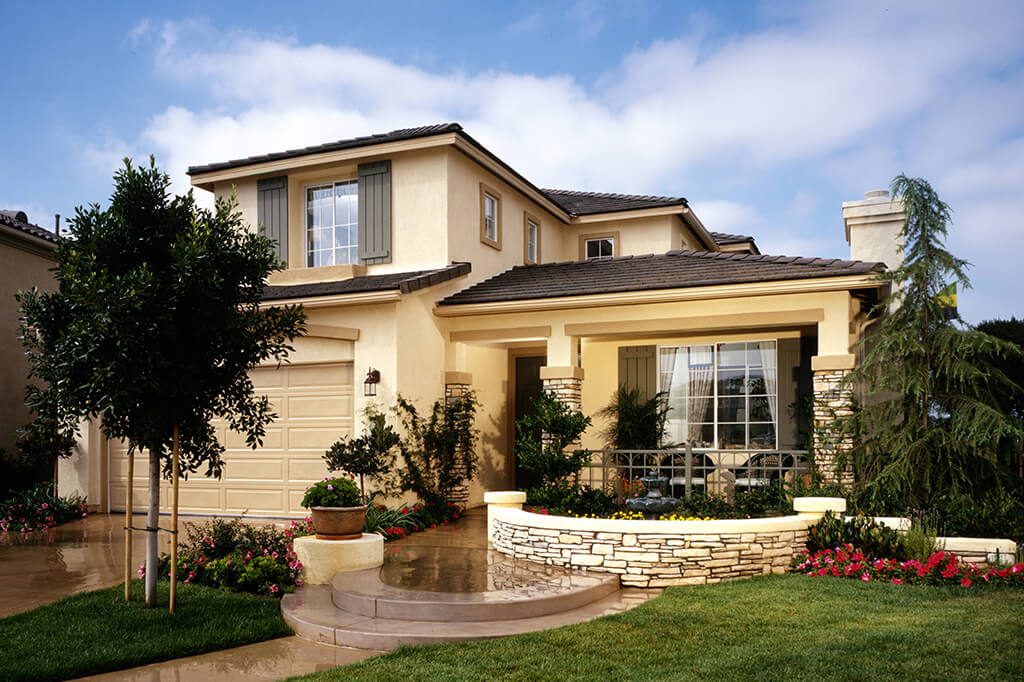 You lean toward the exotic with an earthy appreciation for the natural environment and the warmth of the sun. No wonder you like to be surrounded by a style that also reflects natural warmth and old-world character.

Southwest home architecture encompasses Mediterranean, Spanish Mission, and Adobe designs. A few key characteristics include the use of stucco, stone, and wood, both inside and outside the home. The distinctive red tile or flat roofs, wrought iron railings and gates, archways, and flower-filled courtyards tie these homes to the natural landscape.
Inside, you'll find rough-hewn beams, terra-cotta tile floors, large fireplaces, and open living areas. The simplicity of the designs and natural textures lends itself to the use of brightly colored woven rugs and overscale furniture. Deep-set porches are accessed by throwing open the hinged patio doors, extending the living and entertainment space outside. Characterized with a certain barefoot elegance, your Southwestern style is somehow equal parts relaxed and refined.
Learn more about Southwest home style.
When you're ready to discuss some remodeling ideas, Window World will be there. We're committed to serving you in good times and bad. Your health and safety are our number one priority. As an alternative to in-home quotes, we are now offering free consultations virtually or by phone. Contact your local Window World store to learn more about the best option to meet your needs.
---