Back to Blog
Holiday Decorating Ideas to Wow the Neighborhood
Ready to get started?
Window World offers free in-home consultations! Click below to schedule today!
Get started!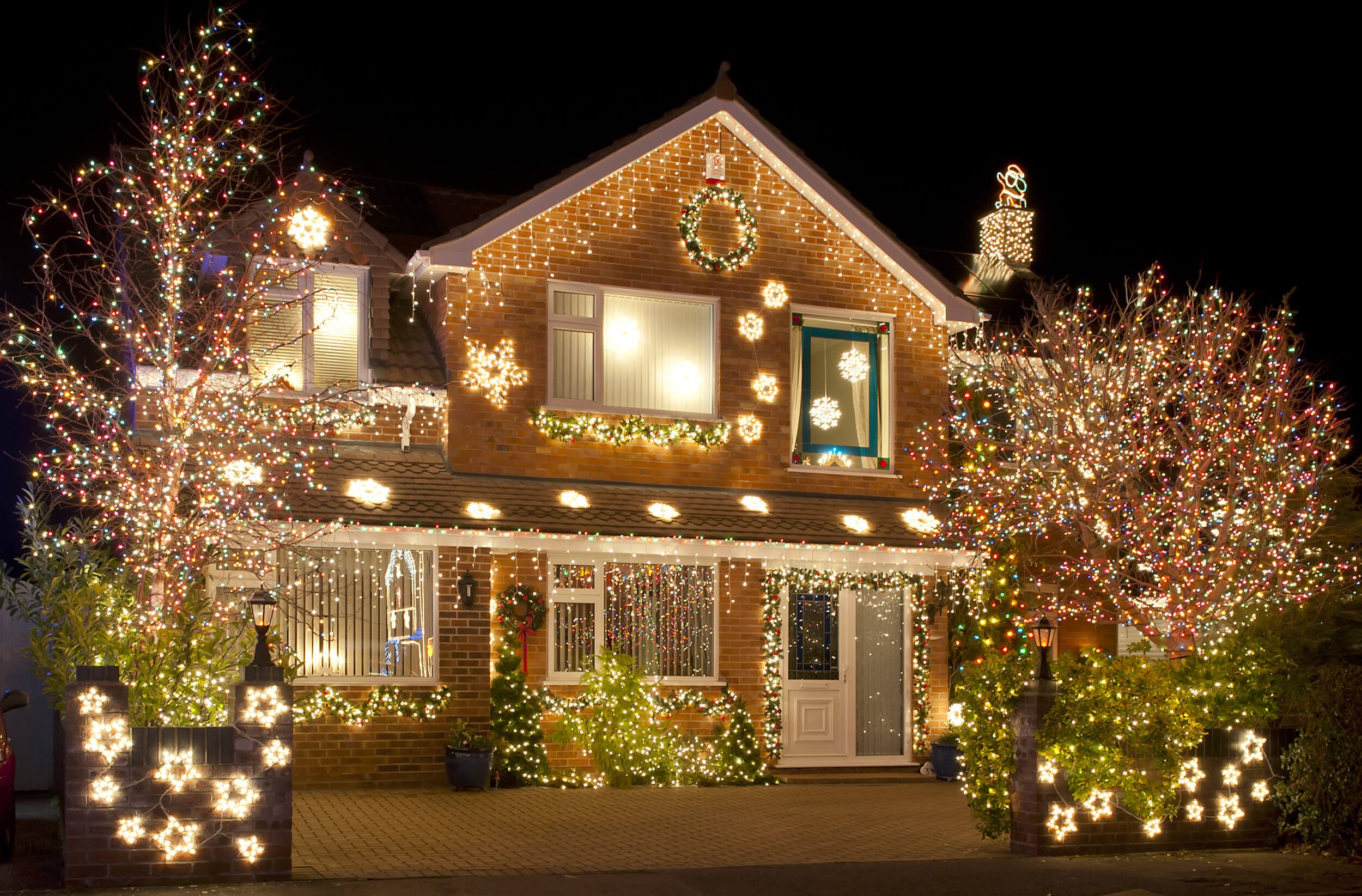 Send your holiday best to the neighborhood and everyone passing by with outdoor holiday decorations that bring smiles, glad tidings, and holiday curb appeal. Whether you prefer to create a front yard winter wonderland with twinkling white lights or go with a bright and vibrant color palette for your outdoor Christmas decorations, you have a lot of options when it comes to decorating your home for the holiday season.

Let's stir the imagination with 7 holiday decorating ideas to give your home's exterior a festive feel that will make it the envy of your street.
1. Start with a clean slate
Before you bring out the holiday decorations, spend time cleaning the outside of your home to make it sparkle. Get autumn leaves cleared away from the lawn, sweep spiderwebs off the porch, power wash your vinyl siding, and clean up your entry door and windows. This is a good time to touch up any trim paint and repair weatherstripping; you might even consider a new door paint color. (Red works year-round!)
Now that your home's exterior is all clean and pristine, stand back from the house and consider the big picture. Do you want to put all the focus on the front door? Or do you want to spread the holiday joy throughout the yard and onto the garage? Will you cover every tree, bush, and roofline with Christmas lights? Or go a little more subtle with a traditional wreath and candles in the windows? When it comes to your outdoor holiday decorations, let your personal style shine through.
Next, grab your outdoor extension cords and let's get started.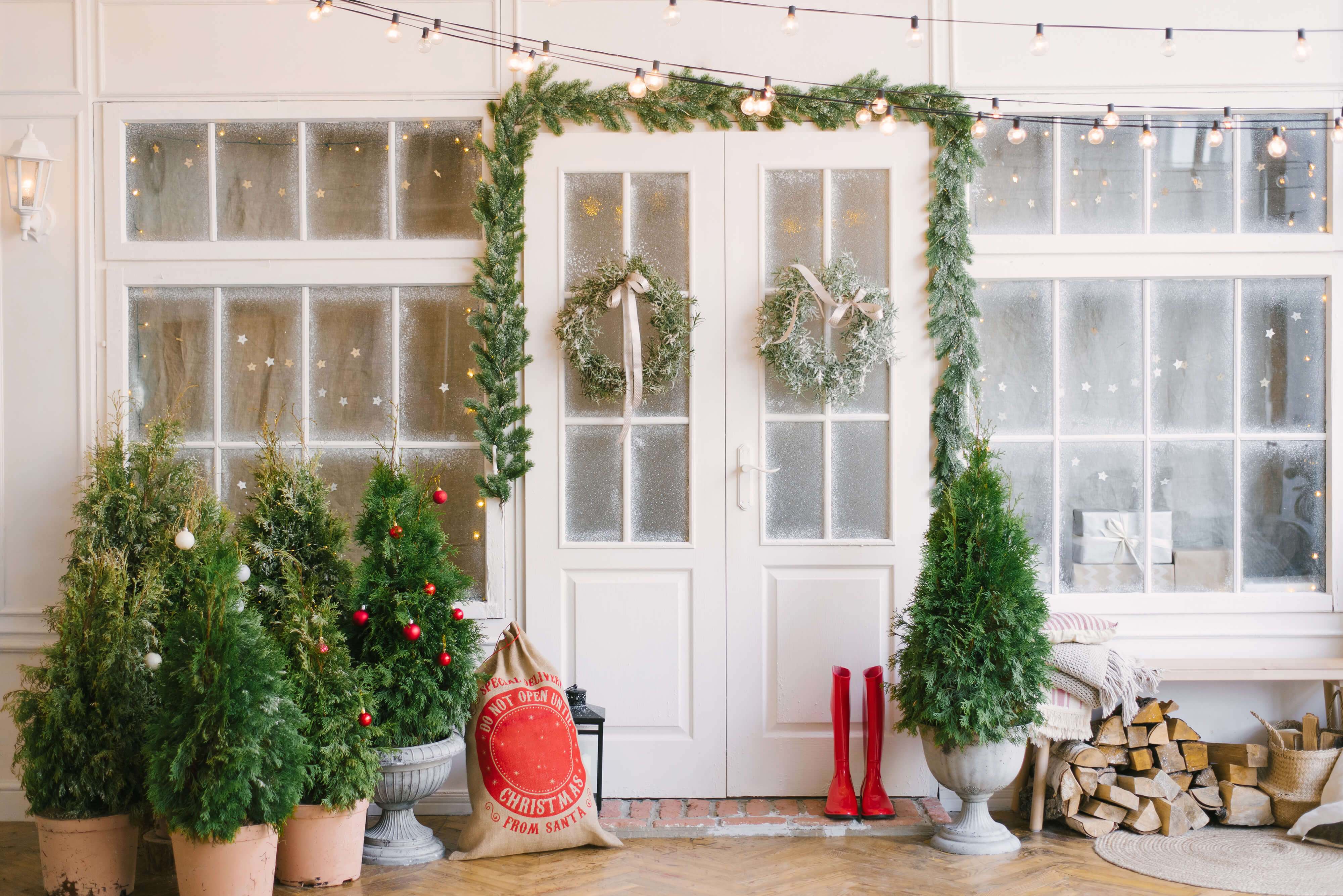 2. Holiday decorating ideas for your front door
One of the easiest ways to turn your front door into a grand entrance is to put a spotlight on it. Focus a floodlight on the door area, and voila, anything you put on your door will look important and bright. If you don't want to plug in a spotlight, you can get solar-powered floodlights that are low-cost and simple to setup wherever they will produce the greatest effect.
Wreaths – whether assembled from real pine, magnolia leaves, or homemade items – say welcome to all. There are plenty of wreath ideas, tips, and tricks out there for holiday design inspiration.
Maybe you prefer to hang a basket filled with poinsettias and holly, a few sparkly holiday decorations, and pinecones. Or hang that old pair of ice skates you found in the attic on the outside of your entry door with a bright bow. Add some antique sleighbells or bright jingle bells for a festive musical tune each time you open the door. Your entry door should give a little hint as to the personalities of those within.
If bells aren't your thing, you could instead surround your doorframe with a garland of real or faux evergreens accented with lights. You can embellish a garland with glittering gold and silver holiday decorations or pinecones and red berries.
3. Create an inviting holiday front porch
Treat your front porch as a welcoming living room with touches of comfort and charm.
Flanking the front door with lighted matching potted evergreen shrubs makes a beautiful traditional holiday display on any front porch. Your planter ideas can vary from formal planter boxes to containers made from metal buckets, rustic crates, or ceramic or plastic pots. After the holidays, the evergreen shrubs can be planted in your yard and the containers repurposed by filling them with flowers in the spring to decorate your porch.
If you'd rather not purchase plants, you can create a spectacular arrangement from scraps and faux items. Snip some evergreen boughs from your yard or go to your local Christmas tree lot and ask for extra discarded boughs cut from tree bottoms. Arrange them in a planter or pot with magnolia boughs, eucalyptus sprigs, gold-painted twigs, and faux red berries as holiday porch décor. Trim with a bow and a few lights and congratulate yourself — how pretty!
If your front porch is large enough to include seating such as rocking chairs, add some festive holiday pillows and a cozy throw. Put a Christmas tree in a galvanized bucket and place it in a corner with lights and unbreakable decorations.
Drape porch railings in greenery, lights, and bows, or wrap pillars in red ribbon for a candy cane effect. Add lanterns with battery-powered candles along a stairway.
Vintage touches such as an antique wagon filled with wrapped boxes or wood skis wrapped in a bow can create an authentic nostalgic ambiance for your front porch this Christmas.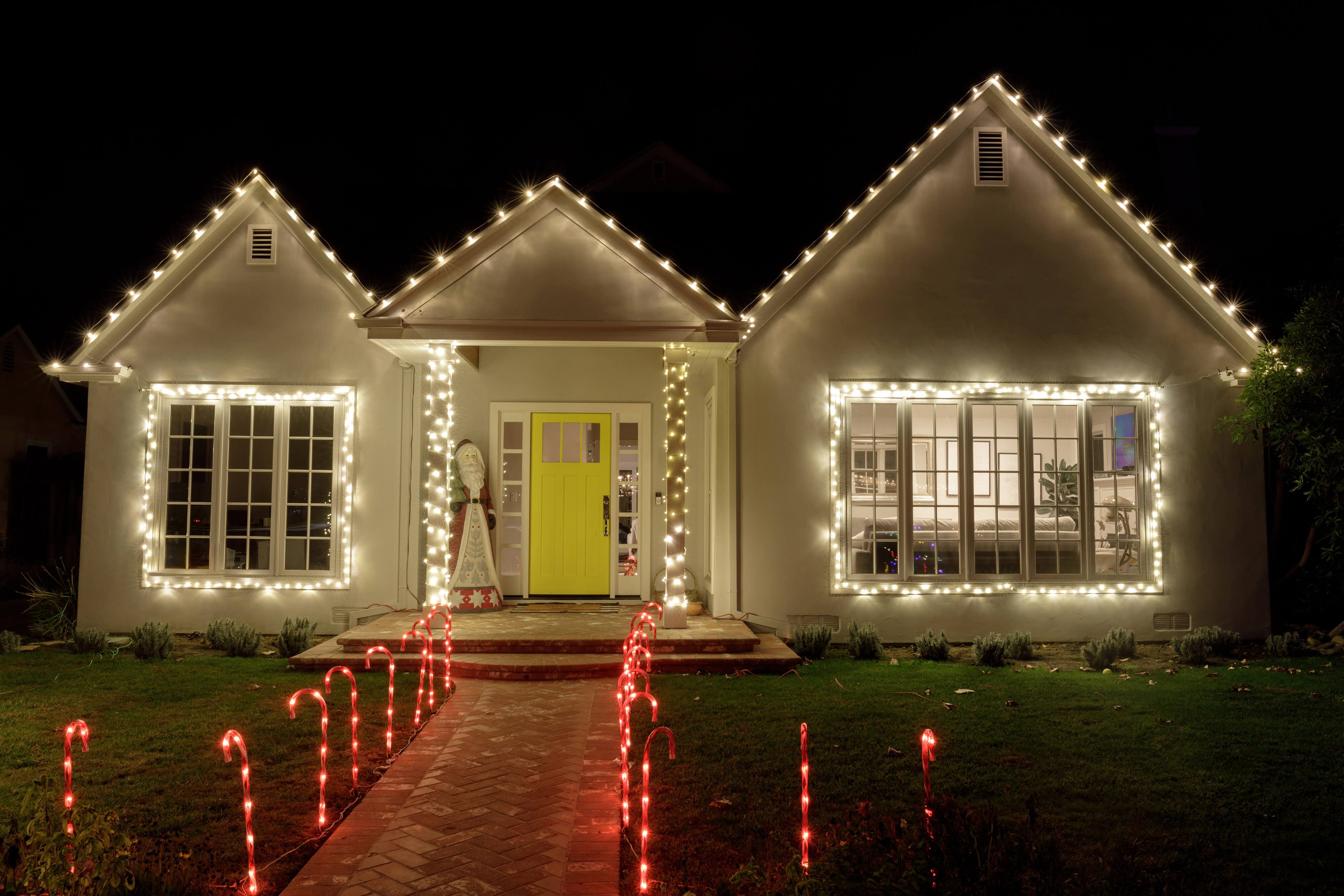 4. Give the walkway the red-carpet treatment
Adding solar lights along your front walkway can do double duty to add a festive touch and safe passage at night. Add extra curb appeal by incorporating some candy cane decorations to produce an even more festive pathway.
Simple luminarias made from white paper bags filled with sand and tea light candles add a heavenly glow to your path. Or a trail of votives filled with battery-powered candles on timers works beautifully, too.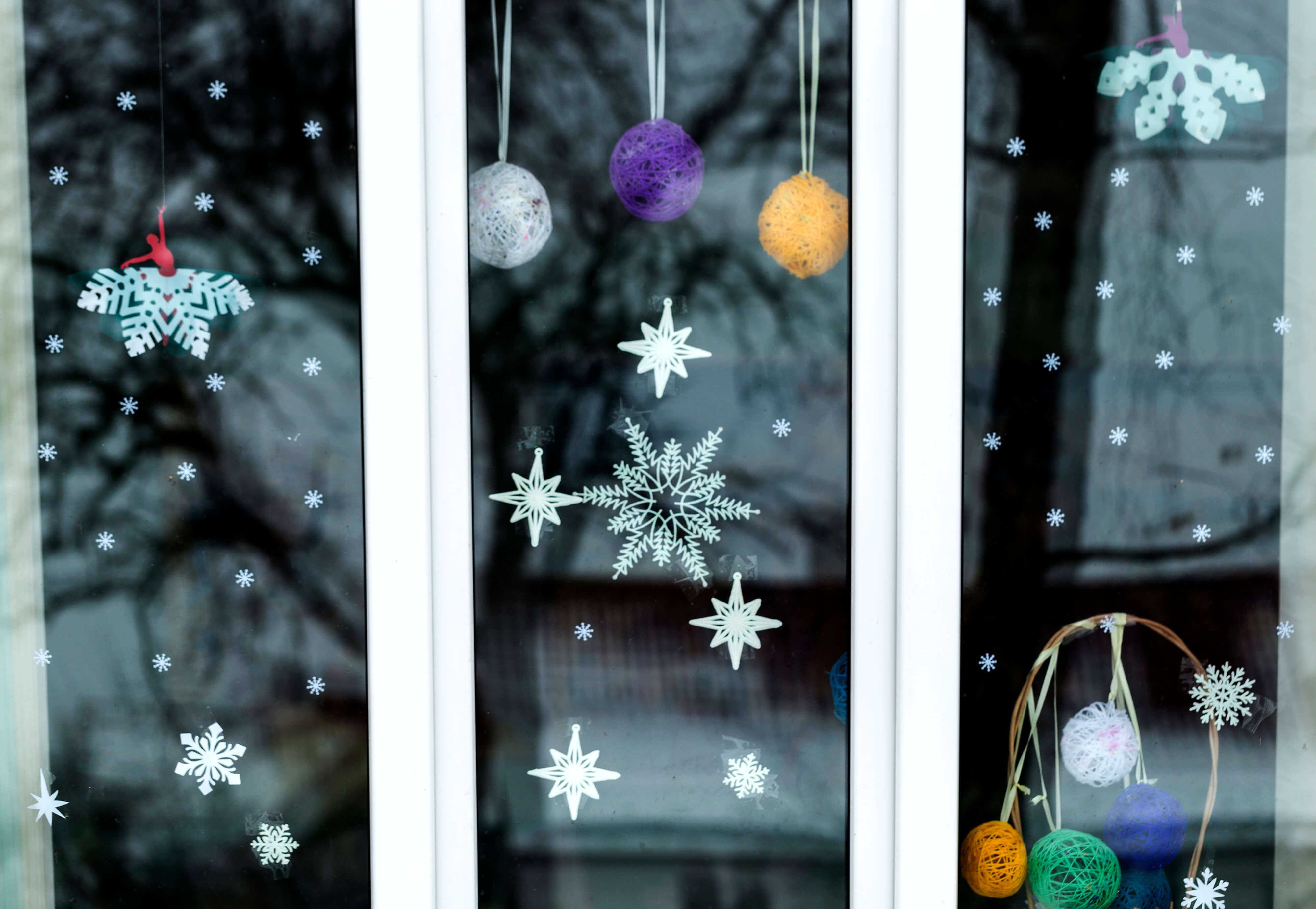 5. Holiday window decorations
There is nothing more classic than a simple candle in the window at Christmas. But there are endless ways you can decorate your windows for Christmas and the holiday season that you'll be able to enjoy indoors and out.
A few oversized ornaments hanging inside from fishing line attached to the window trim can add sparkle, especially if you have a big picture window, bow window, or bay window. Let the kids help by making cut-out snowflakes that can be scattered across the surface of the glass.
Adding outdoor wreaths with bright bows to double-hung windows makes an elegant statement. Invest in a set of lightweight faux evergreen wreaths that can be easily secured year after year.
Don't forget to give attention to your window boxes. This is the season to fill them with evergreen cuttings, real or faux berries, pinecones, and bright holiday decorations. Hang a garland on the front of the window boxes or place pre-decorated swags to elevate your holiday design. And never miss an opportunity to add more twinkly lights!
6. Garage door holiday decorations to showcase
If you have a front-facing garage door, take advantage of this prime holiday decorating surface. You can find a plethora of garage door holiday decorations in the form of magnets, vinyl decals, lights, and mural display banners on shopping sites such as Amazon and Wayfair.
Looking for a holiday garage door decoration that's a little more classic? How about hanging a wreath above your garage door or garland greenery and lights along the door frame?
7. Don't forget the holiday mailbox decorations
Extend your holiday cheer all the way to the curb by decorating your mailbox and post with evergreens and festive bows. Whether you paint the box itself or cover it with a lush swag of ornaments, you can make the daily trip to your mailbox more fun, no matter if it contains holiday cards or bills. If you really want to jazz things up, make your mailbox look like it goes straight to the North Pole. Add sparkly red garland, a cover that says "Letters to Santa," and decorate the mailbox flag to look like a candy cane with red and white stripes!
Your friends at Window World wish you a joyous holiday season.
Whether you choose to greet the holidays with a carefully crafted display or delight the little ones with giant inflatables, we hope your home is filled with cheer this season. We're always ready to help you with any exterior remodeling ideas you have, including ENERGY STAR-rated windows, entry and patio doors, beautiful vinyl siding, new garage doors, and more. Schedule a free consultation and quote with the experts at your local Window World store.
---