Back to Blog
Do-It-Yourself Wreath Ideas for Those Who Are Crafty ... or Not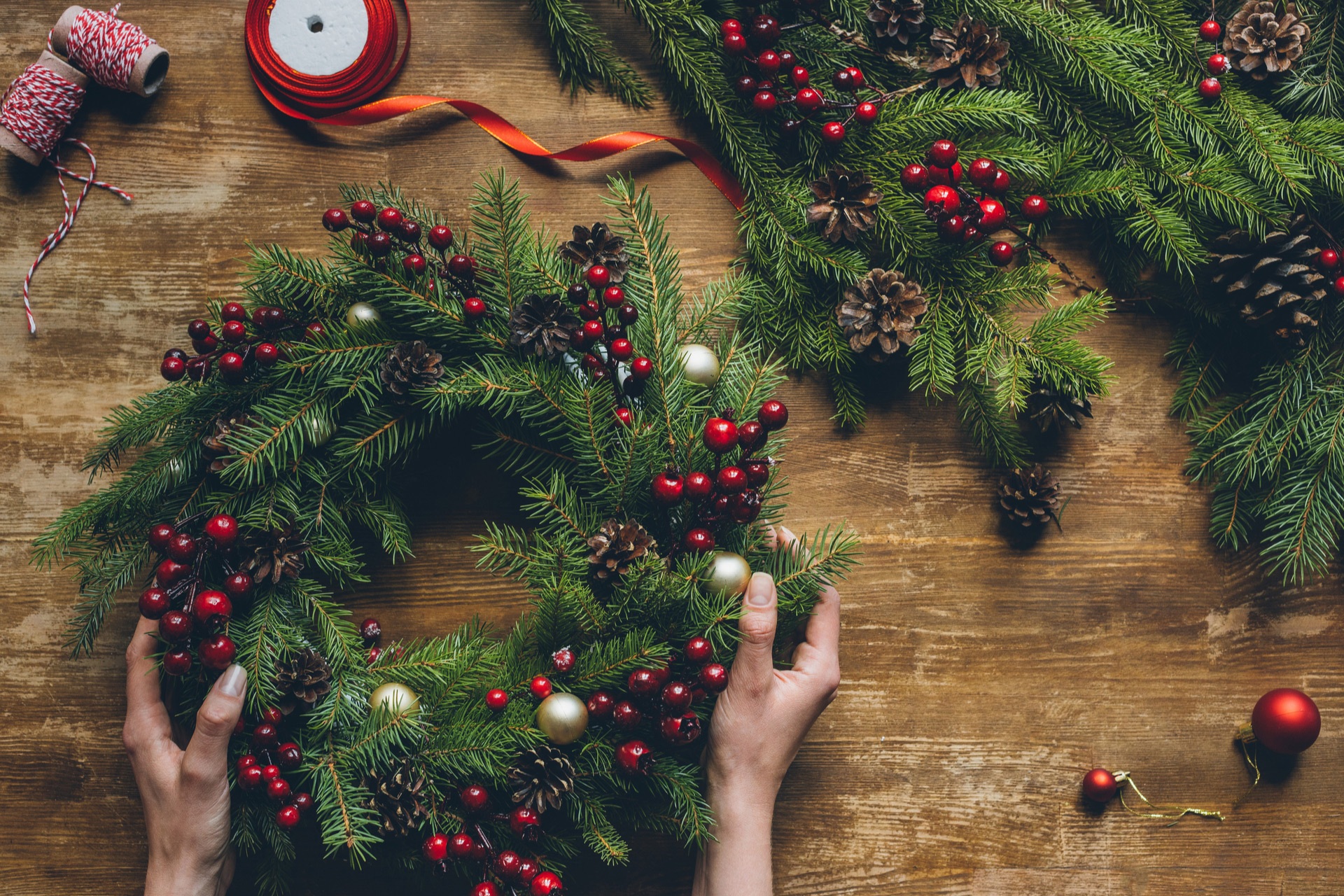 Armed with a hot glue gun and a festive spirit, you can dress your door in style.
They're here! The holidays are upon us. What a relief after this year of hibernating, to come out and say, "Hello! Be happy!" And even though we may not be in the position to invite people inside just yet, we can still put a beautiful sign on our door that says precisely that.
A look into the history of wreaths shows that they date back to the ancient Romans and Greeks. Through the ages, they have come to represent the circle of life, strength, and good luck.
Whether you enjoy a DIY home décor project that starts from scratch, or you're looking to transform an existing wreath into one that will reflect your unique style, there's an endless array of ideas for you to choose from.
First things first: look at your entry door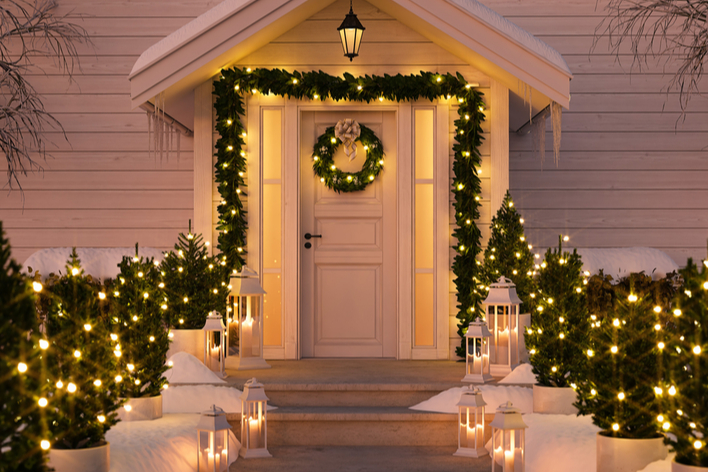 Below are a few things to consider when determining the size, color, and materials you need to get started:

Is it a solid or paneled door?
Is it made of steel, fiberglass, or wood?
Does it have window insets?
Does it have sidelite windows or a transom window above?
Is it a double door?
What color is your door?
Do you have a storm door that would cover a door decoration?
Now let's look at a few ideas to get you started ...
Dark door? Bright wreath!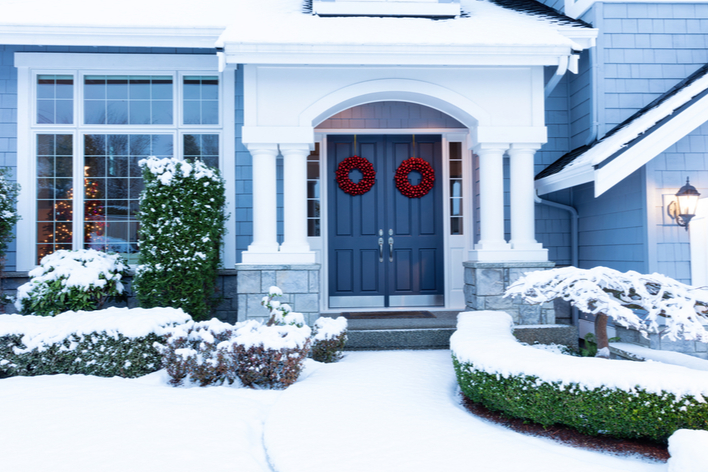 It's frustrating, but it happens. You buy or make a fabulous wreath, and it disappears when you hang it against your door. This is particularly true for wreaths made of traditional greenery set against dark doors. This year, consider a colorful design.

One idea would be to make a simple, circular cardboard wreath base from those shipping boxes you've been recycling. Cover with flat-style ornaments, like snowflakes or stars. Better yet, put those boxes to further use by cutting out star shapes or making handprint templates of the family's hands. Then, go wild with spray paint and glitter.
How about gluing lightweight, unbreakable ornaments to a foam wreath form? It's a great way to use old ornaments you may no longer want to hang on your tree. When placed together in a wreath design, they can be a fun and festive work of art. Remember, we said, "unbreakable." You don't want to have an ornament come loose and smash if the door slams. A breakable version is better used somewhere safe inside.
Don't forget to illuminate your wreath at night. If your entryway doesn't supply enough light to show it off, give it some help with some extra lighting.
Storm door solutions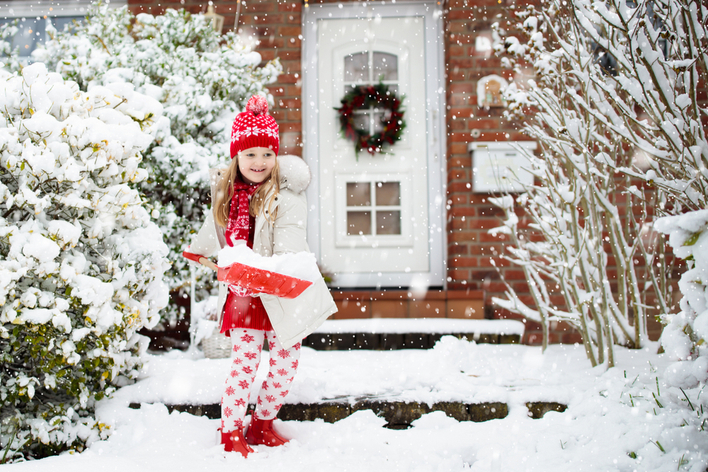 You want the protection and energy savings of a storm door, but you don't want it to squish or cover up your wreath. The solution is to hang your wreath on the outside of the storm door. You may even like a two-sided wreath that you can see from both the outside and inside of your home.

Hanging your wreath could be an issue, however. You don't want to break the energy-efficient seal by using an over-the-door hanger. Look for double magnet wreath hangers that can hold as much as 10 pounds.
If you have a double-paned window, make a lightweight wreath and hang with a suction cup hook. Styrofoam or cardboard (as mentioned above) is your friend when weight is an issue. Cover a simple Styrofoam wreath form with colorful pompoms or even Styrofoam balls to make a snowball look. Simply wrapping the form with a tinsel garland, striped, or plaid ribbon can make an impressive statement, too.
Double door? Split the difference.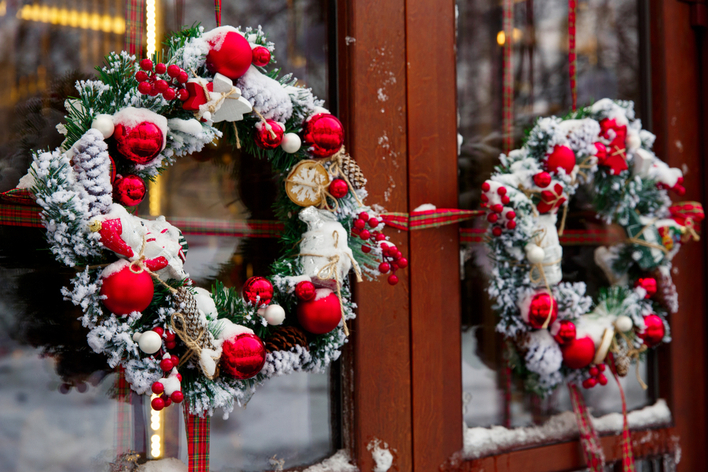 Double doors make a grand entrance, and your wreath selection should be just as grand. So, as you plan how to make your wreath, remember you need to double the process. Twin wreaths are twice as beautiful and worth the effort.

Another fun option is to hang two halves of an oversized wreath on your doors. Split or two-piece wreaths make an impressive statement and give a feeling of enveloping those who enter in the holiday spirit. You can create the wreath by cutting a wreath form in two, or you may have better luck purchasing an oversized wreath and carefully cutting it into two pieces.
Greenery at your window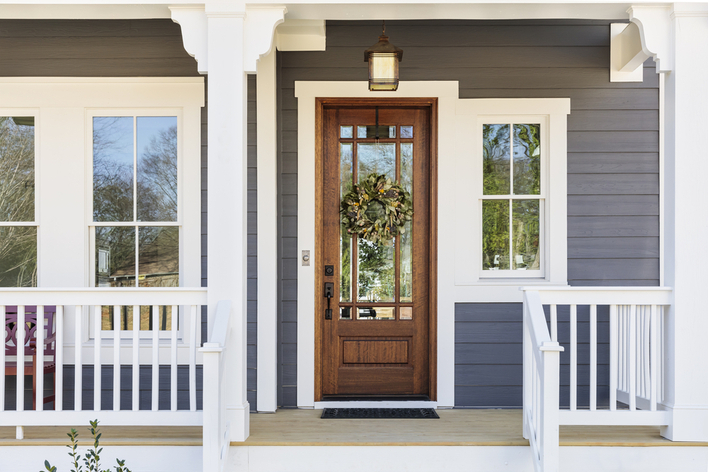 A traditional evergreen wreath is a cherished sight at the holidays and looks wonderful on doors with multipaned windows. Natural pine wreaths add a lovely scent to the entryway but can also drop needles as the season lingers on. Purchasing a natural wreath gives you lots of DIY options to dress it up. Add some other evergreen pieces you may have in your yard, wire in some pinecones, and then trim with a few shiny ornaments or wind a simple beaded garland around it.
Nothing says Southern hospitality like a magnolia leaf wreath. The shiny green leaves are sturdy enough to last through the season and beyond. You can combine the leaves' bright green upper side with the soft brown undersides to make a pretty pattern. Or spray the whole wreath with gold paint for a glamorous touch. See some tips on creating a magnolia wreath here.
How to make a wreath bow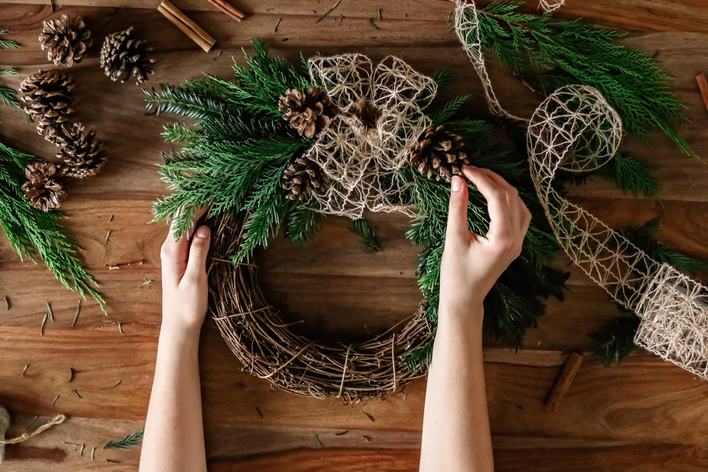 Probably the simplest way to add style to a homemade wreath is by adding a bow that reflects your personal taste. Craft stores have hundreds of wire ribbons to choose from, and you can combine two or more coordinating ribbons in different widths to make a knockout bow that completes the wreath with no other detail.

Create a big, fluffy wired-ribbon bow yourself with just a few quick twists and ties using this step-by-step tutorial.
Tips and tricks to hang your wreath:
Once you've completed your wreath design, there's the trick of hanging it securely. You don't want to find your hard work scattered and smashed on your doorstep. You also want to be sure to hang it at the right height.

The height of your wreath depends on its size. Take a look at Ballard Designs' height chart suggestions to get things just right.
Heaven forbid you should make a nail hole in your beautiful door! Popular over-the-door wreath hangers can draw attention away from the wreath itself. But you can find many gadgets that will hold a wreath securely, including double-sided adhesive strip hangers, Velcro, fishing line, and the aforementioned magnet hangers.
Find even more wreath-hanging tips from Martha Stewart here.
Your door says so much about you
It's fun to express your creativity through wreath design and other holiday décor at your entryway. If you've considered an entry door replacement, talk to the professionals at Window World. They're here for you now with a free consultation virtually or in your home. Contact your local store for more information.
Window World wishes you health and happiness this holiday season.
---