Back to Blog
Seasonal Window Box Ideas That Make a Statement Year-Round
Ready to get started?
Window World offers free in-home consultations! Click below to schedule today!
Get started!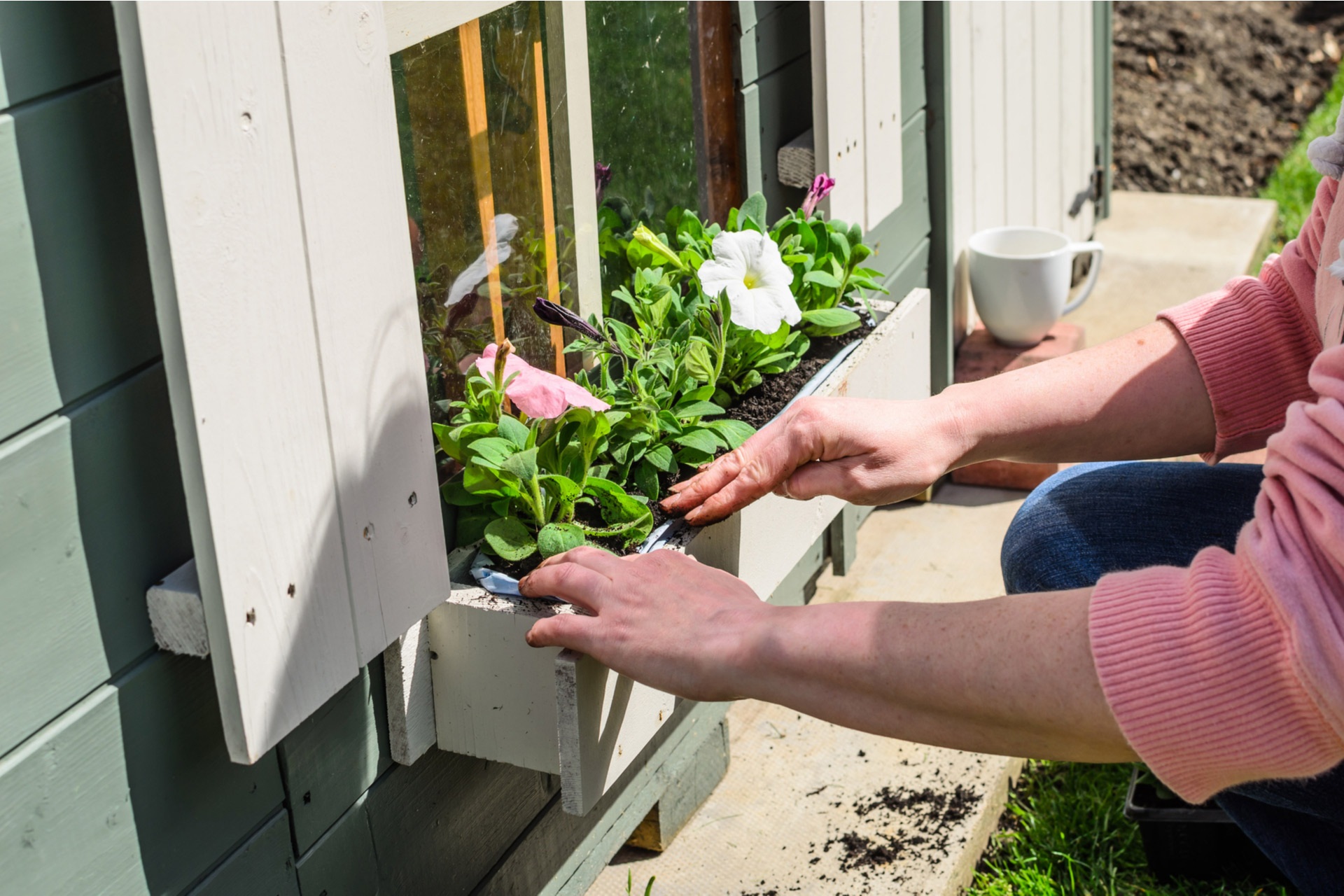 Bring color to your windows all year long.
No matter which home style you have, there are window boxes to match your décor. Thankfully, finding something that adds curb appeal and character is easy. If you're wondering which window box will look best, look at your shutters or trim and choose something that fits.
Be sure to place your window boxes beneath windows in front of your home or on deck railings that receive adequate sun and are easily accessible for planting and watering. When securing them to the house, consider placing them a few inches below the window to allow room for taller plants to grow.
As the seasons change, you'll want to refresh your window boxes with new flowers and décor. Let's look at some creative ways to do that without breaking the bank.
Spring Window Box Ideas
Spring is the time to give your window boxes a refreshing new look. After winter, you should take a close look at your container and make sure it doesn't need maintenance and has proper drainage.

Now, fill your window box up with bright spring flowers and plants, allowing room for growth. Be careful to account for your climate when selecting flowers. It's easy to get excited about colorful blooms, but you don't want a late freeze to hurt your display.
Spring window boxes can be as simple as choosing one plant to fill the box, then adding new varieties later as summer arrives. You can put a few small, trimmed boxwood plants that will survive every season, surround them with delicate white flowering plants, and add a pretty overhanging "spiller" like ivy or sweet potato vine. By the way, sweet potato vine is easy to root from a clipping, so one plant can go a long way in your other pots. You may even be surprised to pull out a sweet potato from your box as you weed out plants to replace in the winter.
Summer Window Box Ideas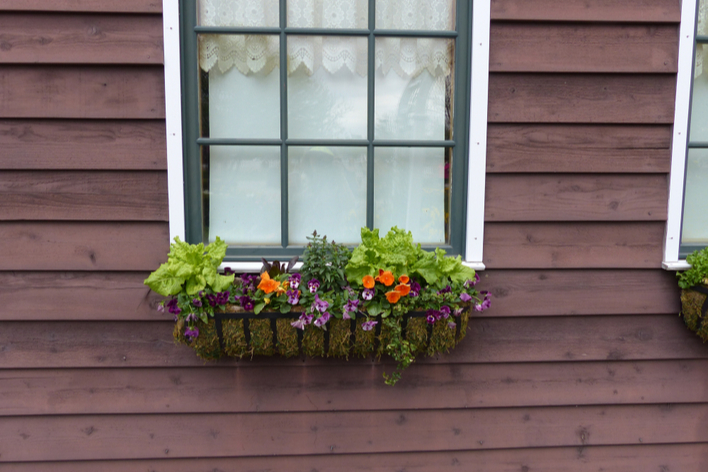 As you move into the warmer months, you'll want to add some sun- and heat-loving plants to your window boxes to get them ready for summer. Geraniums bloom in vibrant colors with a variety of leaf colors and patterns. Petunias can fill up a box quickly, often spilling over.

Like petunias, million bells or calibrachoa are an excellent choice for color in summer window boxes as they bloom in most parts of the country from spring into fall and require no deadheading. In dry climates, they may need some daily misting. Million bell colors range from white to yellow to a deep, dark purple that's almost black — even two-tone varieties!
Summer is a wonderful time for brighter flowers to add color and curb appeal to your home's exterior. Verbenas in bright purple, red, or hot pink are an easy choice. And tall "thrillers" can include snapdragons or spikey purple dracaena.
If your location gets full sun, an edible window box display can be a multifunctional project — plant it with herbs and compact plants, including lettuces, kale, and cherry tomatoes.
Fall Window Box Ideas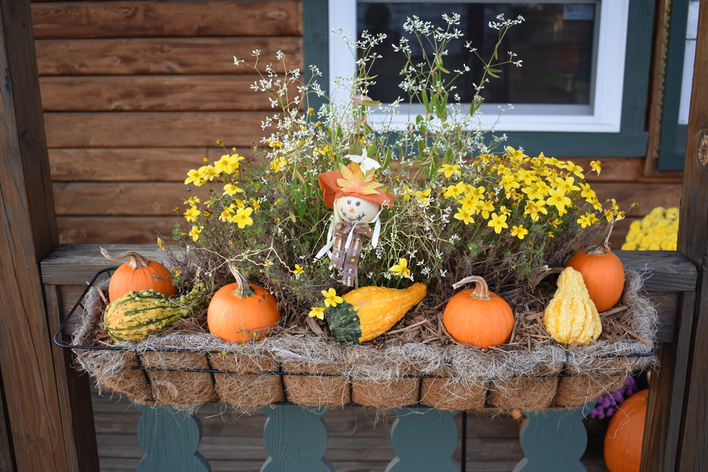 When autumn leaves fall, you can still have a cornucopia of color on your windowsill. This is the season of chrysanthemums in yellows and burgundies and pansies of every shade. Continue to fill your window flower boxes with ornamental peppers, kale, cabbages, croutons, coleus, and tall purple fountain grass. Your mums should bloom for many weeks, but when the blooms are gone, you can transplant them to your garden, where they'll come back next year if they're an annual variety.

You can accessorize fall window boxes with an assortment of small pumpkins and colorful gourds. In fact, if your climate is a little too cold for most flowering plants, filling an entire window box with pumpkins and gourds trimmed with evergreen cuttings can make for a great autumn display from Halloween through Thanksgiving. After Thanksgiving, you can spray-paint pumpkins gold, silver, or white for winter holiday cheer.
Succulents can survive year-round in warmer climates and can make great additions to your scheme, or you may consider doing the entire flower box in assorted succulents that range in size to create "thrillers," "fillers," and "spillers."
Bonus tip: Late autumn is a good time to plant a few bulbs in your window box for spring blooms.
Winter Window Box Ideas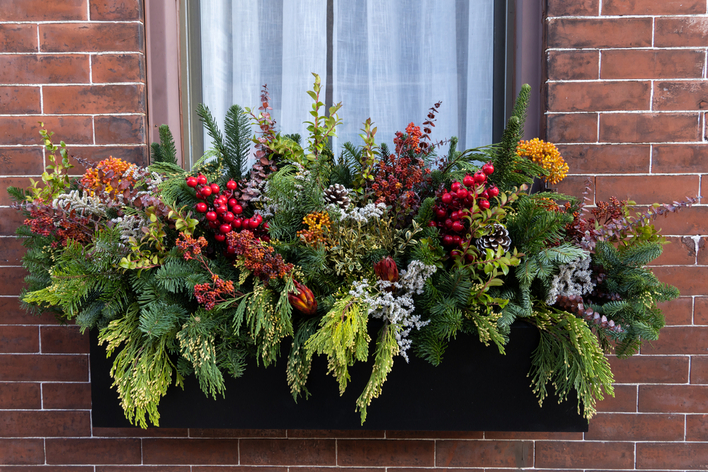 Winter is the perfect time to dress up your window boxes for the holidays and beyond.

To create winter window boxes, gather numerous types of evergreen boughs, magnolia limbs, dogwood twigs, and winter berries. You can place them on top of the soil or stick them in place and water as usual. Dress your flower box up with large pinecones and add some twinkling lights. For the holidays, add some gold and silver ornaments.
If you can't find the branches and plants around your yard or local Christmas tree lot, you can always fill the entire window box with faux versions from a craft store or online.
While you consider window box ideas, this is a smart time to inspect your windows for drafts, rot, or age-related damage. Your friends at Window World will be happy to discuss window replacement ideas with energy-efficient, low-maintenance, easy-to-clean options. Schedule a free consultation with a store near you.
---