Back to Blog
Alternatives to the Painted Brick Trend for Your Home's Exterior
Ready to get started?
Window World offers free in-home consultations! Click below to schedule today!
Get started!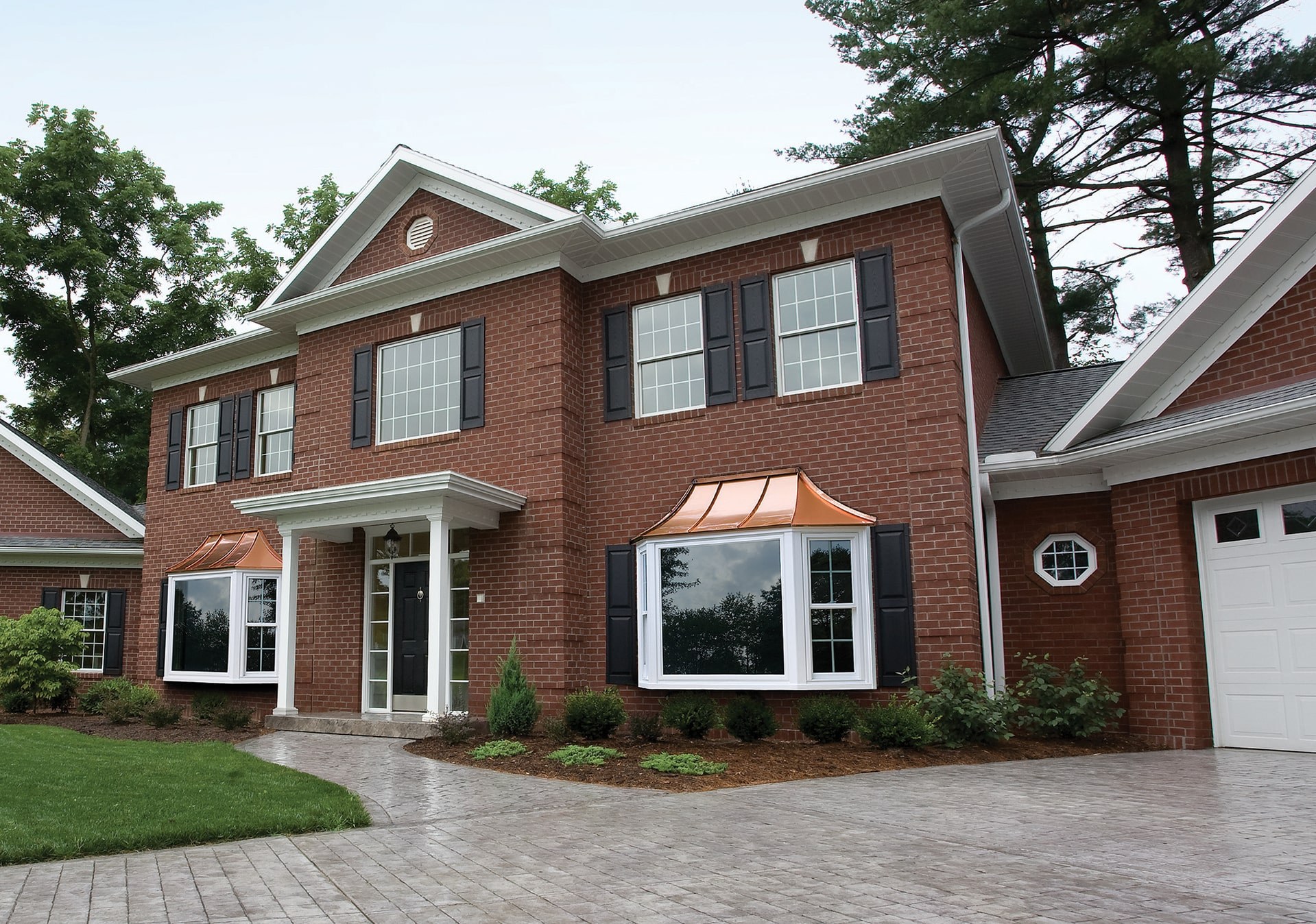 Curb Appeal Ideas That Require Less Commitment Than Painted Brick
If you've lived in your home for any length of time, it's likely you've wished it were updated. After all, trends come and go, and what you may have loved once may not be so popular anymore. But if you're looking at your brick and considering a paint job to freshen it up, don't break out the brushes just yet. There are some other options you may want to consider before making a permanent change. In this blog, we'll explore some alternative curb appeal ideas that you might want to consider before taking the plunge and painting your brick.
Updated Accents
If you're looking for a simple way to update your curb appeal, focusing on accents can be a great place to start. Small changes add up, so rather than taking on a major renovation project, consider switching out the hardware on your doors or the shutters on your windows. This can significantly change the appearance of your home without much of an investment in time or money. Plus, many accent tweaks aren't difficult to undo, so if you decide to take your design in another direction, you can do it with relative ease.
Small updates here and there can add tremendous depth and texture in ways you wouldn't typically consider, and these additions can be made over time. This ensures you aren't overwhelmed by the scale of a project and have the energy to consider more options. Be patient, make changes as your budget allows, and watch your house transform right before your eyes.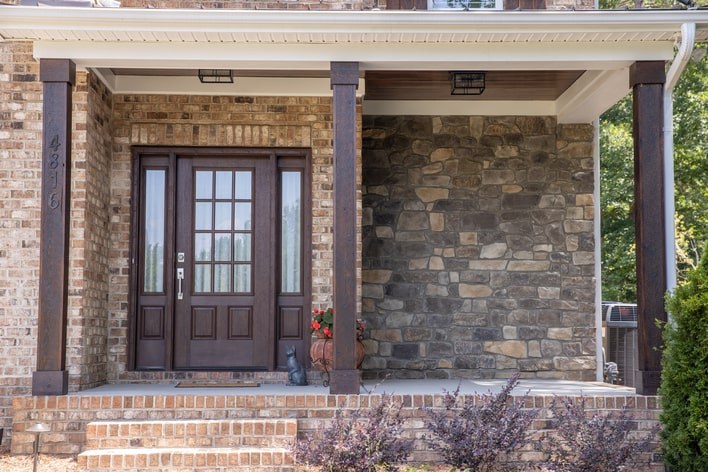 New Front Door
If you want to add personality and curb appeal to your home's exterior, consider changing your front door. Not only is this a relatively simple project that can be done on a budget, but the possibilities of what you can do are virtually endless. Do you want your front door to blend in or stand out? Do you want it to feature more glass? Do you want it to pop with a splash of color or accentuate its natural tones? Painting your door or swapping it out entirely can go a long way, so before you take on a massive project, consider this first.
At Window World, we know the value of a high-quality door. All of our exterior doors are engineered to look great and perform for a lifetime. With various styles and configurations available, you're sure to find an option to fit your dream aesthetic.
Landscaping
Enhancing your home through strategic landscaping choices is a tried-and-true method of increasing value and creating inviting atmospheres. But while accentuating your yard doesn't have to be intricate, it's important to consider the amount of time and effort you're willing to invest before getting started. Elaborate gardens can be stunning, but they require significant upkeep, so if you don't have the time or the budget to invest in maintaining that aesthetic, you need to know that going in.
When choosing plants, consider the local climate. By selecting plants that are suitable for your environment, you can help to ensure they thrive with minimal maintenance. Additionally, you can incorporate low-maintenance features like hardscaping or container gardens to add visual interest to your yard without requiring as much attention from you.
By taking a thoughtful approach to your landscaping, you can create a beautiful exterior that complements your home and enhances its value. Whether you choose to create a lush garden or opt for something more minimal, focusing on landscaping can have a significant impact on your home's curb appeal.
Exterior Cleaning
One of the most affordable and straightforward ways to better your home's exterior is by giving your house, lawn, and surrounding walkways a good and thorough cleaning. Whether the brick faces of your home have accumulated mildew, your sidewalk has unsightly stains, or your gutters are clogged with debris, taking the time to clean everything can go a long way to freshening it up.
While this can be time-consuming and require significant effort, the value it adds to your home is worth considering in the long run. A clean exterior significantly enhances the appearance of your home and can make it more inviting. And by incorporating regular cleaning into your home maintenance routine, you can make the task a bit easier when it comes time to do it.
By taking some time to clean when you're able, you can do a lot on a limited budget to make your home beautiful.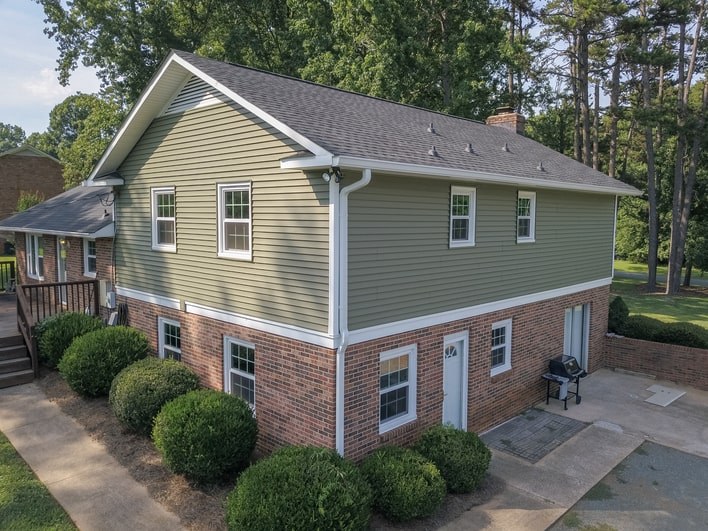 Vinyl Siding
If you're looking for a more extensive transformation option, vinyl siding updates can be an excellent way to refresh the overall look of your home without having to paint it — which you would then be committed to repeating every few years. If your house already has some siding, swapping out your vinyl can be a low-maintenance and cost-effective solution for revamping your aesthetic. If you have an entirely brick façade, it'll be a more involved process but have an even bigger impact to add vinyl siding overtop of certain sections of brick. With a wide range of colors, styles, and materials to choose from, you're sure to find an option that suits your taste and budget.
While vinyl siding installation requires effort and expertise to execute effectively, it offers a temporary change that can significantly improve your home's overall appearance. Whether you opt for a traditional lap siding or a more contemporary vertical style, vinyl siding is worth considering before committing to a permanent change like whitewashed or painted brick.
At Window World, our vinyl siding is specially engineered to protect your home and keep it looking beautiful for a lifetime. With a broad product line to choose from, you can have the style you want without breaking the bank.
Stone Veneer
If a significant portion of your home's exterior is covered by brick, it may be worth considering adding a stone veneer layer. Installing stone veneer over existing brick is a non-destructive way to give your home a modern, updated look without the expense and hassle of painting your brick.
A caveat here, however, is that stone veneer installation isn't particularly easy and often requires a level of familiarity with masonry that a typical homeowner may not have. If you decide to add vinyl siding or stone veneer, it can be a terrific transformative solution to change your aesthetic but know you may have to do some research beforehand to do it effectively or, better yet, hire a professional to help.
The Decision is Yours
When it comes to updating the exterior of your home, there are plenty of alternatives to painting your brick. From accent updates to landscaping and cleaning to new vinyl, there are many affordable and effective ways to enhance your curb appeal. Whatever your preference, take the time to research and explore your options before you break out the brushes, and if you're considering a change to your doors and windows, contact Window World for help!
At Window World, we understand that your home is a reflection of your unique style and personality. That's why our experts are available nationally to help turn your vision into a reality. Whether you're looking to make a statement with new, stylish doors or want to enhance the sustainability of your home with energy-efficient windows, we've got you covered.
With our wide range of styles and customization options available, you're sure to find the perfect doors and windows to complement your home's exterior. So why wait? Contact us today to schedule your free consultation. Trust us to help you transform your home into the beautiful space you've always dreamed of.
---