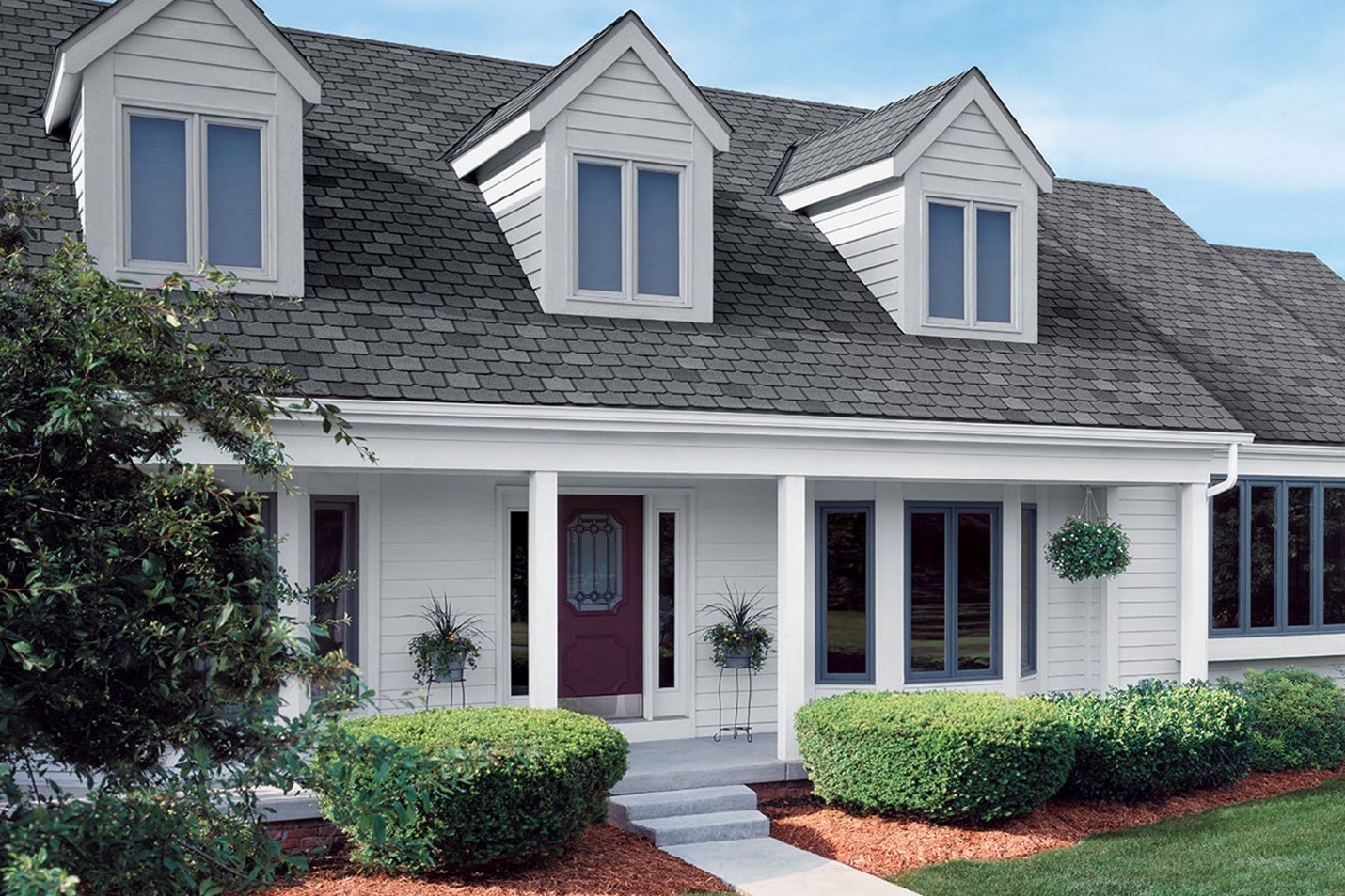 It's all here in black and white, and shades in between.
Changing the color of your home's exterior isn't like painting a bathroom. You shouldn't do it on a whim — this is a commitment. There's a considerable investment involved in painting or replacing siding. So, if you're just looking for a fun little facelift, try giving your entry door a pop of color instead.
On the other hand, the outside of your home says a lot about its character, value, and the people living inside. So, giving your home optimal curb appeal is an investment that will not only bring you joy but can also boost your home's price tag when it's time to sell.
A few basics to consider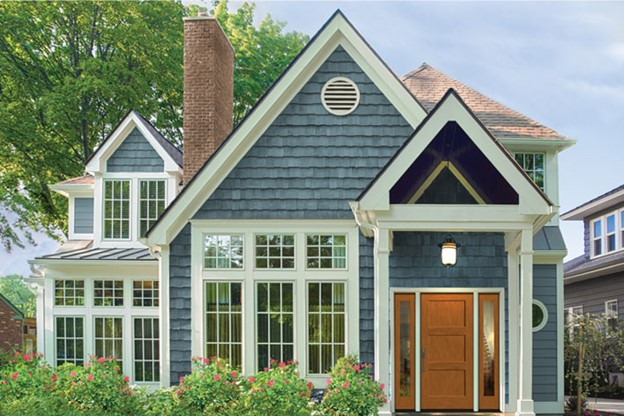 As you think about color schemes that endure, be sure to consider the style of your home and what fits with your neighborhood. Traditional homes trend more to conventional color schemes; contemporary homes can go a little edgier.

Take the time to drive around your neighborhood and see what appeals to you. Take pictures of homes you like that are like yours. What looks great on a two-story Colonial may not translate well to a brick ranch.
Whatever color palette you like, remember to paint samples on your home in advance and live with them for a few days before going all in. Get a feel for how changing sunlight affects the color or how a color looks different in the shade or when wet.
You may think you've selected a creamy white hue and find it looks yellow when painted on. Or a bold charcoal grey may appear dreary and spooky in a wooded setting.
So, what's trending for exterior paint colors? It's pretty simple: white, black, and shades of grey with a touch of true blue.
Warm whites
You've seen how white exteriors with black windows have been trending on modern farmhouse-style homes. But you'll find that a warm white color scheme can also transform a natural brick exterior and add charm and elegance to a basic ranch home.

A warm or creamy white (not to be confused with a beige) adds a richness beyond pure or stark white. Right now, the combination of warm white with greige or off-white shutters is popular. Alabaster by Sherwin-Williams (SW 7008) is considered one of the most popular exterior colors of 2021. It adds warmth without drifting toward yellow, and it can be used to brighten up the exterior of any home, especially one in a shady setting.
Naturally, warm white looks great with basic black shutters, but pale greens or a subtle shade of soft blue or teal — or even a natural wood stain — give a white home a distinct look.
If you're wondering if the trend of painted brick has played itself out, the answer is no. It's an easy way to give homes an updated yet classic look, and the paint can protect the life of the brick.
The flip side: 50 shades of grey to black
Darker exteriors can give an edgy appearance. Although very suitable for contemporary homes, a dark or charcoal grey can make a bold statement on any home style. Dark grey with wood-stained accent features is especially trendy in modern designs. Then again, the dark color, dressed up with a creamy white trim, can also enhance the architectural features of a traditional home.

If you go with a black or dark grey siding color, don't forget to consider the roof. Depending on your roofline and the eye level of your home from the curb, the color of your roof may play a big factor in your overall color scheme. Too much black can make your home disappear!
Light greys and taupes, with warm undertones, are still standing strong as home color trends. Matched with black shutters and white trim, the look can be a true classic.
If all this grey talk sounds a little dreary, don't forget that it makes a perfect backdrop for a bold entry door color. Think about a soft pink or green this year, or perhaps a bold turquoise.
Two-tone homes: Double your interest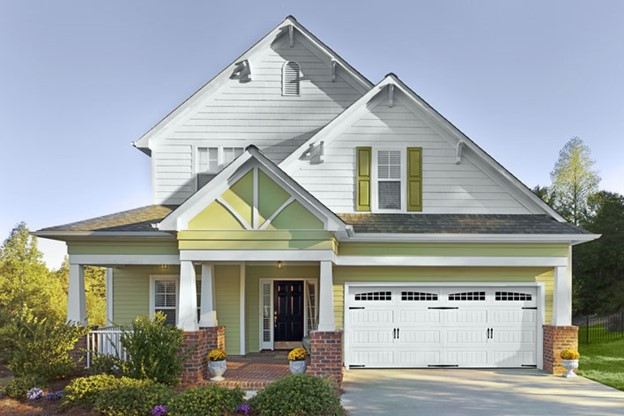 Split-level homes or midcentury modern designs often benefit from the design interest of using more than one base color. This is where a light grey and dark grey can add definition to different areas of the home.

Victorian homes with multiple siding styles can also work well with coordinating shades of blues, greens, and even pinks.
Love your blue? You're not alone.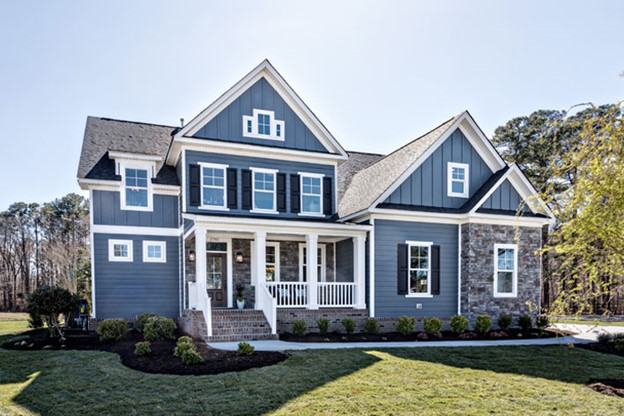 Year in and year out, blue is still a popular choice among homeowners. Of course, it presents endless options, from a watery pale blue to exotic teals and deep blue-greys. They mix and mingle well with most settings, whether waterfront, poolside, a cottage lane, or a mountainside. And every shade looks fabulous with a soft white trim.

Want to explore? Let's have a little fun.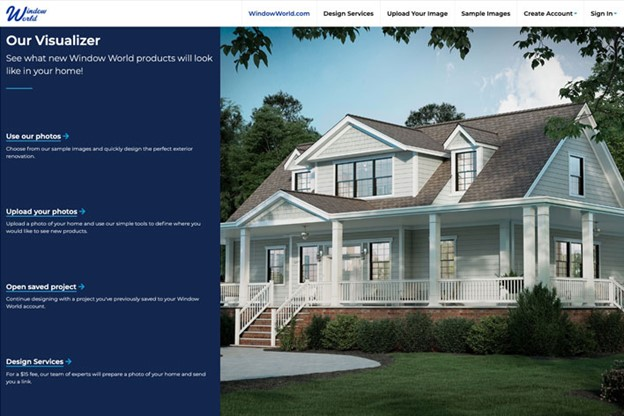 Window World's Visualizer can show you how your house will look with new siding and shutters. Upload a pic of your home or use our sample home designs to play with colors and ideas. Just click here to get started.

Remember, remodeling your home with new vinyl siding means you can change the color scheme without ever picking up a paintbrush!
Whatever your exterior home remodeling ideas, your local Window World store will be happy to discuss them. Window replacements, entry doors, siding, and shutters can give your home a whole new look, plus the comfort of energy efficiency. We offer free consultations and quotes.
---