Back to Blog
15 Tips on How To Make Your House Look More Expensive
Ready to get Your New Windows?
Window World offers free in-home consultations! Click below to schedule today!
Get started!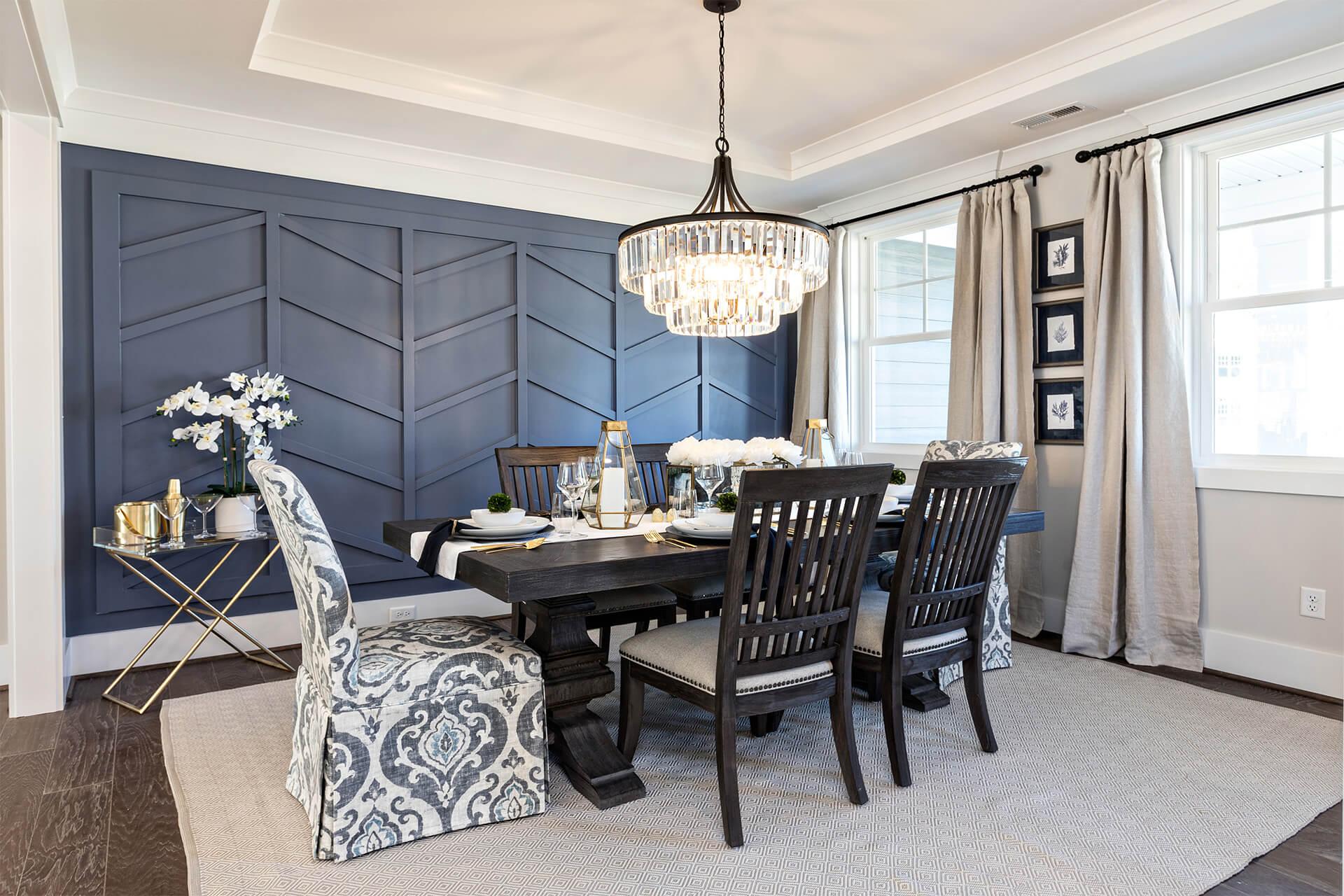 Things you can change to make your home look more valuable.
Maybe you're fixing up your home to welcome guests after a long time apart, or you're getting ready to sell and want to make sure everything looks its best before going to market. No matter your reason for wanting to improve things, now's the perfect time to explore ways to upscale your home's look without drastically increasing your spending.
Increasing your home's curb appeal and amplifying its interior design can be one of the most satisfying aspects of homeownership. Especially because it can help improve more than just the look of your home.
Here are 15 simple home improvement tips to give your house a posh appearance and increase its livability.
How To Make the Inside of Your Home Look More Luxurious
Tip #1: Start simple — clean and declutter
Have you noticed that you suddenly see your home through new eyes when you clean up for company? Decluttering allows your gaze to follow a house's line of sight through rooms and shifts focus to any architectural features. It also gives a sense of peace and serenity.
Look around and assess what you need to display. Do you want to show off every little knick-knack you've acquired? Box up the items around your home you don't need to see or access every day and put them out of sight. If you find you miss them after six months, reassess the situation.
Clean, uncluttered counters in the kitchen and bath look a lot more expensive than those covered with appliances and beauty products — no matter how expensive those products may be.
These rules can apply to your home's exterior too. Pressure wash your siding, gutters, and walkways to give them a fresh new look.
Tip #2: Raise the bar on window treatments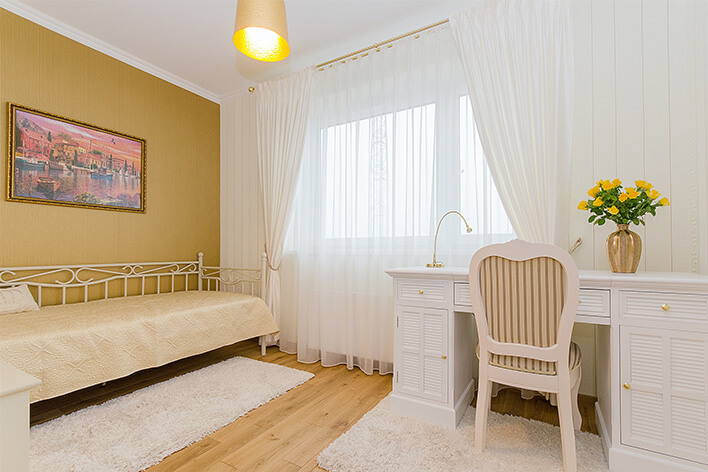 When hanging drapes or curtains, attach the curtain rod high on the wall. Then make sure your curtains or drapes go all the way to the floor. This gives the illusion of added height. You can even add an extra length for "pooling" at the bottom.

Drapery doesn't necessarily have to be wide enough to cover the window. You can just add fabric panels to the side and use window shutters or Roman shades for privacy and light reduction.
Tip #3: Floor-to-ceiling bookcases
It's not that hard to give your home the upscale look of built-in shelving using some simple store-bought bookcases. If you're up for some DIY work, we suggest adding molding to bookcases and shelves to create the illusion of being built-in.
IKEA has a great selection that you can use in groupings or stack on top of one another. And some bookcase options even come with glass doors which help create an expensive look.
Now, remember, don't clutter up these shelves. A few carefully placed books, a few pieces of art or framed photos, and a cool-looking houseplant should do the job.
Tip #4: Update light fixtures and lampshades
You'll be amazed what an updated shade can do for a tired, old lamp. Toss out that dusty traditional shade and replace it with a modern shape in a fresh new color.
Oversized hanging light fixtures in dining rooms and above kitchen islands are on-trend. If you want to use lighting to make your home look more expensive, consider adding a pretty chandelier in a bedroom or bathroom.
Tip #5: Keep your interior color palette subdued
White or cream-colored living room walls can look incredible when paired with light-colored sofas and club chairs. They set off everything in the room and are very popular with celebrities who want their homes to look rich. Add a dazzling pop of color with throw pillows or one eye-catching art piece, and you're suddenly sophisticated.
The range of soft neutrals is wide, from greys to beige, and yes, even greige. But keep the hue light. Let the sun add its own elegant touch to your walls.
Tip #6: Paint a feature wall
If a neutral palette isn't your style, you can add color by painting a feature wall. A single black wall at the end of a hallway can add depth and elegance. A deep, teal-colored wall in a guest bathroom looks luxe and shows your creative side. And a rust-colored wall in the bedroom can give off warm and exotic vibes.
Tip #7: Dress up walls with decorative molding
Your home's architecture can get an expensive-looking facelift by adding crown molding to ceilings and detail molding to baseboards. You might consider adding extra molding to what already exists. It's not very costly or difficult to do yourself, and it adds an impressive look of "old money."
Tip #8: Go big with mirrors and artwork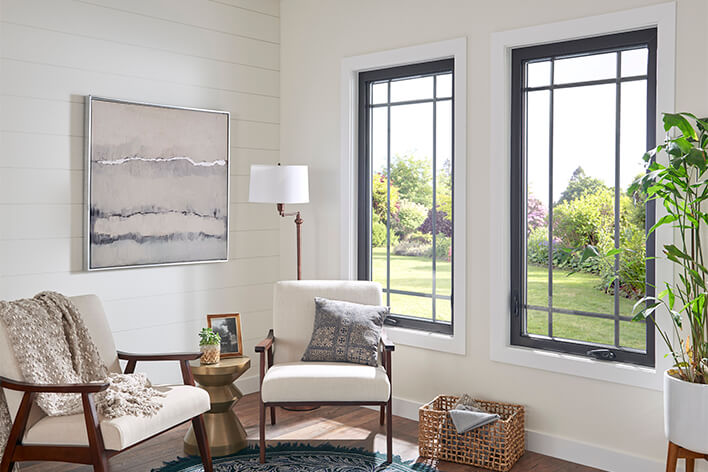 Large mirrors add depth and light and can expand the look of any room. Maximize the effect by hanging them across from windows to catch and reflect light. The room-expanding optical illusion of mirrors lends a touch of luxury at a very affordable price. If you find a vintage frame you love, you can create a spectacular piece with a little paint and a beveled mirror insert from the hardware store.

Going big with artwork also makes a huge impression. One enormous canvas can fill space and add height to a featured wall. You don't even need to frame it. Remember that any artwork looks more impressive when you add a gallery light to show it off.
Tip #9: Use plants, fresh flowers, and greenery as art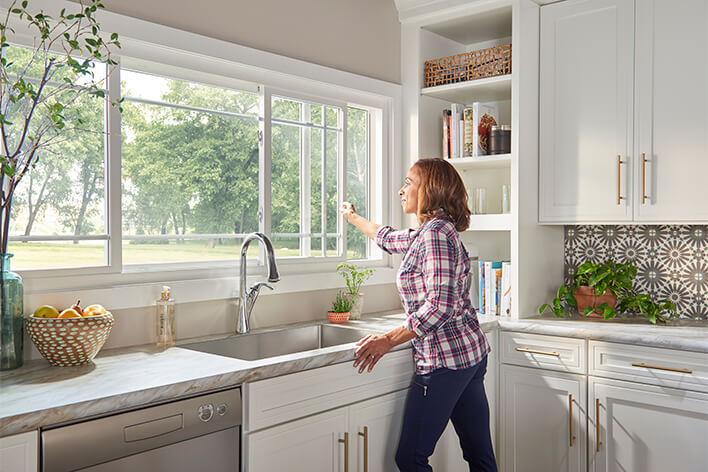 You don't need a bouquet of flowers to make a big impression. In fact, the simpler, the better. Buy a basic grocery store bouquet and break it up into smaller clusters. A few flowers in a bud vase adds class to a dining room. A small bunch in your entryway or on a coffee table adds a welcoming touch that says you treat every day as a special occasion.

Go outside and take advantage of any greenery you may have too. A few branches in a tall vase or a floor vase can make a fresh impression. You can also look for a few stalks of high-end faux greenery that you can use year-round in many settings.
How To Make the Exterior of Your Home Look More Expensive
Tip #10: Upgrade your front door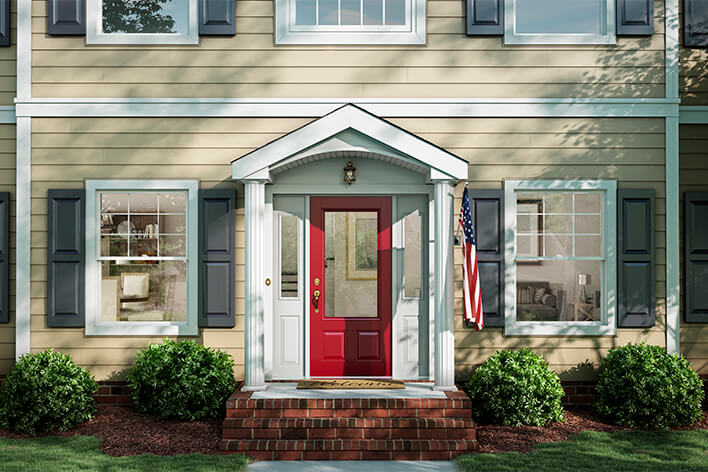 Replace a simple front door with an entry door with sidelites and a transom window above. Or replace a solid panel front door with one that has window inserts.

The possibilities are endless when creating an elegant and practical entry. Energy-efficient fiberglass doors come with wood-inspired textures and stain colors. And smooth finish front doors come in a wide range of colors or can easily be painted whatever shade you like.
Tip #11: Replace your entry door hardware
Even if you decide not to replace your entry door, upgrading it with new hardware can really make a difference. Look for new doorknobs, locks, latches, kick plates, door knockers, and hinges that add a sense of solid strength. Door hardware that features clean lines and bold shapes looks custom-made, giving off the impression of $$$.
While you're at it, consider adding new light fixtures on the porch and replacing house numbers for a fresh look.
Tip #12: Replace your garage door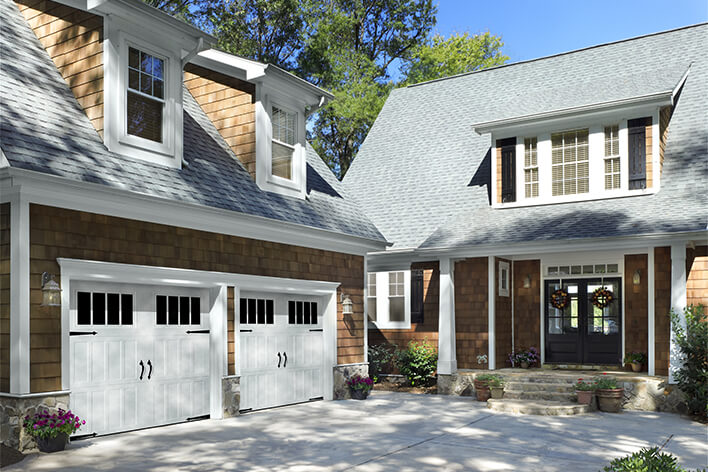 Garage doors top the list of exterior home improvements in terms of returning your investment. Like an entry door, it's important to consider the boost a garage door can give to your curb appeal and pride. Modern garage doors can make your home look 20 years younger, and garage doors with arched panels exude dignity. There are many styles that can literally transform your home.

Tip #13: Refresh your entryway walk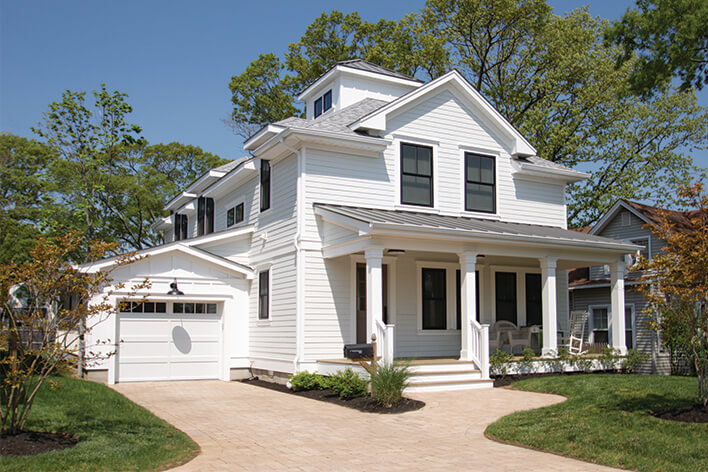 Make sure the entry walk leading up to your front door looks its best if you want your home to look more expensive. Focus on trimming the edges and power washing first. You can then line the sides with banks of flowers or ground cover plants.

Since every guest will see and use your walkway, consider replacing plain concrete with bricks or pavers.
Tip #14: Add window boxes
Make your windows stand out with the addition of window boxes. You can purchase and install many durable PVC styles and iron-look baskets with very little DYI skill. Fill these with lush greenery, flowers, or a mix of the two to add ample curb appeal.
To keep your home looking lavish, replace plantings seasonally. Evergreens and ornamental cabbages can get you through the winter, and colorful flowers and tropical plants are best for the spring and summer months.
Tip #15: Install landscape lighting
Nothing creates the look of dramatic luxury like lighting in a front yard. It can shine upwards on your front façade, illuminate a garden wall, line an entry walk, or light up your trees and landscaping.
If the thought of having lights installed by a professional seems too pricey, you can do it yourself by using in-ground stick lights. These lights can be found at most home improvement stores and are inexpensive and easy to install. In fact, you can do amazing things by simply putting some solar floodlights in the ground wherever you please.
Bringing new beauty to your home is what Window World is all about. The experts at your local Window World store would love to discuss any ideas you have. Schedule your free consultation and quote today.
---