Back to Blog
Turn to the Sun: How To Give Any Room a Light-Filled Solarium Feel
Ready to get Your New Windows?
Window World offers free in-home consultations! Click below to schedule today!
Get started!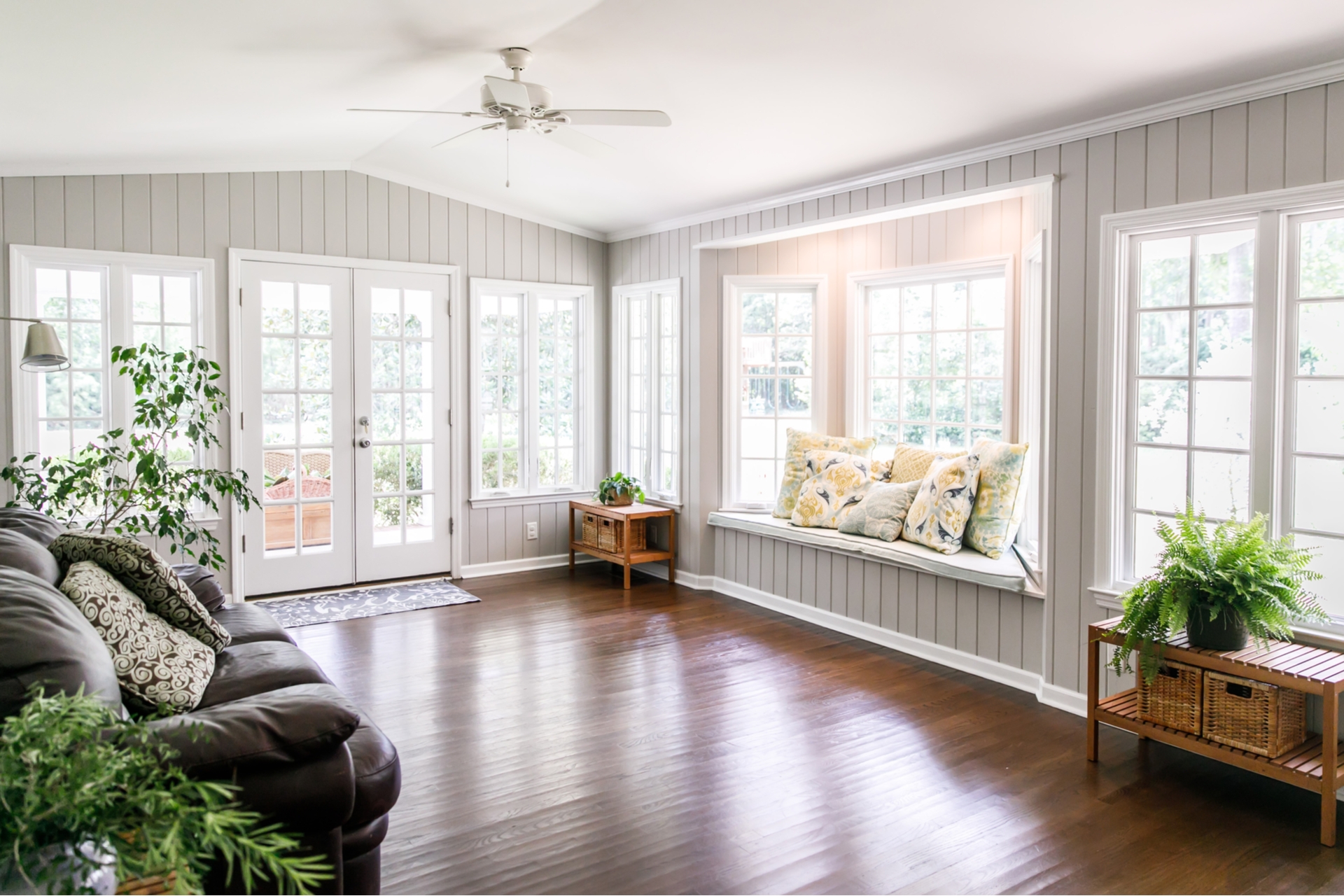 Let the sunshine in with energy-efficient windows.
If you've ever visited a home with a solarium or conservatory, you may have experienced the "Ohhh! This is beautiful!" effect that comes over you when you enter the room. The abundance of natural light and the mood-lifting splendor of the great outdoors invites you to have a seat, put your feet up, and simply enjoy.
The experience may lead you to consider a solarium addition to your home. However, like building any home addition, adding a dedicated solarium or conservatory can be costly and challenging. Aside from the hassles and expense of construction, there are possible increases to your property taxes, adjustments to your homeowner's insurance, and increased utility bills.
It's possible to achieve a similar feeling — without the bother or expense of hiring a contractor to build an addition — by turning an existing room in your home into one that invites the sun inside without adding heat or cold to drive up your utility bills. Replacing existing windows with larger, energy-efficient windows and doors can be a sunny solution.
Consider remodeling an existing room to welcome the sun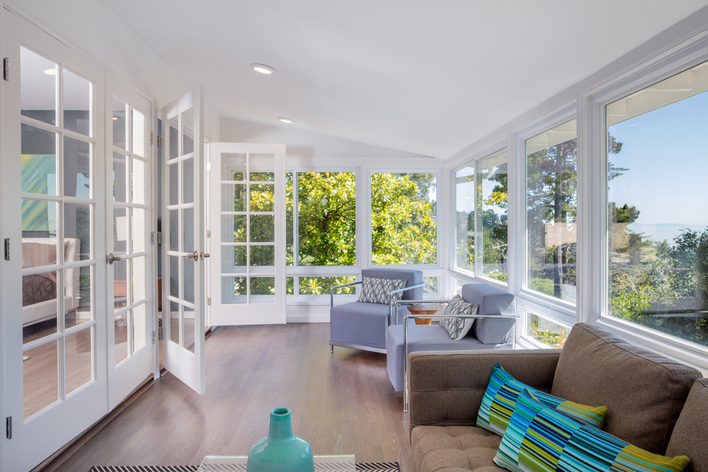 As an alternative to building an addition, you can maintain your home's footprint and roofline and achieve a solarium feel with some simple remodeling ideas for an existing room.

You can choose to do this with a den, office, or bedroom. Transform your room into an inviting getaway spot to enjoy conversation or a good book, or consider brightening a larger living area to enjoy the benefits of spectacular views while dining or entertaining.
Replacing windows with larger versions and adding windows to extend views across the full length of walls can expand your horizons to give you that glass-filled solarium look while making your house plants very happy.
Add transom windows above or awning windows below your existing windows. Add patio doors, if possible, for outdoor access and to continue the outdoor-living ambiance. Another way to increase the sunny feel is to lift the room's ceiling to your roofline for a vaulted look.
Imagine enjoying a sweeping view of flowers and birds in comfort each summer, taking in the brilliant leaves in the fall, and then setting up a Christmas tree indoors against a background of falling snow each winter.
Choose your window replacements wisely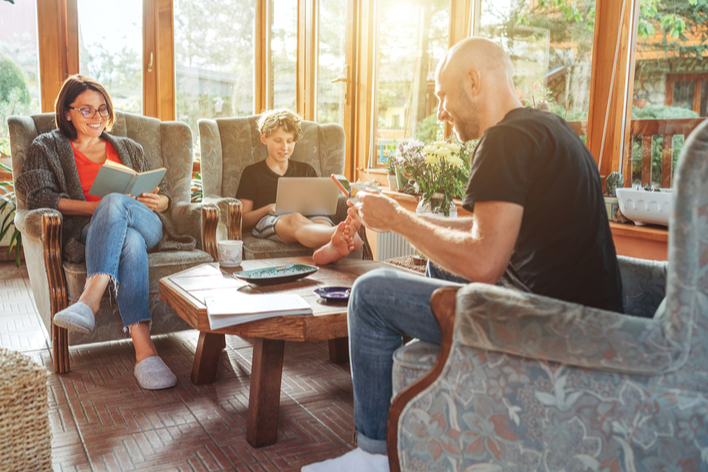 In your renovation plan, make sure your windows can open. Choose window styles that will work together to allow optimum airflow. You can select a traditional double-hung style, sliding style, crank-open casement windows, or awning style. Make sure they are made of insulated glass and come with screen inserts to help keep insects out.

If you choose to have stationary glass walls or picture windows, these should be silicone double-sealed, A-rated, and labeled "tempered safety glass" to meet building code requirements.
Choices to consider when selecting windows:
Double-paned glass — offers durability, insulation, and glare reduction. The U-value (or U-factor) can range from 1.5 to 3. Glass options typically include clear, solar bronze, and opal.
Double-paned glass with low-emissivity (low-E) coating — a low-E coating allows windows to reflect heat and ultraviolet rays. The coating reduces the U-value substantially, improving energy efficiency.
Double-paned glass with argon filling and low-E coating — an inert gas called "argon" can be added to further reduce the U-value.
For help with industry terms such as "argon" and "U-value," check out our FAQ.
Placement is key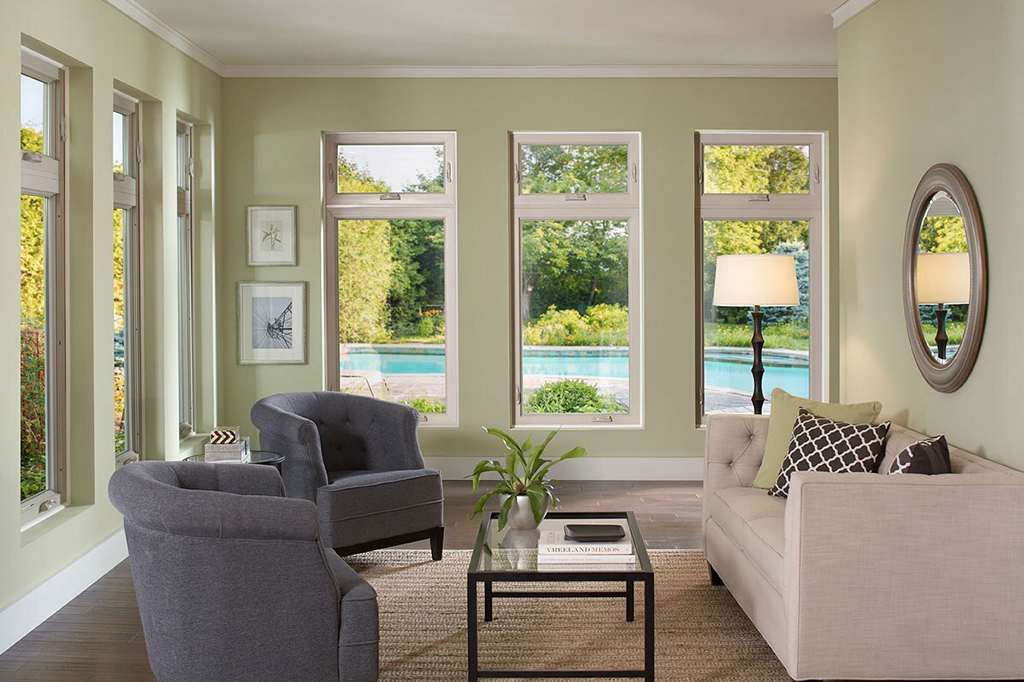 When selecting a room to transform, consider which direction your windows will face. This can make a difference in achieving the sunny feel you're looking for.

Southern exposure: In northern climates, southern exposure will receive the most sunlight and provide warmth. In the South, however, a southern exposure could mean the need for adding a ceiling fan or window shades in the summer months.
Eastern exposure: This placement will provide sunlight in the morning and shade the rest of the day.
Western exposure: A western orientation could expose you to bright afternoon sun that may need shading with awnings or window treatments.
Northern exposure: This placement will provide lower levels of light and partial shade most of the day. In the North, this arrangement could make the room cool and damp. However, in the South, it may eliminate the need for window coverings or additional cooling.
Whatever the season and whatever your home remodeling ideas include, your friends at Window World are happy to discuss them — in-home or via virtual appointment. We can suggest product options and provide you with a free quote that includes worry-free installation. Backed by 25 years of experience, you can trust our personalized, local service. Find your local Window World store today!
---