Ready to get started?
Window World offers free in-home consultations! Click below to schedule today!
Get started!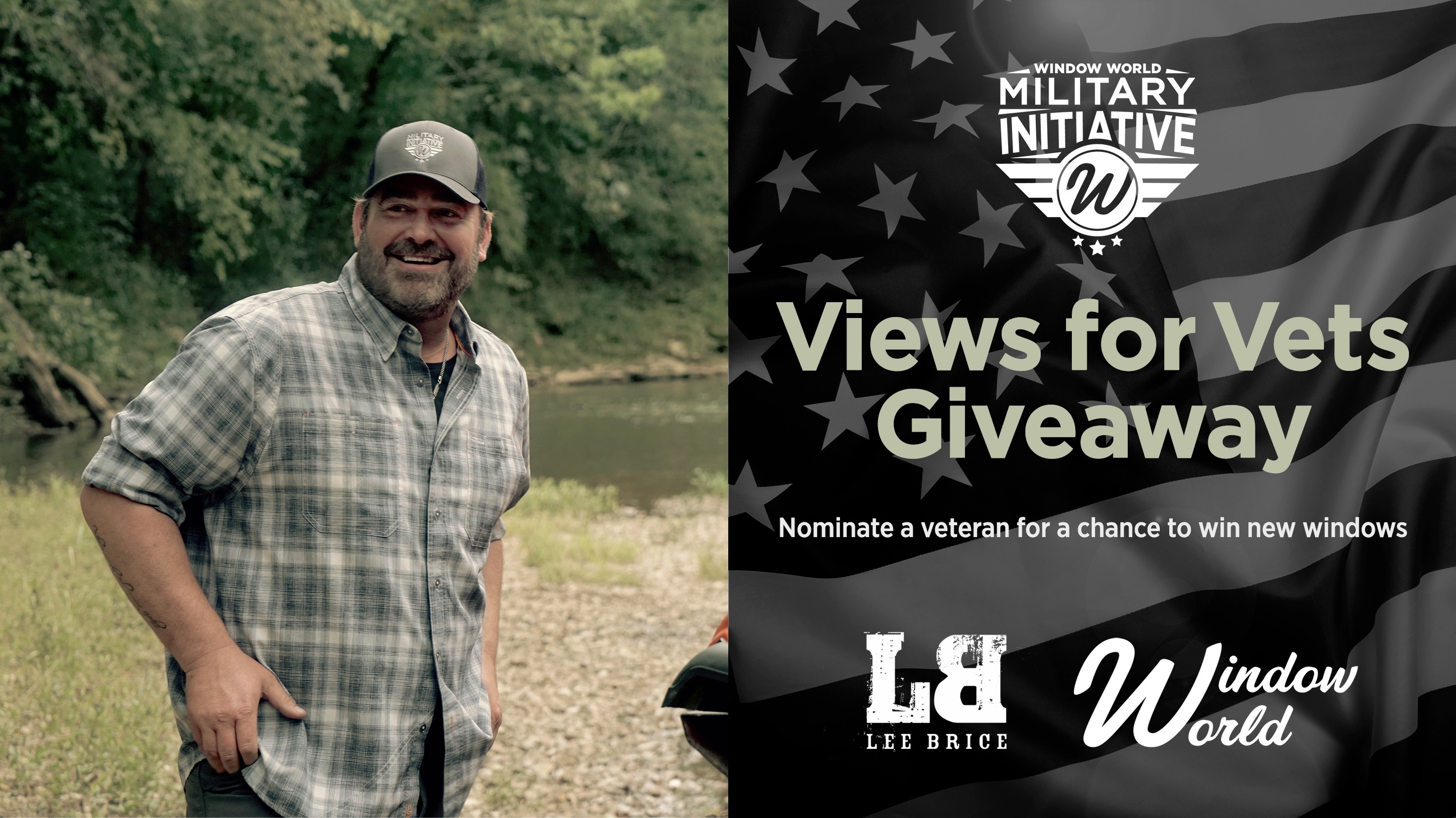 The "Views for Vets" giveaway chooses one deserving veteran to receive a houseful of new windows.
This year, on Veterans Day, Window World selected the winner of its "Views for Vets" giveaway, a contest designed to award a houseful of new replacement windows to a deserving veteran.
Window World partnered with country music singer and songwriter Lee Brice for the contest. Lee supported and promoted the giveaway with personalized video messages on his social media accounts throughout the event.
Window World's veteran commitment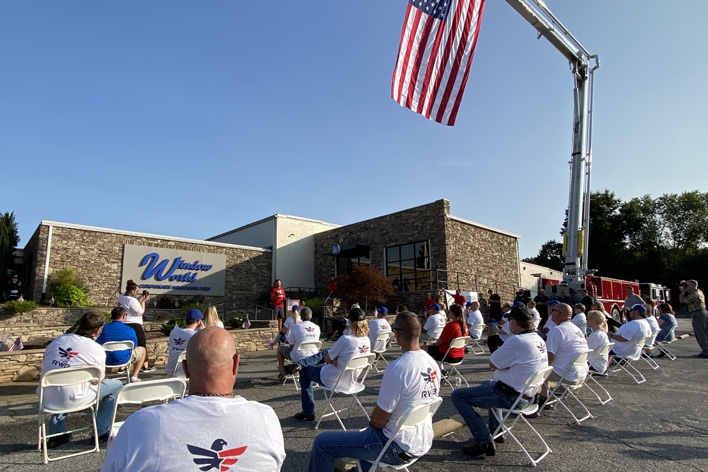 In June of 2020, Window World launched its Window World Military Initiative (WWMI) to honor and serve America's veterans, active military, and military families across the entire system of over 200 locations.

WWMI focuses on three pillars that include careers, community outreach, and partnerships. The "Views for Vets" giveaway was designed to support the community outreach pillar of WWMI by engaging with local communities to find and help a veteran in need.
As a company committed to doing everything it can to remind veterans that they are appreciated and supported at home, Window World and its franchisees saw the contest as an opportunity to make a lasting difference in one veteran's life.
The "Views for Vets" Giveaway
Two weeks before Veterans Day, Window World launched the contest with a dedicated landing page for entries, information, and sharing on social media. Anyone who was a vet themselves or knew a vet could nominate someone for a houseful of brand-new replacement windows.
To enter the contest, we asked entrants to tell us "why the veteran deserves new windows" with a story up to 1,000 words long. We chose our winner based on the submitter's story and the veteran's service to both country and community.
Submissions came in from around the country with stories of some amazing men and women. We heard about vets who were dentists in the service and now volunteer their holidays to provide dental care for those in need, firefighters who teach EMT courses in their spare time, and a retired colonel who spent three months in New York City setting up emergency medical stations to fight Covid-19.
As you might imagine, it was extremely difficult to choose a winner. After careful deliberation and countless heartwarming stories, Timothy Simon from Washington state was chosen.
A lifetime of serving others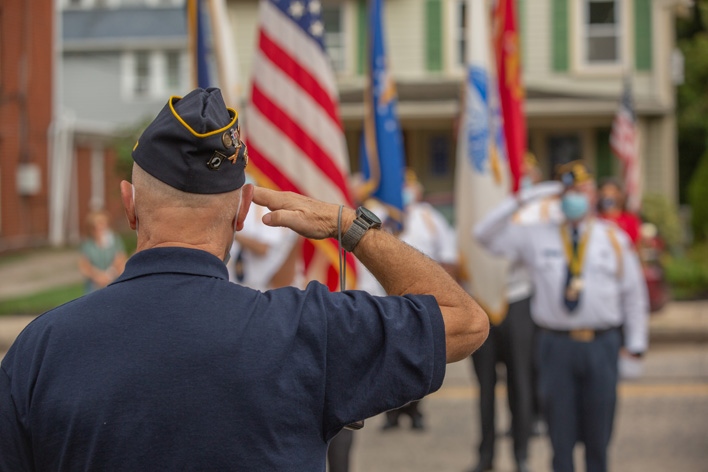 Timothy Simon was nominated by his wife, Terry. A 21-year veteran of both the 82nd Airborne and the Special Forces, Tim is a regular volunteer with the Ronald McDonald House and Habitat for Humanity. Deciding he had taken enough from the military, Tim chose to receive $0 disability when leaving the service.

At their home in Washington, Tim and his wife live under the flight path of a bustling airport, where they suffer through many sleepless nights due to the noisy airplanes, motorcycles, and cars that pass throughout the night. Terry mentioned that most of their neighbors have triple-pane impact windows to help with the noise, and Window World is thrilled to bring some much-needed peace and quiet to the Simon family by installing new replacement windows in their home.
I would love for him to be selected to get new windows to help reduce the noise. He does so much for others; I'd love to do something for him!!
-Terry Simon
The start of something meaningful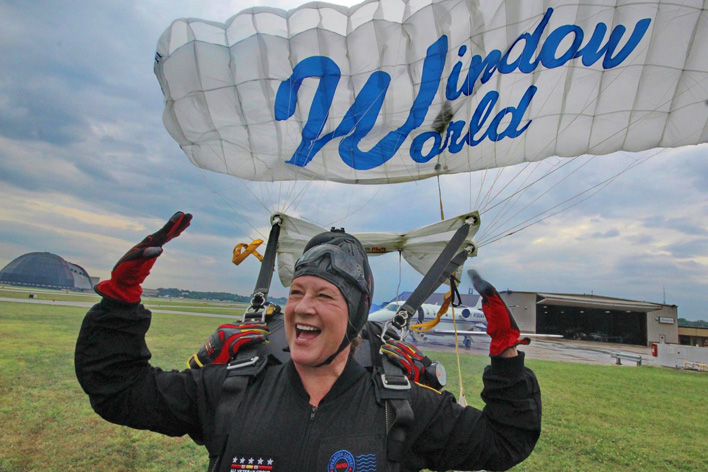 With the Window World Military Initiative still in its first year, you can look forward to more exciting news and events as we continue to build out the platform. 9/11 Moving Tributes with Team Red, White & Blue (Team RWB), hero flights with the Veterans Airlift Command (VAC), parachute demonstrations from our friends in the All Veteran Group, and service dog presentations at NFL games are just a few of the things we have planned.

To learn more about how Window World gives back to those in need, check out Window World Cares, our news page, and YouTube channel. Finally, a sincere thank you to everyone who entered our "Views for Vets" giveaway this year!
---