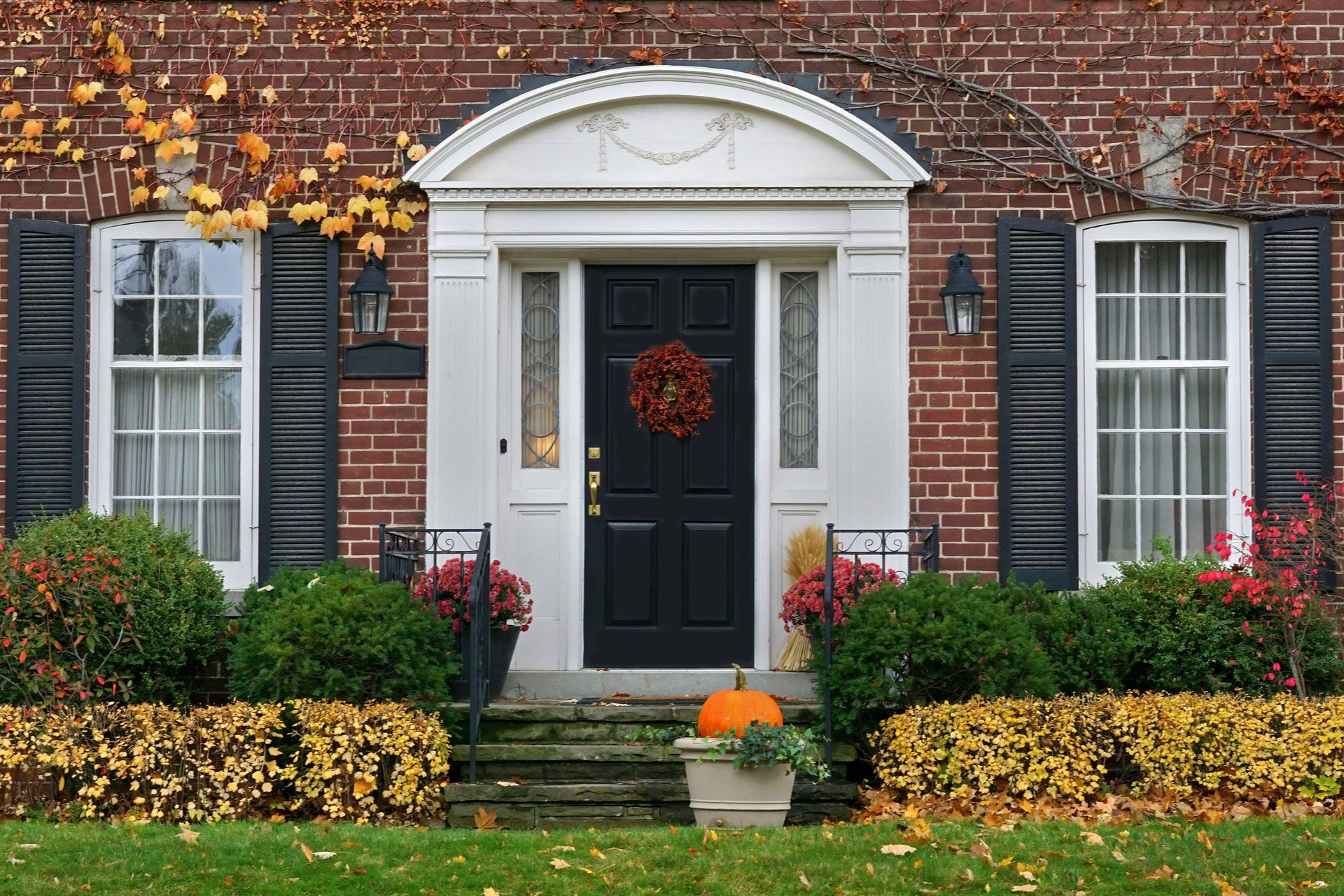 Why we have them, love them, and look a little bit naked without them.
Window shutters: A brief history
We sometimes think of exterior home shutters as the matching bookends for windows. They frame the window and add character and depth to the home's facade. But if we think about the original purpose of shutters — which dates back to ancient Greece — to keep out the elements, control light, and add privacy, it's interesting that we still hold on to the tradition simply because we love the look. Today, it can be said that many styles of homes appear to be "undressed" without window shutters.
Historically, shutters were placed on the interior of the home, and the popularity of plantation shutters to this day is a testament to their functionally and beauty. Exterior shutters became the rage in Victorian-era England when houses were constructed with thinner walls, allowing people to more easily reach out a window opening to open or close shutters as desired. Louvered shutters, often called "blinds," allowed airflow and sunlight into the home while the slats were angled to deflect rain.
Now that you know a little bit about their history and use, let's talk about how to choose the right exterior window shutters to dress up your home.
How to select a shutter style? Let your house be your guide.
Shutters should match the style of the house. Even if your shutters are decorative rather than functional, there are three popular styles based on early-American architectural design that add authentic detail to your home.
Board & Batten: The simplicity of board and batten shutters makes them suitable for many building styles. Their rustic design, composed of long vertical board strips secured with horizontal cross bracing, was historically used on frontier homes due to its sturdy construction and protective capabilities. Today, you'll find them on barn-style homes, beach cottages, country bungalows, Tudors, Mission-style, and cabin homes.
Paneled: Raised panel shutters, designed similarly to cabinetry and doors, work in sync with European, Colonial, and Federal exteriors. Raised panel shutters' detailed depth and simple elegance add a bold decorative look. Still, their original purpose was solely for privacy and protection, which is why they were historically installed only on the first floor of homes. You may see homes today that use raised panel and louver styles on different floors.
Louvered: Louvers, an overlapping arrangement of slats originally designed to control light, admit air, and exclude rain, comprise the most popular shutter style, which is typically used on exteriors for a heritage look. Louver shutters and combination shutters (having both louvers and panels) suit most home styles.
Selecting shutter size. Let your window be your guide.
If you want exterior shutters to have an authentic appearance, make sure they fit the window openings. Shutters should be sized and shaped as if to cover the window opening when closed. Properly sized functioning shutters fold tightly between the exterior window casings, leaving a narrow gap at the perimeter. Decorative shutters should maintain the same proportions. Although it may be common to see a tall, narrow shutter beside an enormous picture window, the look lacks authenticity and character.
Choose shutters that have the same size and shape as the window. Frame rounded windows with arched shutters and highlight rectangular or square windows with straight-lined shutters. If shutters have dividing rails, line them up with the sashes of the window.
For a touch of greater authenticity and charm, add hardware such as strap hinges and pintles or shutter dogs (the pieces designed to hold shutters open against the house). You can even find these constructed of vinyl with the look of crafted iron.
Shutter construction: Ask yourself how much money and maintenance you're prepared to invest.
Traditional wood shutters: These have authentic charm, but unless they're constructed of expensive cedar, after a few years, you'll find rot, splintering, and flaking paint to be an endless chore — especially if you have a lot of window shutters to maintain. Now and then, you'll see shutters that are sagging or missing some slats — you can be sure they're made of wood. If a home is in constant shade, it may be difficult for the wood to dry thoroughly after precipitation, which can cause deterioration. Also, shrubbery and vegetation should be trimmed away from wood shutters to avoid damage or scratches. Climbing vines that adhere to wood can also damage the surface.
Wood composite shutters: These are a more durable option, constructed of wood fibers and marine resin. Naturally, they're moisture and rot-resistant, as well as termite-proof. Composite shutters are heavier than wood and are constructed with a flat back, so they shouldn't be used in a situation where you would like them to be operable. Banks of louvers are fabricated from one solid piece resulting in no space between slats, and painting results in a finished shutter that appears similar to wood.
Vinyl exterior shutters: Constructed from injection-molded polypropylene components with UV stabilizers, this style of shutter is the most affordable and easy to maintain. The front surface of vinyl shutters is imprinted with a wood grain texture, and the color is infused throughout the material for longevity. Vinyl shutters have a thin material thickness, with a hollow back that becomes rigid when installed. These shutters can be cleaned with only the use of a garden hose or, if needed, scrubbed gently with a soft bristle brush and a cleaning solution of ordinary detergent. In geographical areas where mildew is a problem, add a little bleach to the solution.
Need a little help selecting the exterior shutters that are right for you?
It can all be a little overwhelming trying to select shutter style, color, and construction. The experts at Window World will be happy to discuss your ideas and advise you on next steps. Once you choose your look, installation is fast and painless. Start with a quote.
---