Ready to get Your New Entry Doors?
Window World offers free in-home consultations! Click below to schedule today!
Get started!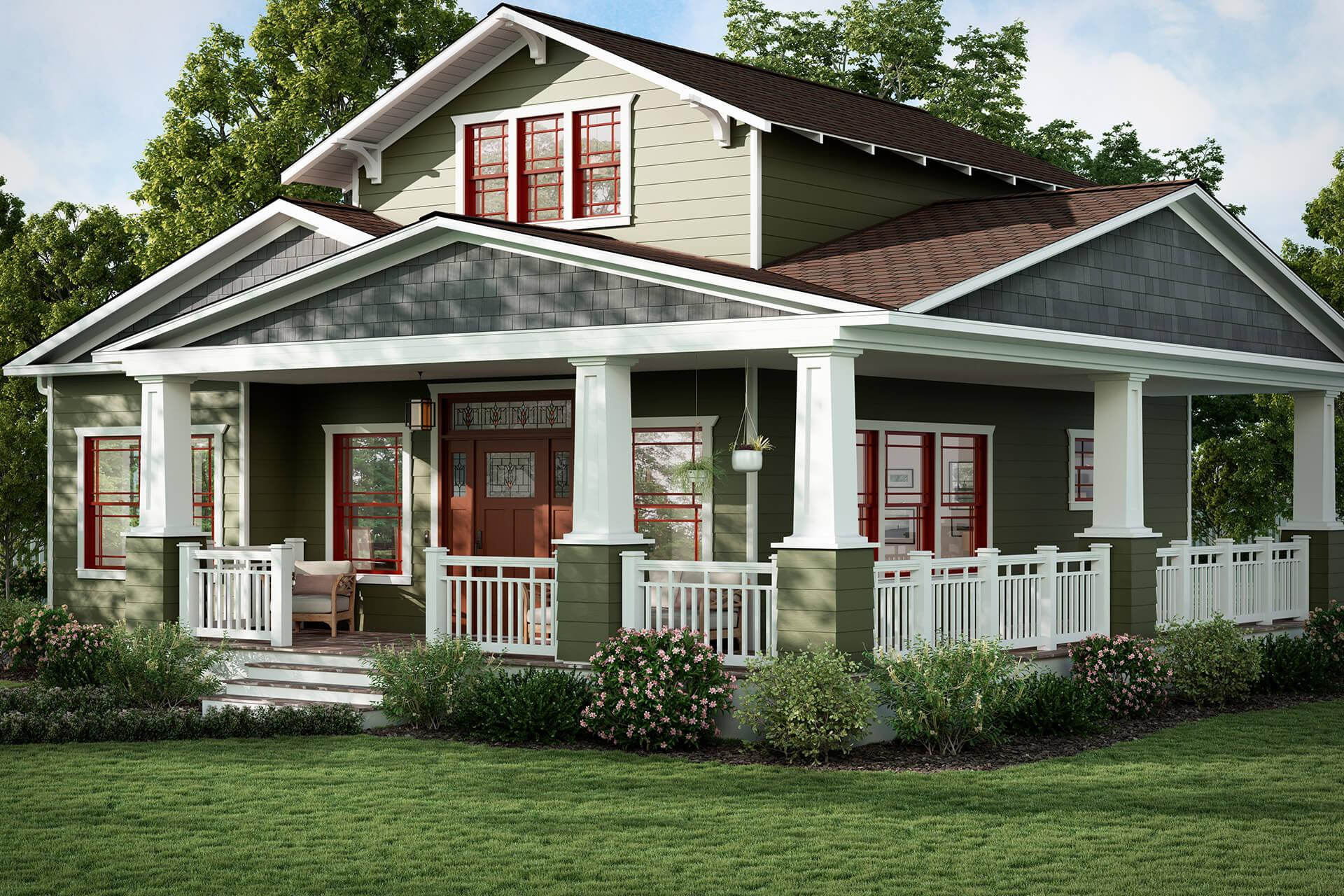 Celebrating a century of down-to-earth practicality, beauty, and appeal.
When the Craftsman movement came to the United States in the early 1900s — an evolution of the British Arts and Crafts style — who knew it would still hold its attraction more than a century later?
We're betting William Morris would. He balked at the eclectic nature of fussy Victorian design. And American furniture maker Gustav Stickley would have agreed. His magazine, The Craftsman, published house plans in the early 20th century that promoted home designs for the average person. He stressed simplicity of design, the use of natural building elements, and what he called "honesty of materials." His "bungalow" designs were easy to build and maintain and could be achieved for the incredibly low price of $900. It's no wonder these designs became the most common type of Craftsman home, which were extremely popular from California to the Chicago suburbs.
Craftsman bungalows are recognized by their over-extended eaves from triangular, low-slung roofs and the large, inviting front porches with thick, tapered columns. Generally sided in wood, many feature stucco accents. These homes are usually one or one-and-a-half stories, compact, but full of charm.
The "bungalow" is the style that most often comes to mind when we think of Craftsman homes; however, there are three other styles that fall under the description:
The low-strung Prairie Style, associated with Frank Lloyd Wright and often found in the Midwest;
The Mission Style which is similar to Prairie but sided in stucco, resembling the old missions of the Southwest; and
The Four Square, two-story homes with four rooms on each floor separated by a central stairway.
What attracts us to the Craftsman home?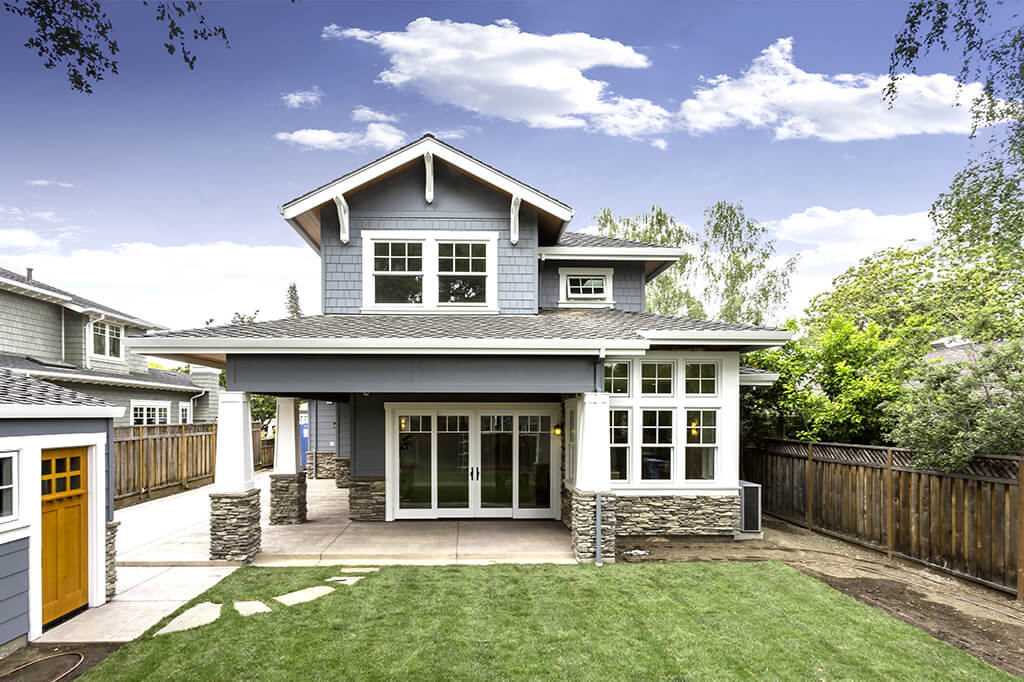 There's something modest about a Craftsman home. Its appeal is as timeless as a Traditional-style home but more casual in feel and livability. Some would say the beauty comes from its simplicity of both the design and the typical building materials of wood, brick, and stone.

The Craftsman's outer strength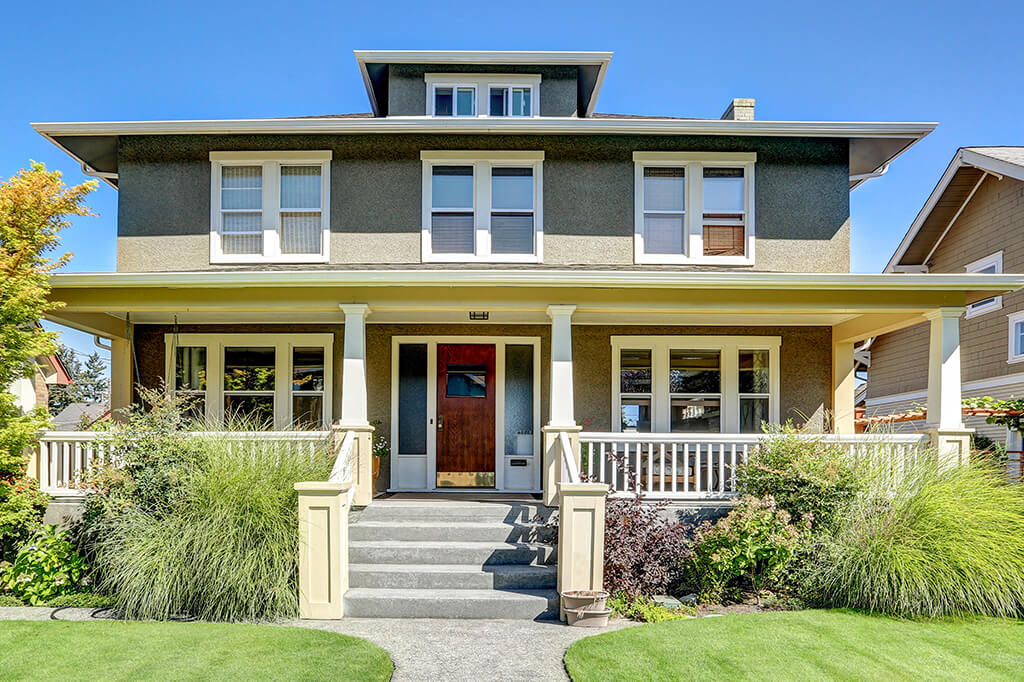 You can find neighborhoods of original Craftsman homes close to cities. Some were built from kits by Sears, Roebuck & Co., that were popular from 1908 to 1939. The kits included pre-cut lumber, wallboard, and plumbing fixtures shipped by train for the ultimate DIY project. The natural, simple style has also made them a favorite in rural areas and mountain communities.

Heavy porch columns often feature stone or rock supports. The roof beams extend to overhanging eaves, projecting a strong yet subtle personality.
The double-hung windows often have multiple-paned upper sashes. Craftsman entry doors — usually stained to highlight a woodgrain finish — also feature multi-paned windows in the upper section, along with simple dentil and shelf detailing.
Entry lighting is usually a dark metal lantern style, and every facet of these homes shows its purpose. There are no frills and no unnecessary decoration.
The Craftsman's inner charm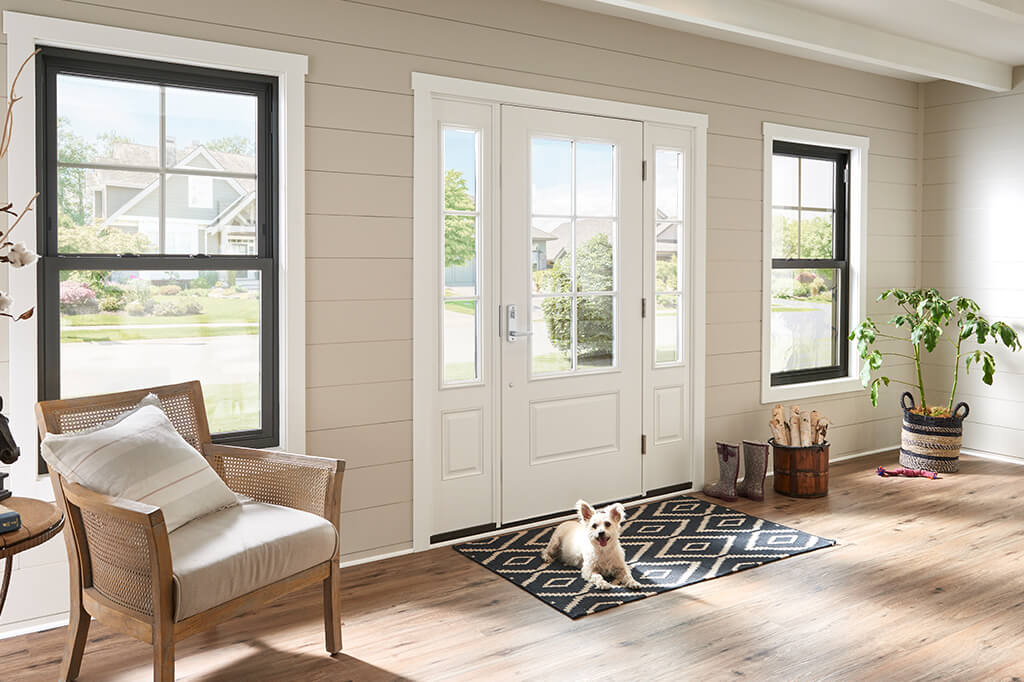 Unlike more formal home styles, the entry door opens from the porch directly into the living room with no pretense of a foyer. You're immediately greeted by a cozy fireplace symmetrically flanked by bookshelves with small, multi-pane windows above them.

The living room usually flows into the dining room through an archway. Windows and doorways are cased in wide, plain wood trim, and you'll often find exposed or boxed ceiling beams. Original lighting is part of the design, often symmetrical sconces.
There is a certain genius in the use of space in these smaller homes. Along with the built-ins in the living rooms, you'll find extensive cabinetry in the tiny butler's pantries, dining room sideboards or corner cabinets, window seat storage, and kitchens with windowfront cabinets.
Color choices in these homes lean toward natural shades of browns, off-whites, and soft greens. Of course, Gustav Stickley Craftsman-style furniture, with its solid simplicity, is also natural in these homes.
After more than a century, it's clear that Craftsman homes were designed and built to last. The style's popularity also celebrates its longevity. Although based on British Arts and Crafts design, there is something so American about the Craftsman — no-nonsense, sensible, strong, and dependable.
If you're interested in incorporating Craftsman design into your home, talk to the professionals at Window World. We're always happy to discuss your exterior remodeling ideas for windows, doors, siding, and more. No matter what your home's style, we're here to help with free consultations virtually or in your home. Call your local store today.
---