Back to Blog
How to Pull Off a Mid-Century Modern Retro Home Renovation
Ready to get started?
Window World offers free in-home consultations! Click below to schedule today!
Get started!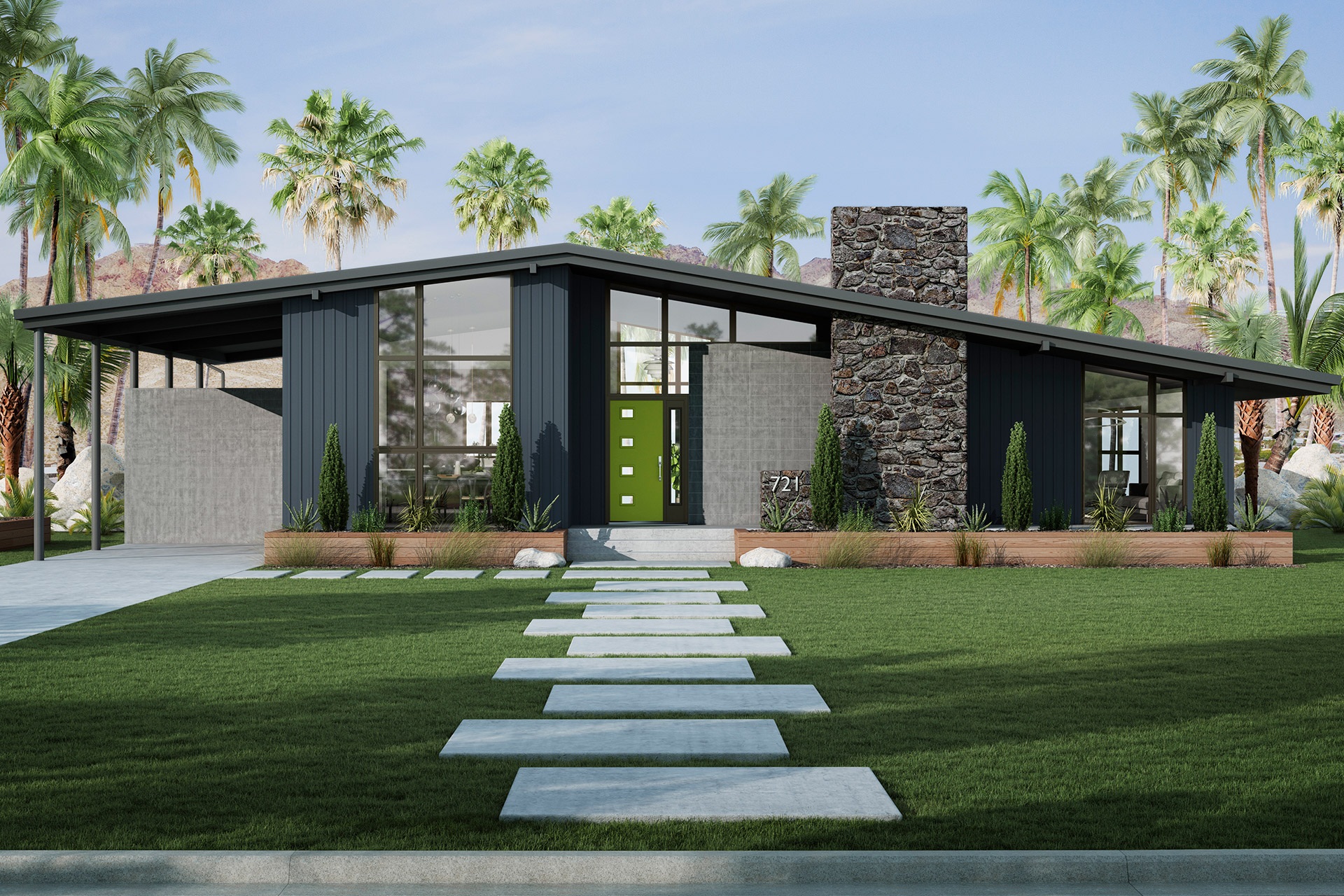 5 stylish mid-century modern exterior renovation ideas.
Today's obsession with mid-century modern (MCM) style is all about emulating the look of homes built in the middle of the 20th century, from the 1930s to the 1960s.
Sweeping geometric lines, futuristic shapes, bright shades of exterior paint, and expansive windows came to define this new and popular style. Homebuilders incorporated many of these then-modern design ideas from notable architects, including Walter Gropius, Ludwig Mies van der Rohe, Marcel Breuer, and the father of American architecture: Frank Lloyd Wright, who trained many MCM architects.
Although MCM design shares some similarities with America's ranch-style homes, the two styles have distinct architectural philosophies and should not be confused.
In today's homes, the mid-century modern look is usually characterized by:
Clean, minimalist lines for both the home's frame or silhouette and furniture choices.
Bright paint colors including blue, gray, orange, and yellow, particularly for the front door.
Some asymmetrical aspects, such as a sloped roof.
Wide or expansive windows, especially floor-to-ceiling designs.
Linear arrangements of plants, particularly species that flourish in their home's climate.
A blend of several materials within the home's exterior design, including stone, glass, and wood.
With a few MCM influences, your home will harken back to the 1950s in the best way, feeling retro and classy at the same time. Given pop culture's recent fixation on these homes, there's never been a better time to implement a few smart home renovations to emulate this style.
Bringing mid-century modern style to your home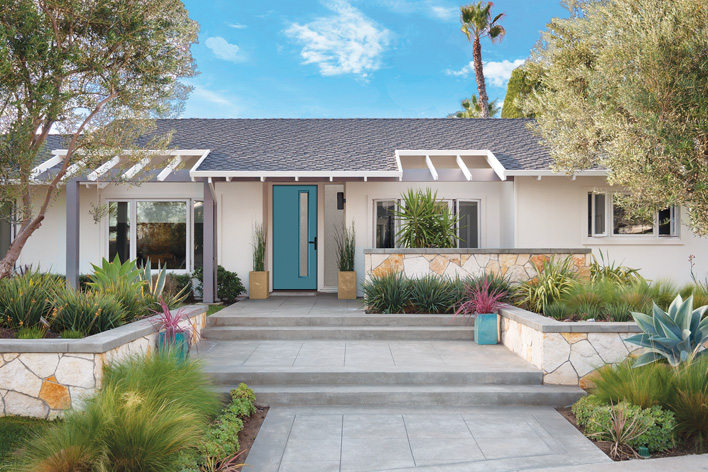 Good news! There's no need to tear down your house's walls or make sweeping changes to its architecture to evoke the MCM aesthetic. Here are some effective yet manageable renovation ideas you can implement this fall.
Make plants a focal point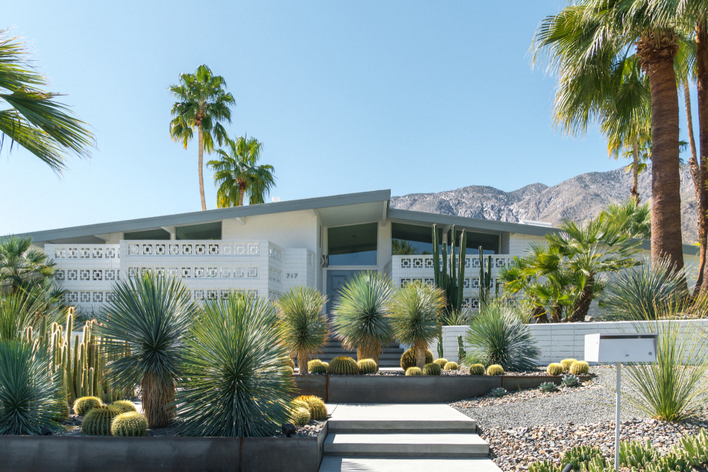 The MCM style emphasizes potted plants and other natural yard fixtures, like stones or trees. You can start your retro renos here by doing a little "hardscaping."

Revamp your front yard by …
Placing potted plants or small trees in neat, geometric lines alongside exterior walls or leading up to your front door.
Using stones for pathway materials instead of concrete.
Keeping a neat, fertilized, and mown lawn — the greener, the better!
To ensure the most authentic landscape design, keep your climate's native plants in mind. If you live in a desert climate, stick with succulents and low-water plants and avoid planting grass in favor of desert shrubs. A big part of the MCM style involves leaning into your natural environment.
Let in the light with expansive windows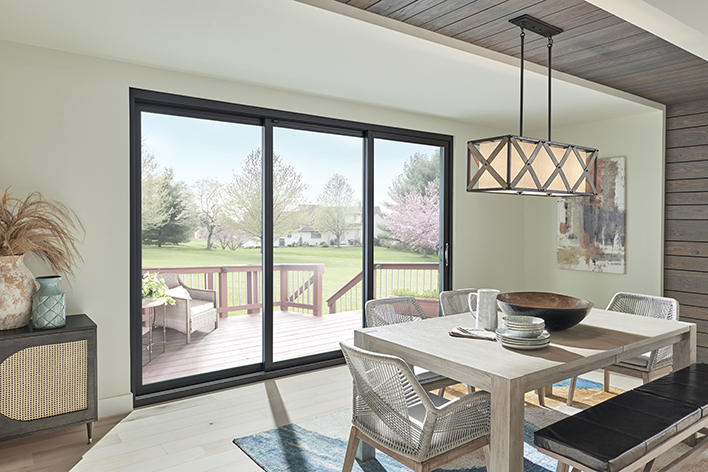 Big windows are a major part of MCM's curb appeal, especially in the living room and dining room. Floor-to-ceiling windows, including sliding glass doors or large picture windows, are excellent places to start. Not only will this help you emulate the MCM look, but you'll also receive much more natural light throughout the day. It's a win-win!

To nail this style, choose windows that don't have visible grids. Sliding glass doors, casement windows, and awning windows will all let you enjoy extra sunlight and maximum ventilation in the summer.
Simple silhouettes are key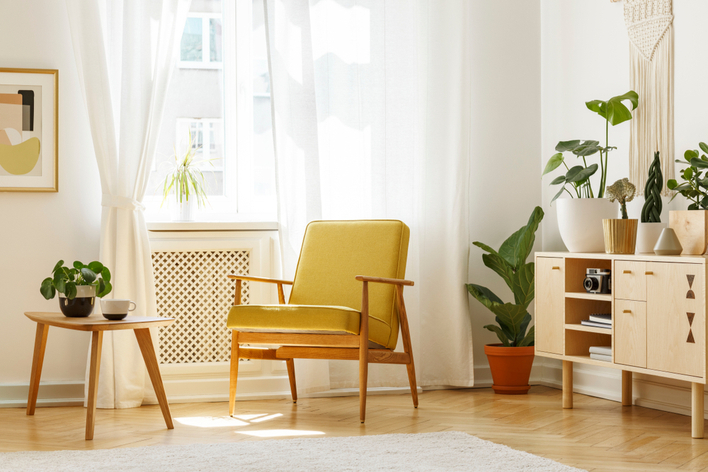 Simple, geometric silhouettes characterize authentic MCM homes. Clean lines, flat planes, and a distinct lack of rounded edges combine to create a look straight out of the 50s and 60s.

You can emulate this look without doing major renovations by selecting the right furniture. Chairs and tables with tapered legs and geometric frames can create a contemporary feel for any room in the house. Choose furniture with natural wood materials or metallic colors to get even closer to the mid-century modern spirit.
For your outside deck or backyard, consider installing water fountains, fences, and porch seats with angular shapes. These features will help people recognize the MCM inspiration of your home, even if the house's bones don't quite match up.
Rethink your door's design and color
A thoughtfully designed front door can complete the look and make the most of your home renovations. MCM front doors have clean lines, simplistic shapes, and bold colors. In fact, it's a good idea to paint your front door in a completely different hue than the color of your home's walls.

You're in luck – bold and modern entry doors are in style. Even better, Window World's geometric and brightly colored front doors are covered in a fiberglass skin that doesn't warp, rot, or twist like the wooden doors of years past.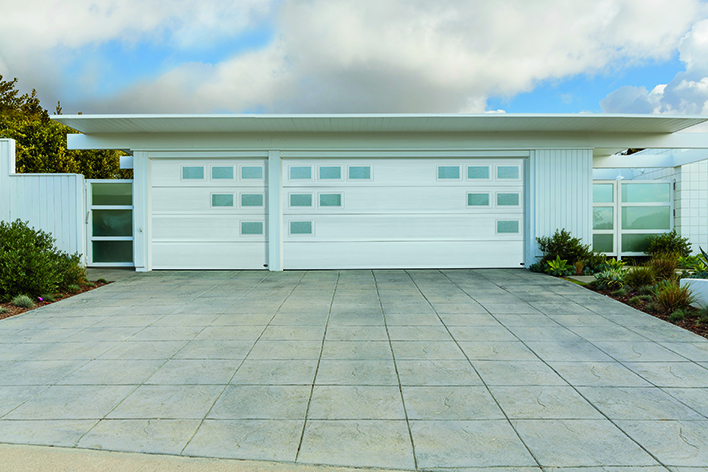 Don't forget the garage door! A rolling door with flush panels or a geometric, ribbed design can seal the deal and complement your front door. The Amarr Stratford garage door is a perfect example.
A simple, striking, and stylish mid-century modern home renovation is well within your reach. The ideas above are just the start — contact Window World today to set up a free consultation. Find a Window World store near you.
---