Back to Blog
8 Ways To Add Boho Chic to Your Interior Design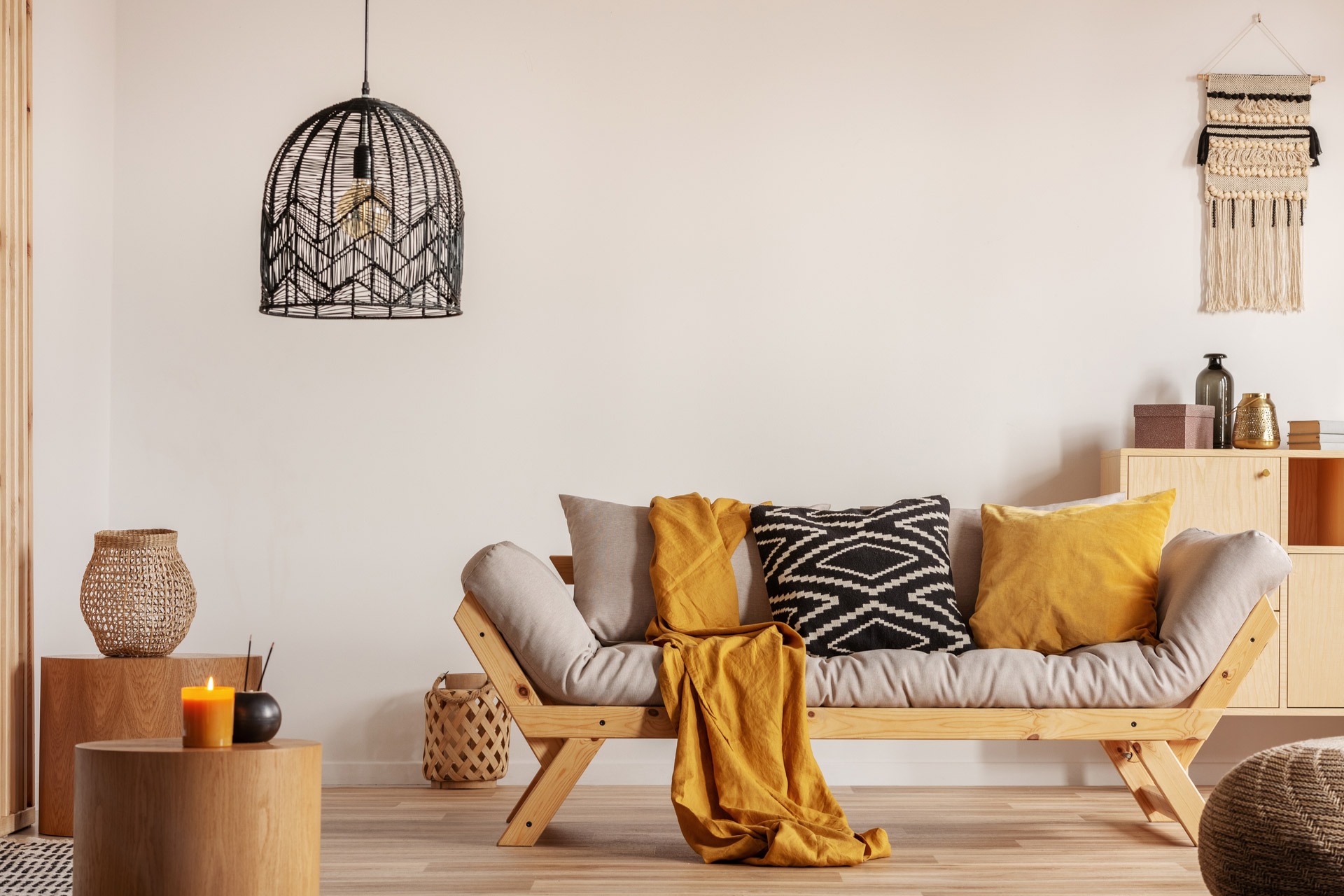 Tap into your "inner bohemian" to embrace this home design trend.
The first question you may be asking: Exactly what is boho chic? The answer: Anything but exact.
The term "boho" comes from the word "bohemian." Merriam-Webster defines it as "a person (such as a writer or an artist) living an unconventional life usually in a colony with others" or alternatively, "vagabond, wanderer."
Perhaps a simpler description would be "a free spirit." When applied to the popular décor style, boho chic is unconventional, personable, eclectic, and inviting. You might say it's less of a look and more of a feeling.
When you walk into a boho-design living space, it should stir your imagination. The mixture of colors, patterns, and textures invite you to explore. Some of the terms associated with bohemian design include Indian, Moroccan, Turkish, Persian, Oriental, Mexican, Southwestern, and Tribal. So, it's easy to see where the "wanderer" influence stems.
Let's look at eight ways to capture your boho home style.
1) High-touch textures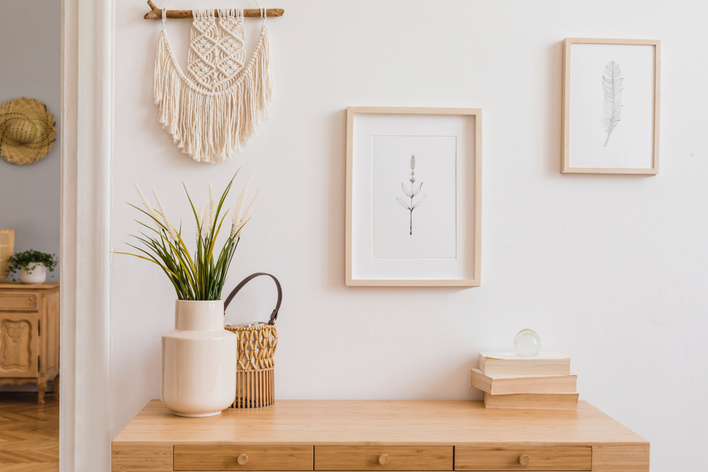 Enjoy all the feels boho chic has to offer. Tassels, fringes, hooked weaves, crochet, fake fur, sheepskin, etc. — there's something for everyone. Make it sumptuous, decadent, interesting, and cozy. That antique velvet sofa can hold at least five pillows of tactile delight.

2) Mix patterns
Remember when you were told not to mix stripes and plaids? Well, it's time to clash and color outside the lines with wild abandon. Wallpaper, eclectic throw pillows, wall art, quilts — pick your color palette, mix it up, and let it rip!
You'll find an added advantage to patterns; they hide flaws, spills, and stains. And when it comes to color, go bold or subdued. That mix of patterns will hold interest.
3) Upgrade your floor show
Hardwood flooring seems like a natural fit for the boho look, but even if you have wall-to-wall carpeting, you can top it with an area rug to up the pattern play. Combine different-sized throw rugs or even layer them to add interest. An "appropriate" rug style can be anything under the sun, including bold shags, animal skins, traditional oriental, Persian, Turkish Oushak, and flatweave Kilim. Don't be afraid to use a little of each.
4) Blend vintages
This is your chance to pay homage to all your ancestors while staying true to your own furnishing preferences.
Your great-grandmother's dining room china cabinet can play nicely with your mom's mid-century modern end tables and your Moroccan-inspired coffee table. Tie them together with a similar color palette of accessories. And don't be afraid to paint dark wood furnishings with a bold color.
5) Set a relaxed mood with lighting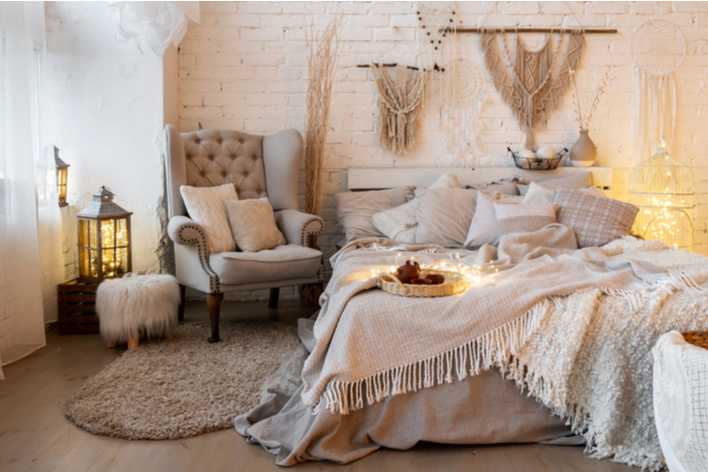 Even if you have recessed lighting, boho style loves to feature eclectic illumination. So, dim the overheads and let floor lamps, small accent lamps, hanging lanterns, candleholders, and ceiling chandeliers take the spotlight.

6) Plant ideas and watch them grow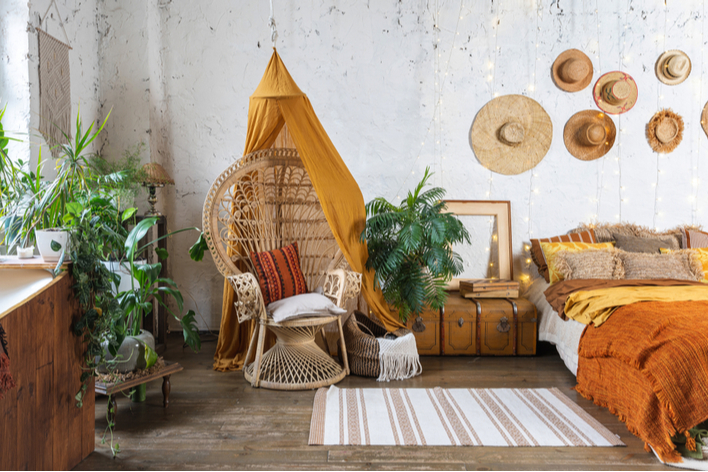 Have you heard of "Jungalow" style? Justina Blakeney's vision lifts bohemian style up a notch from free-spirited to wild. She takes her cues from nature. One of the first lessons is to bring the outside in with lush greenery.
Choose huge leafy monstera plants, snake plants, and succulents in containers of natural materials to set an aura of peace and tranquility. Plants help by filling in blanks, softening a corner, creating natural privacy in a window setting, or adding color and natural leaf patterns. With a little love and care, they can make a very affordable fashion statement.

7) Give the eyes a place to rest
Boho style can sometimes feel a little overwhelming. With so much pattern-play and so many color combos, it's important to find that time-out space for visual relaxation. Whether it's a white wall, a solid color bed covering, or a neutral tone sofa, let this be the backdrop for all the visual fun of artwork and pillows.
8) Tell your story
If you gravitate to boho-chic style, then chances are you have an outgoing personality and a creative, curious mind. Let your décor tell the story of you, your interests, your travels, and your talents. Nothing is out of bounds when it comes to decorative accents. Shells and rocks collected on beaches or trails, vintage books, or a favorite hat or scarf — if they matter to you, put them on display. Let others love them, too.
If you're looking for new ways to update your home, your friends at Window World are here to help. Perhaps your boho-chic style would feel even cozier with new, energy-efficient windows to bring sunlight to your plants or a new entry door to welcome guests. Contact your local store today. We'd love to discuss your ideas and provide a free quote.
---