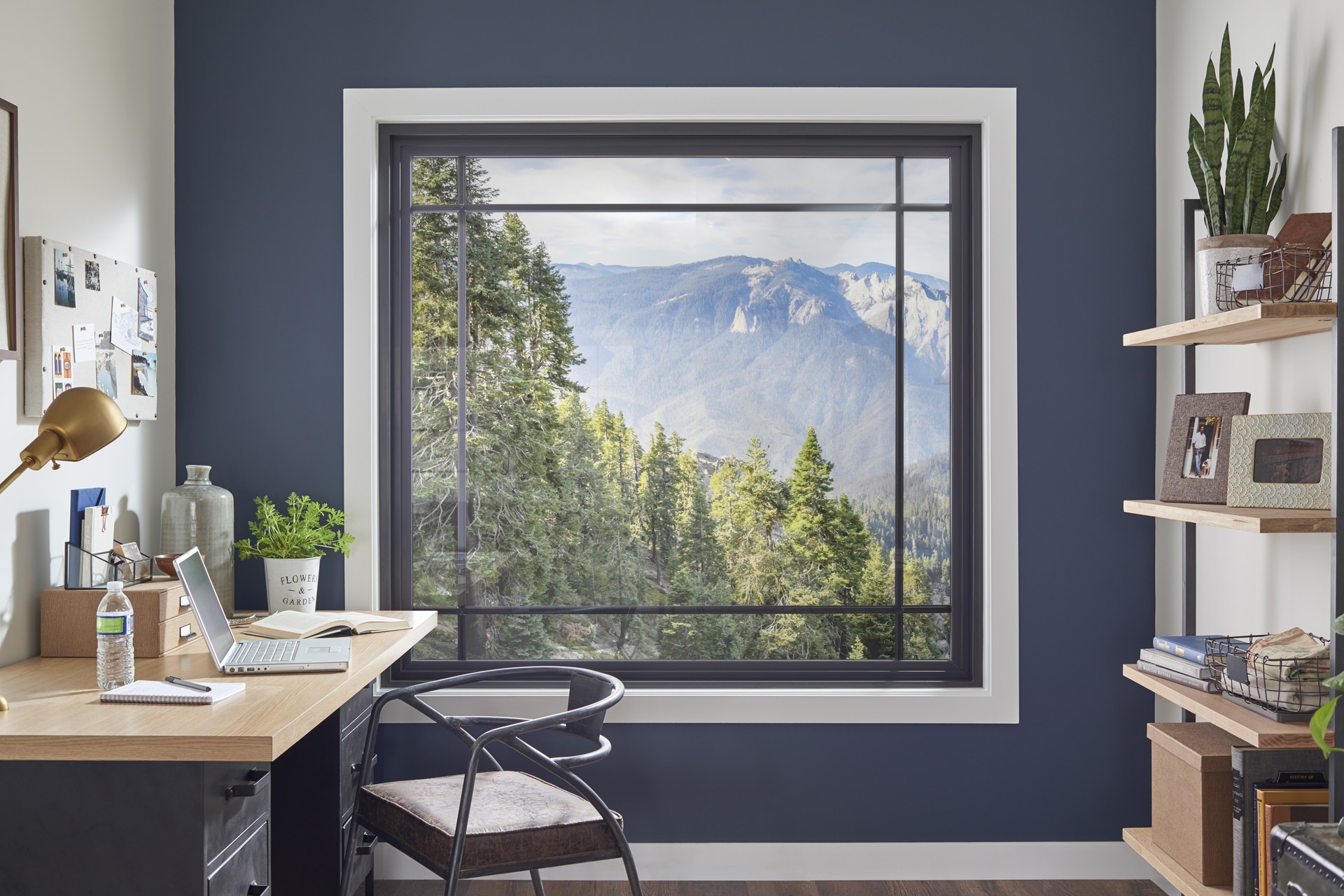 Ready to learn how to set up a home office? Use these tips to create a brand-new workspace or upgrade the one you have now.
The days of waking up early, getting dressed, and heading to the office may very well be gone forever. As companies continue to get more comfortable with employees going remote, it's become apparent that our living spaces aren't automatically cut out for working from home.
Thankfully, our homes are adaptable, and we can turn almost any room of the house into a home office with a bit of shopping and a little work.
Tips for Creating an Office at Home …
1) Find a room that works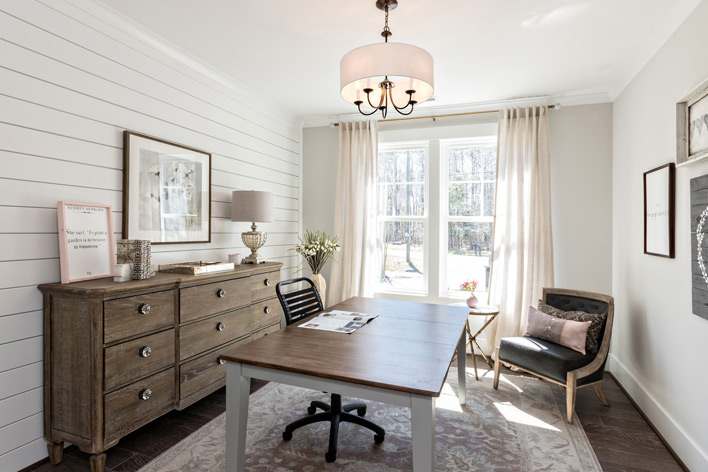 You'll want to find a spot in your home that offers as much space as possible. That doesn't mean you need an entire room dedicated to remote work, but you should try to find an area that gives you enough space for a desk, some accessories, and a chair.

It won't take long to get frustrated moving around existing furniture to sit down at your desk, so try to pick a spot that gives you ease of access as well. And be aware of foot traffic, too. If there's a chance for lots of unexpected visitors or noisy footsteps, it may not be the best choice.
Living room
The living room may work if you've got enough space. Room dividers can be an excellent addition if you need to separate things.
Bedroom
A bedroom is a natural choice for the home office. You may be able to rearrange the furniture and use existing pieces to get the layout you need. And if you've got a big enough closet, removing the doors and clearing some space will allow you to convert it into an office nook.
Kitchen
Kitchens usually have some of the best light in the house. If you're able to make space by putting rarely used items away in nearby cabinets, you can use the kitchen table or island for a desk.
Basement or Playroom
If you have the luxury of a finished basement or a playroom, these areas can be transformed into the perfect home office. DIY shelving systems and stackable containers save space and make transitioning these areas back to normal a cinch.
2) Pick out the perfect desk
To stand or not to stand … that is the question.

Standing desks can be a great way to get yourself up during the day while also serving the role of a traditional desk. They come in various sizes, and most are operated by a manual crank handle or with the push of a button.
If you choose to go the standing route, be sure to check out standing desk mats. Not only do they feel squishy and comfy under your feet, but many of them come with terrain features that you can play around with while standing, lessening the chance of fatigue.
Of course, the most important thing about your desk is the workspace itself. Whether you stand or not, make sure you have enough surface area to use all the stuff you need comfortably. You'll likely want room for a computer, an external monitor, and perhaps even a phone. A favorite desk lamp will make things feel homey and productive at the same time.
3) Get a chair that suits you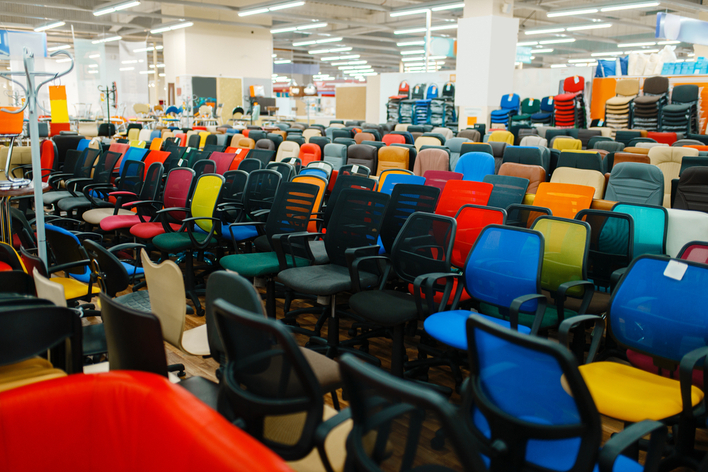 No matter the desk you choose, you'll likely be sitting a lot of the time. If you have the opportunity to try chairs in person, spend time sitting in different sizes and styles to see what works best with your body type. If you're restricted to finding one online, make sure to read as many reviews as you can.

There's a chair out there for everyone. If you require help in the lower back area, find something with extra lumbar support. If you're taller, a tall-backed chair is probably best. And if you're just getting started on a home office remodel, this is a great place to start.
4) Select comfy accessories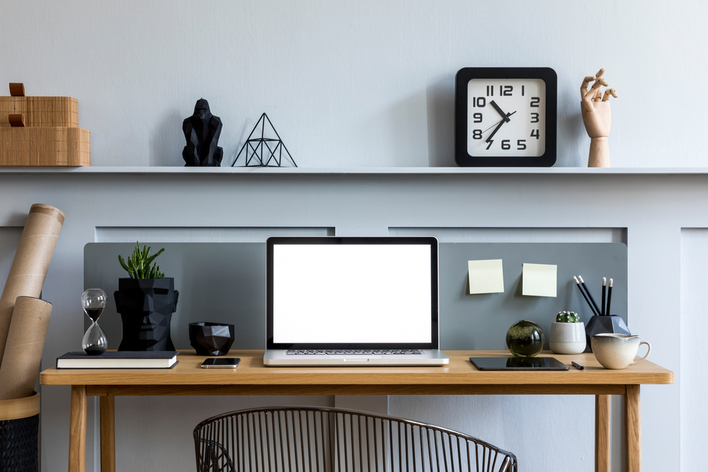 If you're going to be working from home, there's no reason not to feel comfortable. Spend some time picking out pieces that make you happy: a wastebasket that matches the room, a custom pencil cup with a family portrait on it, or a planner in your favorite color.

The right accessories can make a world of difference when you're slogging through an afternoon of meetings. Try to be mindful of your existing design scheme, but feel free to pick things that set your office space apart, too. And have fun with it!
5) Organization is key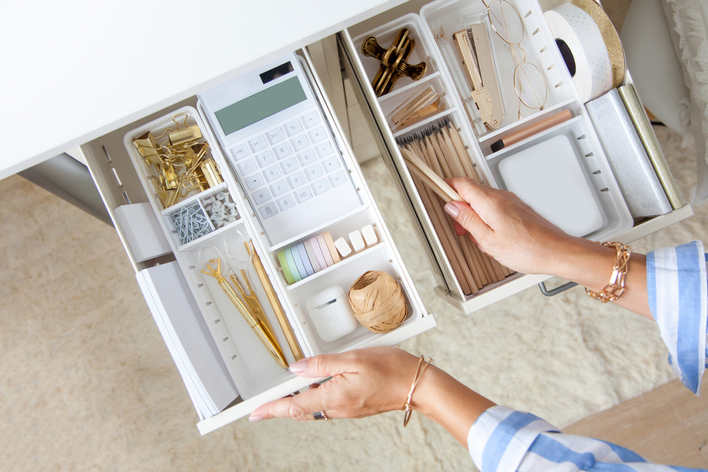 Having an excellent organization and storage system is one of the easiest ways to make a small office space seem bigger. Not only that, but you'll know just where to go to find that past-due report.

There are a variety of different ways to sort and store your things, but most of them revolve around shelving, cubbies, and baskets or bins. This office from Elsie Larson does a beautiful job creating useful storage solutions that look good too.
6) Access to power and tech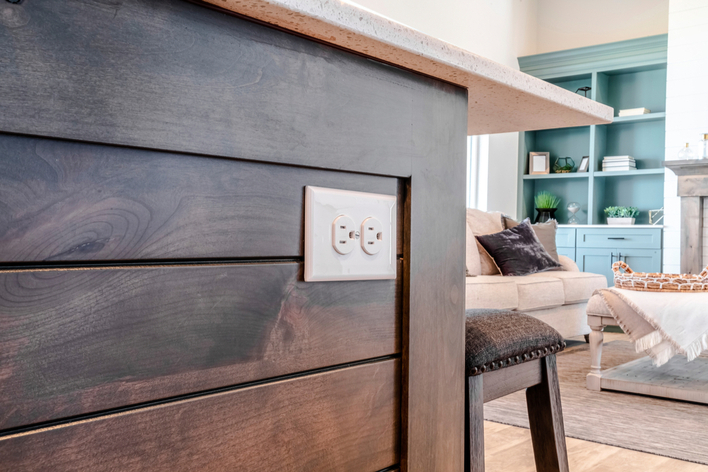 Remember, you're creating a place to get work done, so don't forget the necessities of doing business when designing your office. You'll need easy access to power outlets and a good internet connection. If you find that all those cords and wires are becoming a jumbled mess, these cord organizers are a great way to get things in order again. Oh, and don't forget a spot for that all-important phone charger!

7) Lighting is important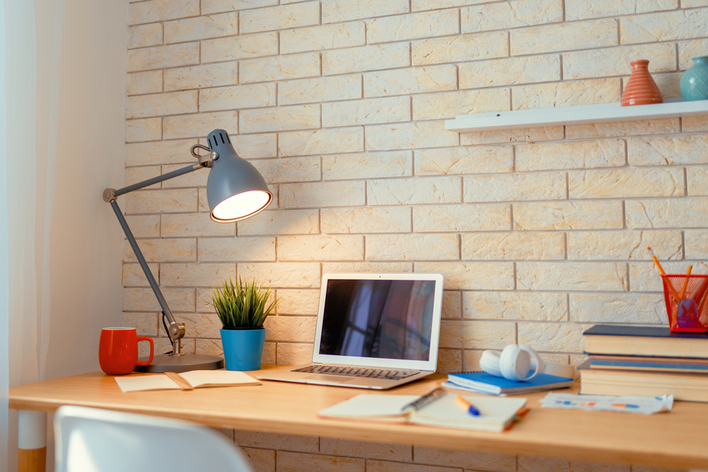 If you're unable to get access to a nice window, it pays to find yourself some decent supplemental lighting. The room you'll be working in likely has an overhead light or a few lamps, but overhead lighting can get old quick, and you don't want to rearrange existing lamps just for the 9-5.
Consider adding a nice desk lamp for task lighting, and position your monitor so that it's free from glare. Being smart about your lighting setup will help eliminate headaches and throbbing eyes down the road.
8) Don't forget the view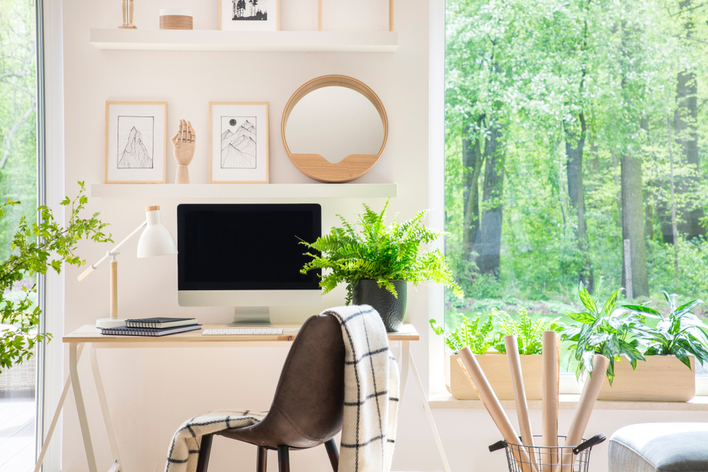 Giving yourself a nice view is a definite bonus for those who can swing it. If you're getting serious about working from home and you'd like to add a new window or replace the one you have now, the options below are a great way to go.

Picture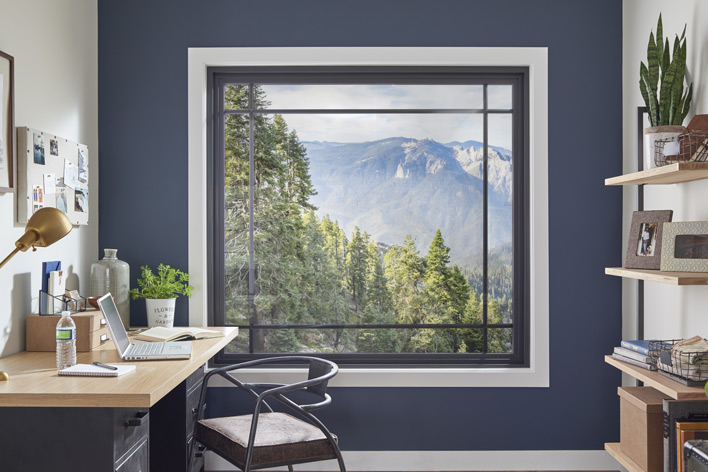 A picture window doesn't open, but it gives you the largest amount of glass possible. If you're not fussed over opening your office window, but you'd like an uninterrupted view of what's outside, this is a wonderful choice.

Casement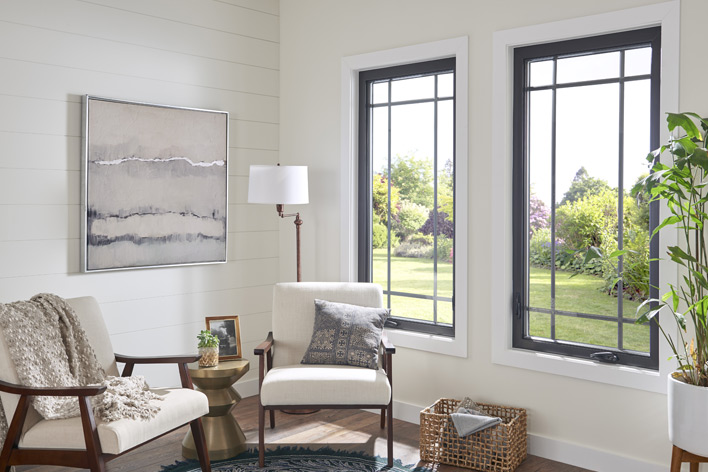 Casement windows give you a clear view of what's outside, with the option to vent or open when things get stuffy. Because they open with a crank and don't require two hands, they're an excellent solution for areas that are difficult to reach (like behind a desk).

Double- or Single-Hung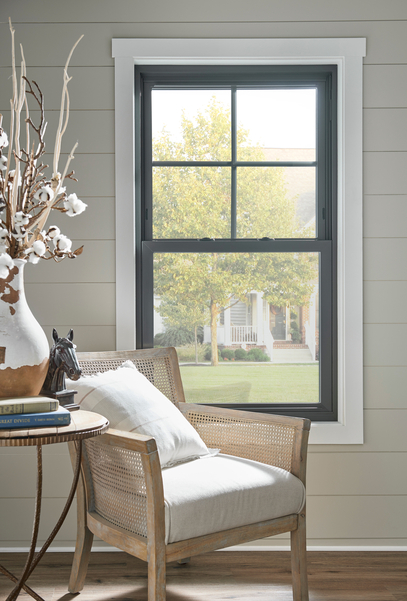 Double- or single-hung windows are classic. They offer great views of the outdoors, open and shut for added ventilation, and tilt in for easy cleaning. They also look great in a variety of grid patterns.

Sliding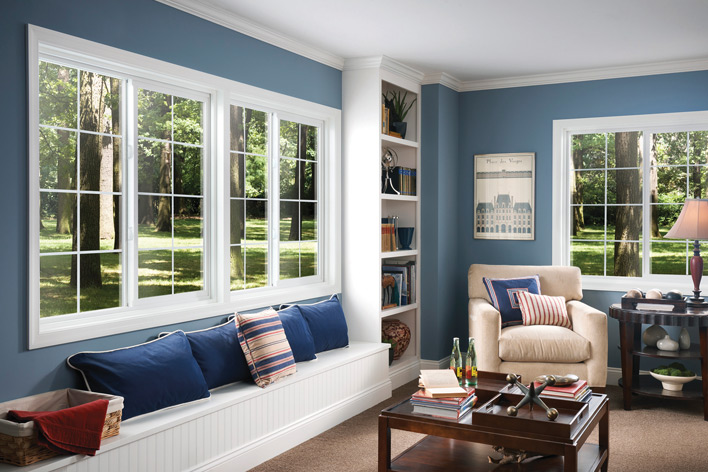 Sliding windows or "sliders" work the same as double-hungs that are laid on their side. Instead of pushing the sash up or down, you simply slide it to the left or right to bring in fresh air. They're a popular all-around choice in the West and a great home office window.

Well, there you have it. The perfect home office is easy to achieve with just a bit of planning and a few additions. As you settle into your new working space, take time to tweak things as needed to make the overall arrangement more comfortable. Once everything is in place, it should be smooth sailing from 9-5, or at least until the kids come home. 😉

If you're looking for more design inspiration for your home office, or you're ready for a bigger home remodeling job and aren't sure where to begin, check out the rest of our blog. When you're ready to replace your windows, update your siding, or add a new door, we'll be ready with a free quote.
---