Back to Blog
14 Inexpensive Home Renovations You Can Do for Under $100
Ready to get started?
Window World offers free in-home consultations! Click below to schedule today!
Get started!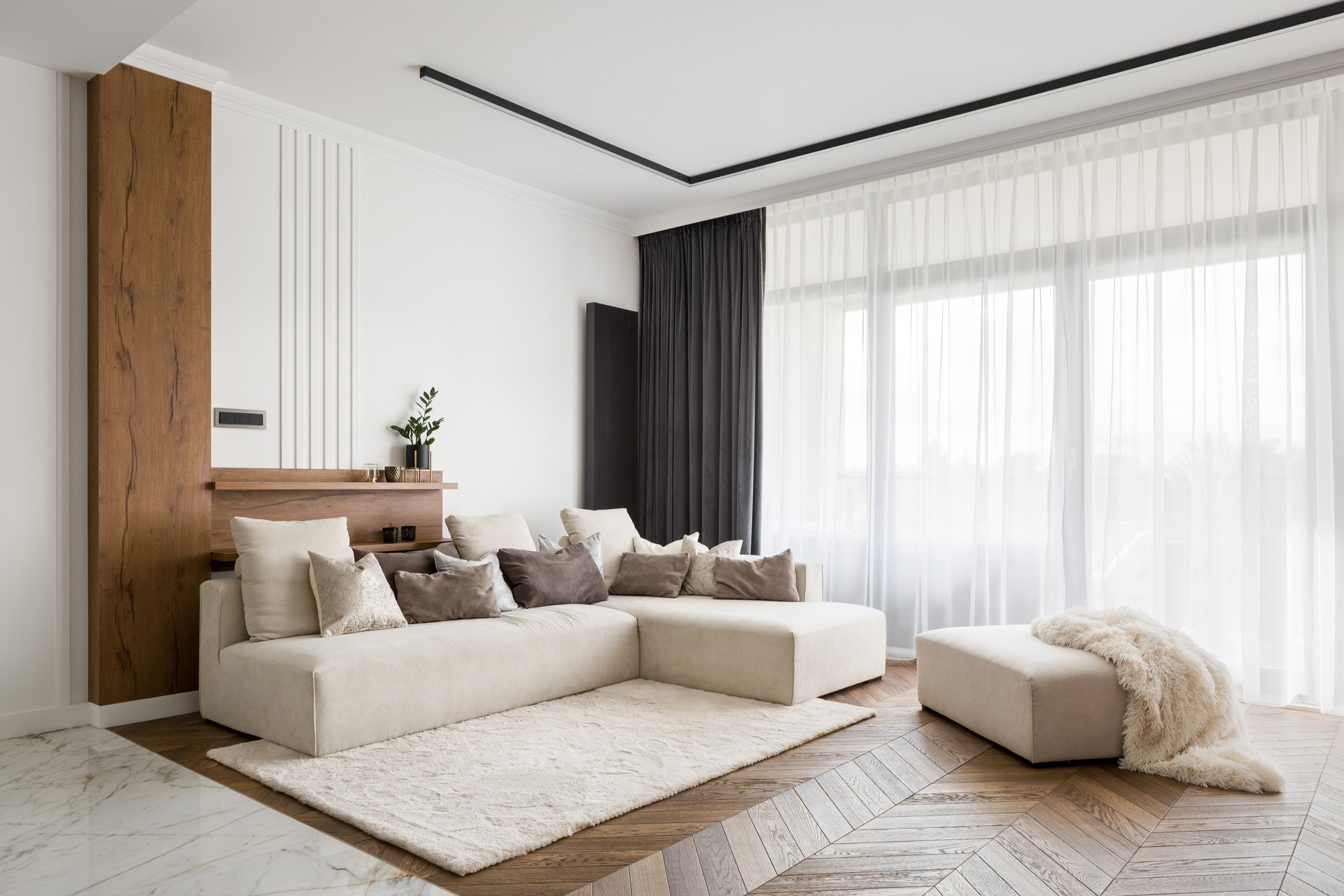 Weekend home projects that don't break the bank.
We've put together some cheap DIY projects you can complete in a day or a weekend. Let's dive in!
1) Raise your window treatments
Give your windows the attention they deserve by lifting your curtain or drapery rod six to 12 inches above the window frame. This makes a standard height room look taller and grander. You can also extend the rod three inches on either side of the window frame. If needed, add a complementary band of fabric to the lower edge of your drapes so they'll still hit the floor.

2) Paint your front door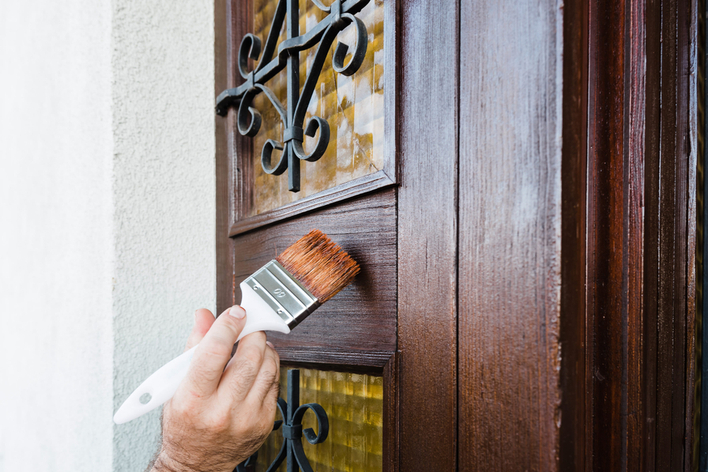 This one makes a big statement with very little expense. Select a color that reflects your home's character and personality. Just make sure it works with your shutters and siding. With a little sandpaper, primer, paint, and elbow grease, your freshly painted front door will look great for years to come.

3) Brighten your kitchen or bath with a new light fixture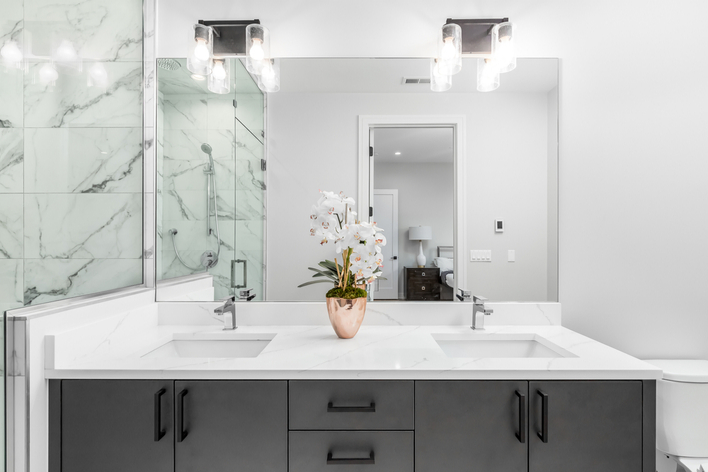 Swapping out dusty old light fixtures can really brighten up a room. Plus, it's usually a simple fix. (Don't forget to turn off the electricity first, friends!)

Bonus tip: Did you know you can paint metal light fixture surfaces, such as chrome or stainless, to make them appear bronze or black? A can of spray paint and an hour of your time is all you need!
4) Create an accent wall with removable wallpaper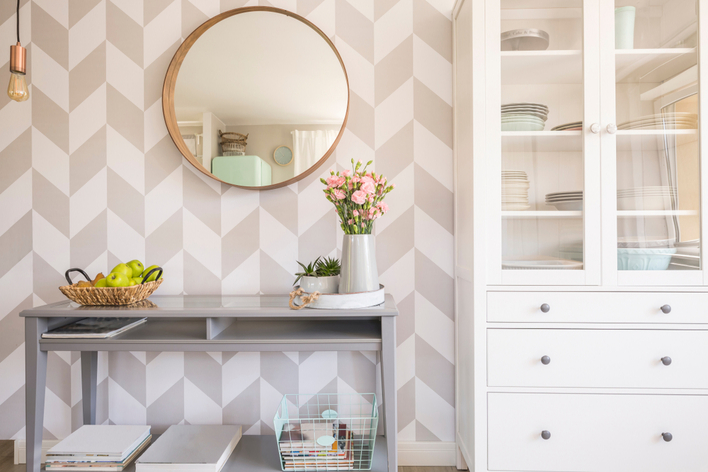 Peel-and-stick wallpaper is a real game-changer for quick DIY projects. It can give you an ultra-chic look for very little money and time. Patterns range from traditional florals to designs that mimic tile or shiplap. If you change your mind, just pull things down and start again.

5) Get a new handle on your bath or kitchen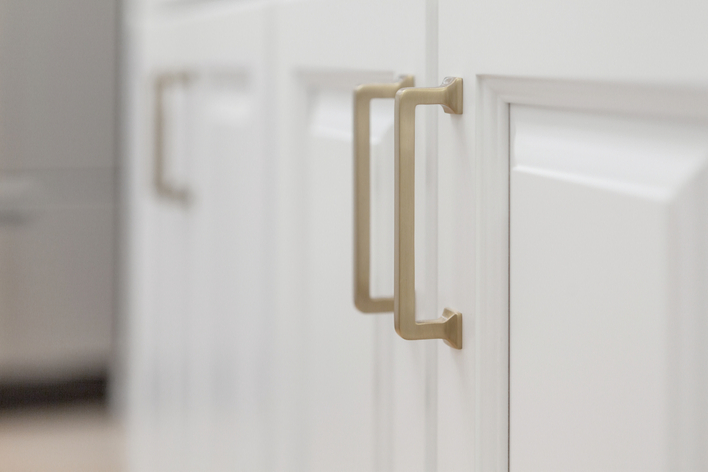 This is undoubtedly one of the easiest home upgrades you can do. Simply unscrew your old handles and knobs and replace them with something fresh. Be sure the handles are the same width and length so you can use the existing holes. And try to select knobs with similar mounting patterns to avoid needing to repaint around the holes.

6) Add molding and trim to living areas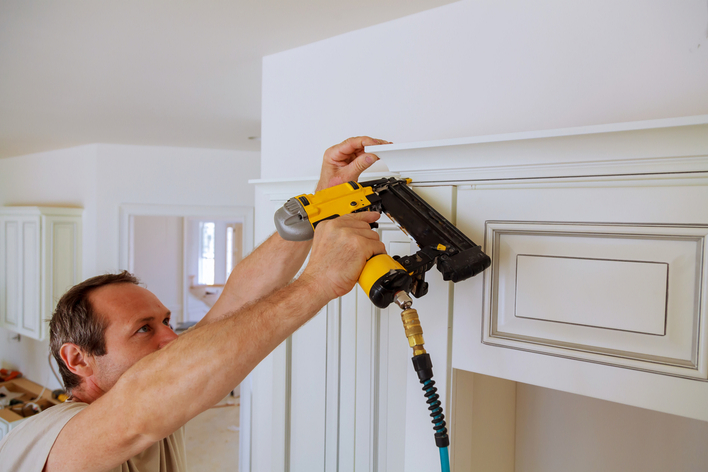 Although this project requires several tools, you can install crown molding and trim around your floors for a lovely, finished look. And don't forget that adding crown molding to a small bath or powder room creates a touch of sophistication and glam.

7) Give built-ins a boost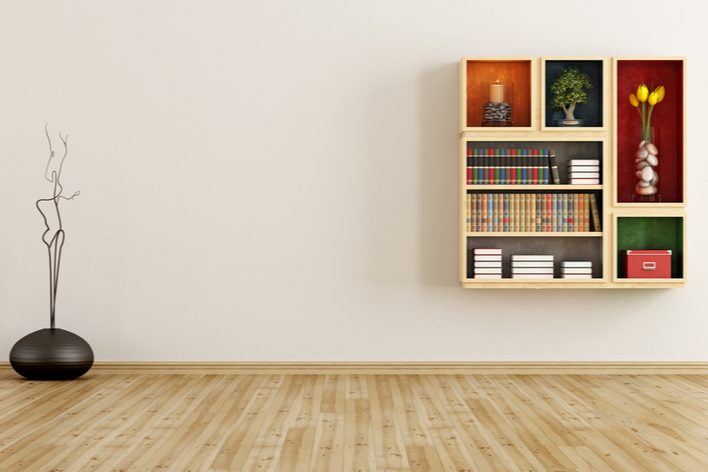 You can add a creative and custom look to built-in bookshelves or cabinetry by painting the back wall a contrasting color. This helps add impact to treasures featured on the shelves. Another quick and inexpensive idea is to line the back of a bookshelf or cabinet with peel-and-stick wallpaper.

8) Paint stairs or stencil stair risers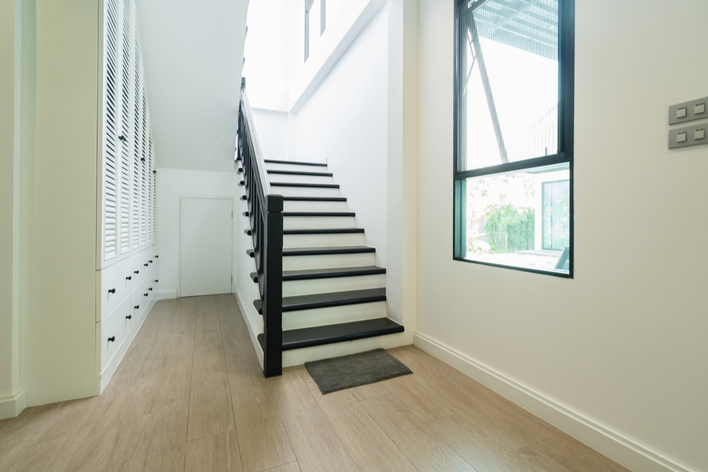 If you're looking for something impactful, paint your stair tread a bold black and the risers white for a sleek modern look. You can also stencil the risers to add some charm.

9) Create a gallery wall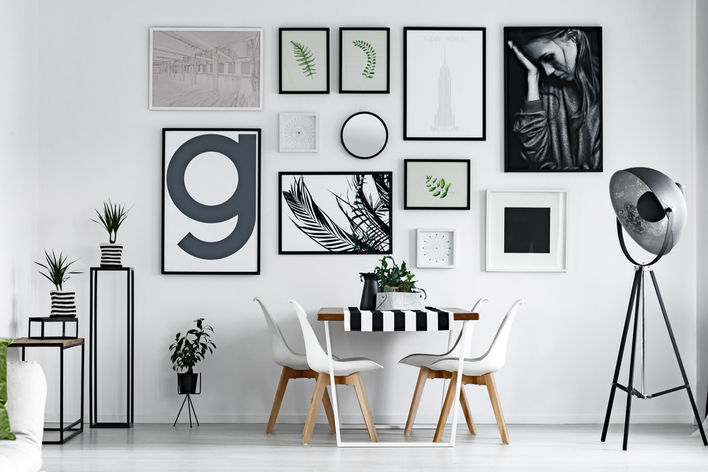 To create a gallery wall, choose an inexpensive set of matching frames in black, white, or chrome. You can use frames of different sizes or match them up. Let the matting adjust to the size of the art or photo. Small art with a wide mat in a large frame really draws the eye and looks high-end.

Another way to display your art is to find old frames at a thrift store and spruce them up with a new coat of paint. Arrange them asymmetrically. It helps to place the frames on the floor and play with arrangements before committing to any nail holes.
10) Swap or upgrade your doorknobs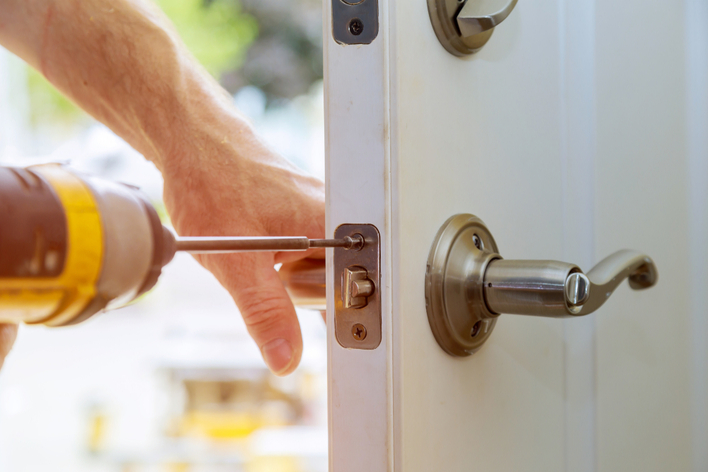 If your home has ordinary builder-grade doorknobs, it may be time to change them for something more stylish. In addition to entry doors, make sure to concentrate on interior doors in living spaces or well-traveled hallways too.

11) Hang a window box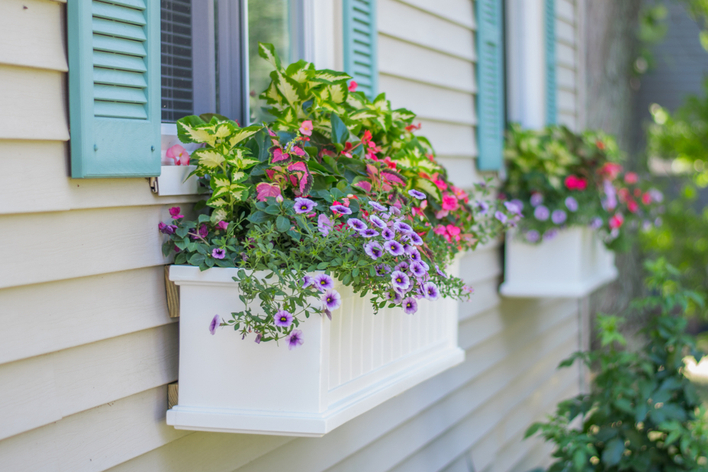 Adding window boxes to your home is an easy DIY upgrade that instantly boosts curb appeal. You can build a simple version yourself or find something online or at your local hardware store. Remember, the point of any window box is to showcase flowers and greenery, so make a modest investment in some potting soil and flowers that will thrive in your climate.

12) Upgrade your outlets and light switches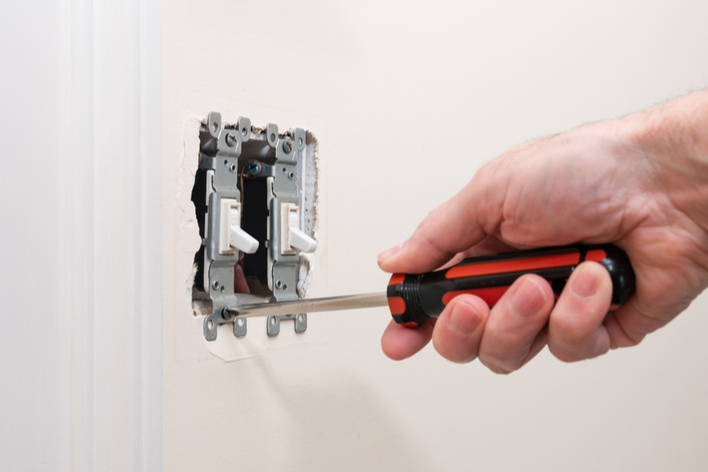 Times change, and so do our power needs. Dual USB ports blend seamlessly in the same space as your traditional outlet and are easy to install. So, while this home upgrade might not change your décor, it will change your life for the better and may even add value to your home.

Speaking of simple electrical upgrades, why not add a dimmer to your overhead lights? Being able to control the brightness will allow you to set the mood for anything you have in mind.
13) Update old countertops with contact paper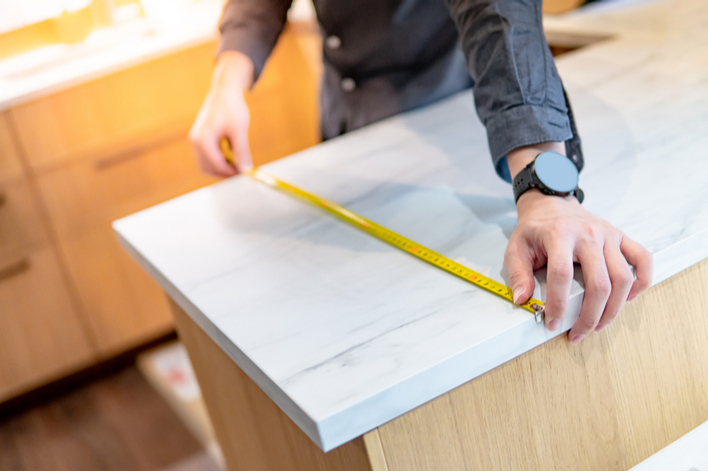 It may seem hard to believe, but this hack really works. You can update tired, old surfaces with durable contact paper that mimics sleek marble or granite. You may want to start in a bathroom and graduate to the kitchen if all goes well. If your style ever changes, you can always remove and replace things easily. Try that with granite!

14) Light your path with energy-efficient solar power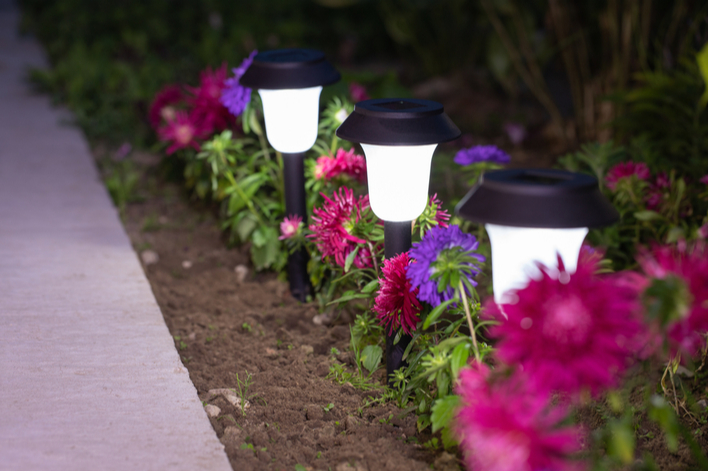 Installing walkway lighting is simple. Just push the stakes of each light wherever you want them. Give them a day to power up with sunlight and enjoy the beautiful accent lighting they create in the evening.

We're always happy to discuss your ideas about windows, doors, siding, and more. Schedule a free virtual or in-home consultation or visit a store near you.
---