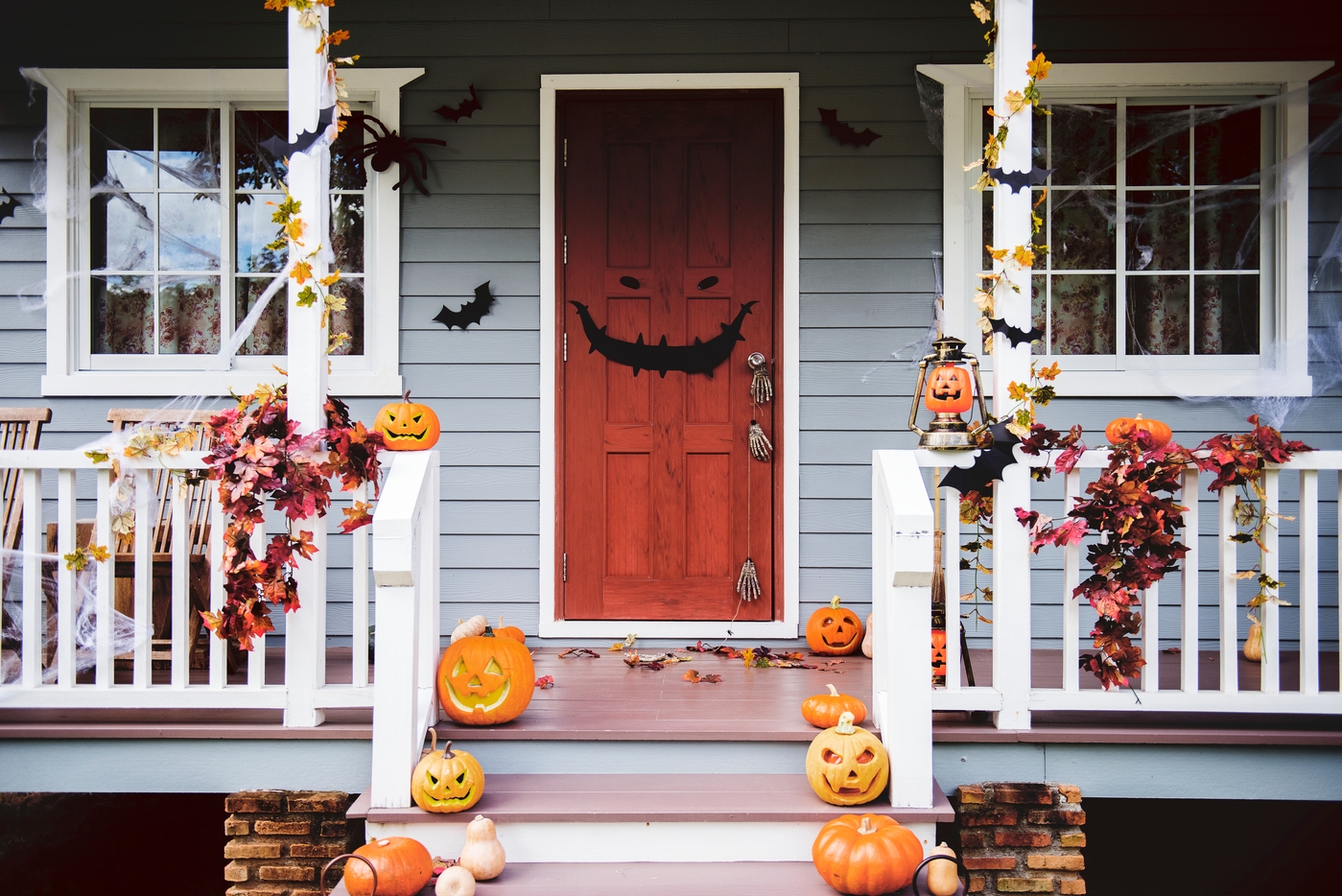 The 14 Spookiest Halloween Haunted House Ideas
There's a chill in the air, a whisper in the wind, and houses all around the country have cobwebs and jack-o'-lanterns in their windows. It's time to get your house ready for Halloween!
But what if you don't have a collection of decorations ready to go, or you're not feeling particularly inspired? Not to worry – we'll help you create a spooktacular haunted house for the season with some clever ideas and DIY Halloween decorations!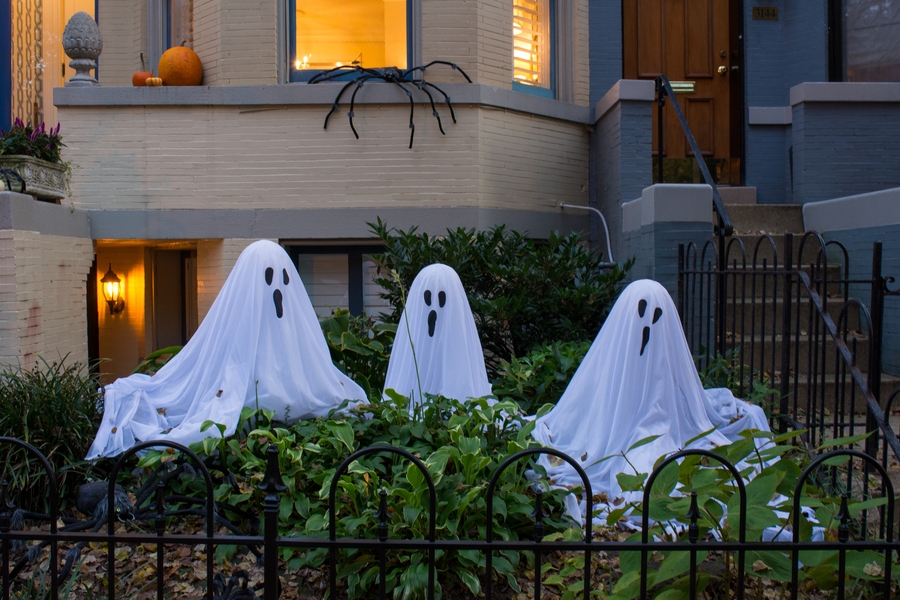 A trio of Halloween décor ghosts and a fake spider in the background outside a haunted house
Outdoor Halloween décor ideas
Every memorable haunted house scares passersby with a ghostly exterior. Making a haunted house for Halloween begins with decorating your yard and your home's front porch, entry door, windows, and siding for maximum effect.
Spiders on the mailbox
A home's mailbox is often forgotten when decorating for seasonal celebrations. Start your Halloween decorations here by placing some plastic spiders on the mailbox. Wrap a few cobwebs around the post for finishing touches, and you'll spook trick-or-treaters before they reach your yard.
Jack-o-lanterns abound
Of course, you can't beat the classic Halloween decoration: the jack-o'-lantern. Position these pumpkins all throughout your yard, on your porch, and next to your front door. Traditional orange pumpkins will accentuate a wood or black front door, whereas trendy white and green pumpkins can stand out on a porch with a colorful front door. And don't forget to put candles inside to illuminate them during the dark Halloween night.

Graves in the yard
Party stores and costume retailers have tons of great Halloween accessories to spruce up your yard for maximum spookiness. Store-bought headstones are a perfect easy way to create a haunted house for Halloween. Alternatively, you can make your own gravestones by cutting them out of cardboard. Color them black or gray with waterproof paint, then use a marker to write names on top.
Want to scare your neighbors a little more? If you're hosting a Halloween party, put your guests' names on the gravestones, so they'll see you've been expecting them!
Watchers in the windows
Skeletons, mummies, and other props are perfect Halloween decorations for your windows. Make your home more haunted than the other houses on the block by putting dressed-up mannequins in the largest windows you have, like big picture windows or bow windows.

A rocker on the porch
Go above and beyond and set a rocking chair out on your front porch, then put a mummy in the seat. Some Halloween decoration stores sell automated rockers that keep moving or that make scary sounds when kids approach your front door. It's not the most DIY Halloween decoration, but it's still a good way to give folks a fright when they come trick-or-treating.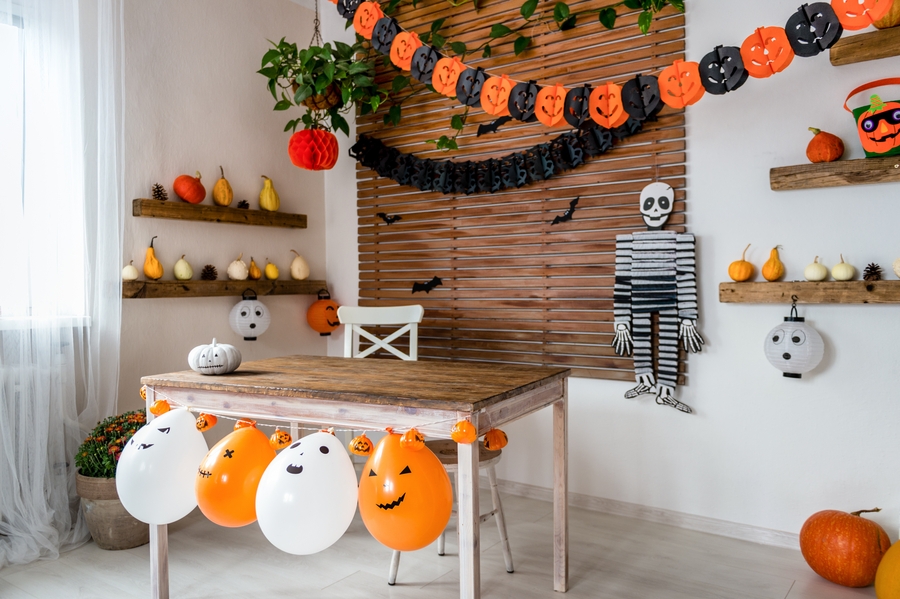 Indoor Halloween haunted house décor ideas
Trick-or-treaters and Halloween party guests should feel chills go up their spines when they step through the front door to your haunted house. Here are some ways to drum up some delicious terror for guests on Halloween.

Mood lighting
Mood lighting can make your DIY haunted house much scarier for those who dare to enter. Strobe lights, black lights, and spooky string lights in Halloween colors like orange and purple are great for setting the mood early while giving you enough light to move around your house. Candles – both real and electronic – are also fun Halloween decoration options.

Spooky paper lanterns and webbed string lights
Get creative with your illumination and purchase webbed string lights from a party store. Hang them from the ceiling or your vinyl window frames to make each room feel unique and energized with a specific spirit.
If you have creative talent, you can make paper lanterns and put fake candles or small lights inside, then hang those around your home as well. It's a good way to make things look golden and spooky inside as soon as the sun sets.
Tissue paper ghosts
Feel like breaking out the arts and crafts supplies? Why not put all those skills from school projects to use and whip up some tissue paper ghosts to help create a haunted house feel? Hang these DIY ghosts around your home or put them on tables, shelves, and anywhere else you think they'll look sweet and spooky.

Bats on the banisters
If your home has banisters and stairs, put decorative bats along their lengths. Just be sure to stick them on the outside of the railings, so guests or family members don't accidentally brush against them when ascending or descending. Bats also make some of the best Halloween window decorations!
Put cobwebs everywhere
You can make your own cobweb decorations for a haunted house by purchasing cotton from an arts and crafts store. Or you can buy ready-to-go Halloween cobweb décor from a party store. In any case, you can take your house haunted to the extreme by hanging cobwebs in every room or covering every shelf and surface with the stuff.
Cobwebs are also great surfaces for hanging some of the decorations mentioned above, like bats, paper ghosts, and so on.
Whispers from beyond…
To really enhance the DIY haunted house experience, position some wireless speakers in the corners of your dining room, living room, and kitchen. Connect them to a haunted house ambiance track online to give guests the chills, or play your favorite Halloween music for a lighter but still holiday-appropriate mood. Cover the speakers with cobwebs to expertly mask them and keep your haunted house's aesthetic intact.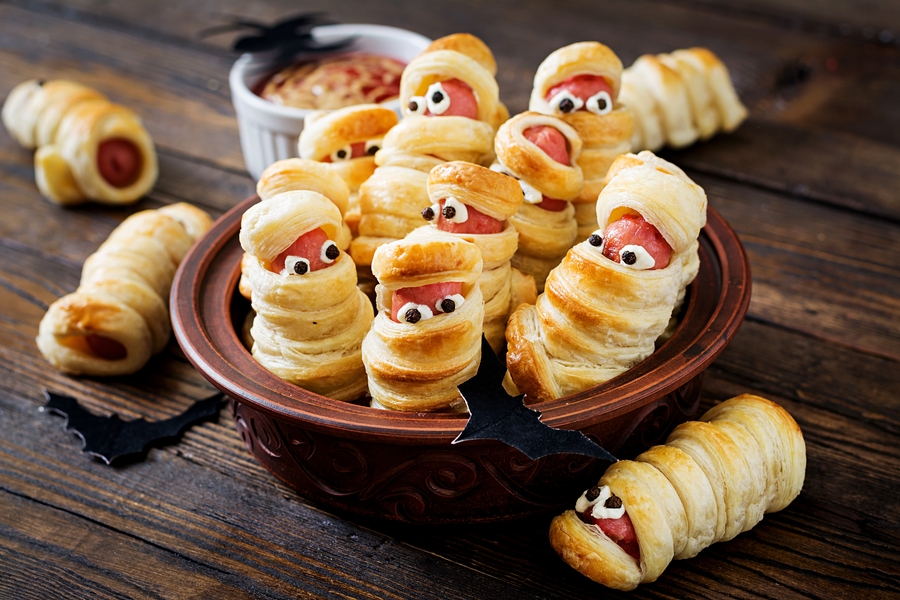 Get freaky with the dinner table decorations
Having guests over for dinner? You can make your house feel even more chilling with the right dinner table décor and scary good Halloween treats.
Witch cauldrons
Bubbling witch cauldrons are great for storing candy, snacks, and Halloween punch. Buy these from party stores and scatter them around your dining room and kitchen. Or buy a tougher, larger cauldron and prepare a mysterious stew in it – serve it to your guests with a wink and see if they're brave enough to try it!
Skulls on the shelves and table
Decorative skulls are excellent table décor for any haunted house, especially in the center next to wax-dripping candles. Put a few on shelves in your kitchen or dining room for added ambiance.
Themed foods
Don't forget to theme your Halloween food for the occasion at hand! Get a little creative and place funny label cards next to dishes for your guests. For instance, sausages might be labeled "roasted fingers," while punch might be called "witches' brew." Go crazy with this – theming and naming your foods is a great way to make Halloween dinner and refreshments much more fun for everyone.
Turn frightfully old windows and doors into energy-efficient ones for the holidays.
Scary looks are great for your DIY Halloween haunted house, but when it comes to keeping out the howling winds of winter, your friends at Window World are ready to help you with exterior remodeling ideas that will welcome guests, save energy, and keep your family comfortable. Upgrade your old windows into new, energy-efficient windows and let trick-or-treaters see straight into the depths of your haunted home. We're here to discuss your ideas with a free consultation and quote. Find a Window World store near you.

---