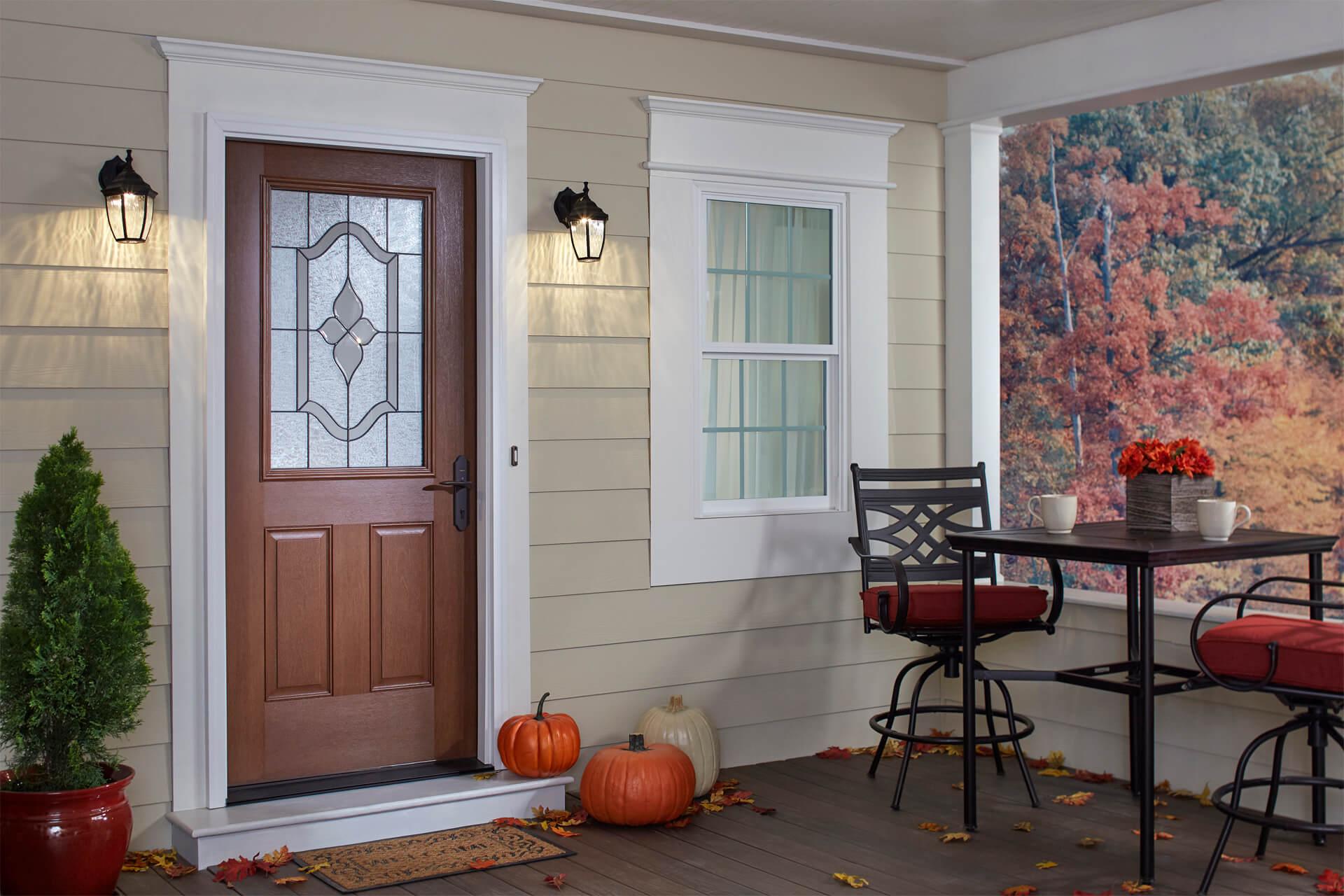 Fall décor ideas at your front door.
Spring may signify a time of new beginnings, but fall brings a fresh outlook all its own. The days are shorter, full of crisp breezes, colorful leaves, chunky sweaters, and new scents in the air. And the nights are longer and cozier with aromas of hearty meals or yummy candles keeping us company inside.
With summer soon to be in the rear-view mirror, it's time to embrace fall in all its autumnal glory. And there's no better place to welcome the season than your own front door.
Here are a few tips to get started on your fall front porch ideas.
1) Give it a clean sweep
You've heard of the all-important spring cleaning, but fall cleaning is just as useful. Why not give everything a clean start for the season? Scrub your front door. Clean any windows on the porch (inside and out). Sweep and clean the floor. And brush dust and dirt off the door frame and from any shutters outside. Now you're ready to set a fresh, new scene.
2) Update plants and foliage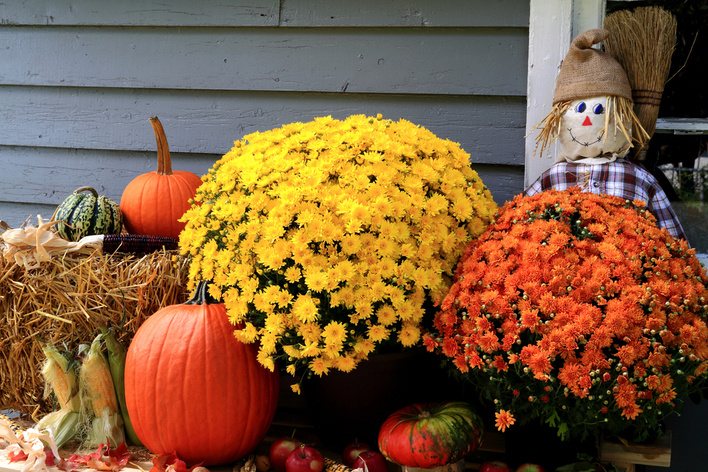 Swap out tired summer plants for hardy fall flowers like colorful chrysanthemums. You'll find them in every fall-friendly shade of yellow, orange, and red. They're perennials, so plant them in your yard to get another round of color next year after the blooms fade.
Ornamental cabbage plants and tall perennial grasses will also look beautiful in container gardens through the fall and much of the winter. And white mums will give a fresh look to any pretty container.

3) Creative "containering"
It's fun to find new uses for everyday containers. Fall lends itself to harvest themes such as bushel baskets, flower baskets, apple crates, and galvanized buckets. You can fill them with live plants or think about other options such as dried flowers, evergreen magnolia leaves, and some fall berries. If you don't have access to live cuttings, you'll find lots of faux leaves and garlands at your local craft store.
4) Think outside your basic pumpkin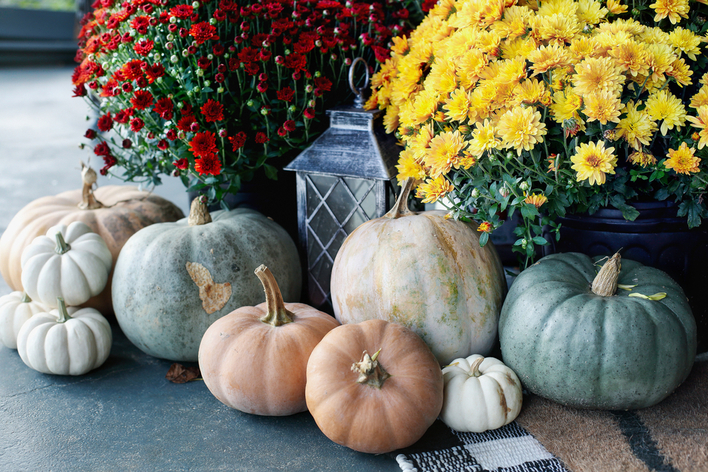 All hail the mighty pumpkin — fall's most festive fruit! (Yes, it is a fruit.) You could plop a big orange pumpkin by your front door and call it a day for fall decorating, but please consider the hundreds of ways these fun fruits can dress up your entryway.

First, get to know the many kinds of pumpkins and gourds you can gather. There are giant versions like Big Moon or Big Max, smaller multi-colored varieties like the Warty Goblin, and the always intriguing Blue Lakota. Assemble or stack them along with other vibrant gourds for an easy fall motif.
If you want to get a little crafty, think about painting your pumpkins. Whether sprayed with gold or copper, covered in colorful chalk paint, or donned in basic black and white, pumpkins offer endless décor options. You can also put your pumpkin to work by stenciling your house number or your family's name on it.
It's great to carve your pumpkin to make a pretty lantern for welcoming guests, but remember that once you cut into it, a pumpkin will decay in a matter of days. Intact pumpkins can last a long time, especially in cooler climates. They'll look great through October and November. When Christmas comes, spray it silver or gold.
5) Cast an evening glow
With the days growing shorter, light your porch or doorway to enhance nighttime curb appeal with a touch of warmth. Lanterns of various sizes lit with electric candles make a dreamy glow. String lights along porch railings or ceilings give a modern festive feel. And twinkle lights can be wrapped around fall garlands and corn stalks or wound through plants and floral containers. Bonus tip: Add a solar-powered floodlight in your yard to spotlight the entryway.
6) Give your entry door a fresh pop of color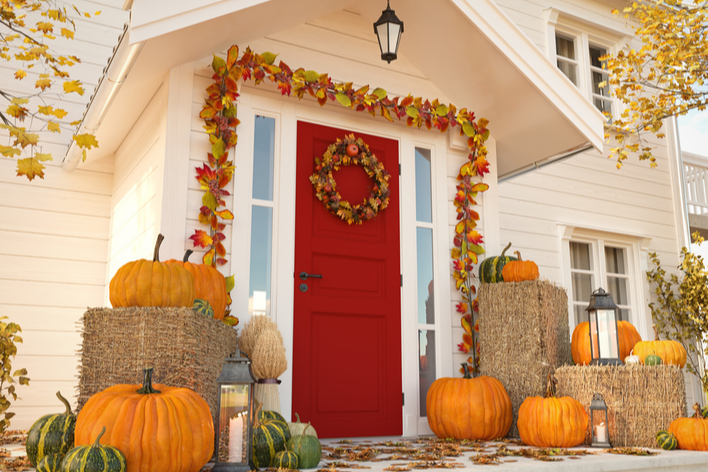 Fall is the perfect time to update your entry door with a new color. Shades of yellow, gold, orange, or red make a pretty statement year-round. But you might also like to think about natural shades from the blue/green spectrum. Or how about a deep violet? It's amazing what a can of paint and a little elbow grease can do to change up the vibe of your entryway.

7) Upgrade your welcome mat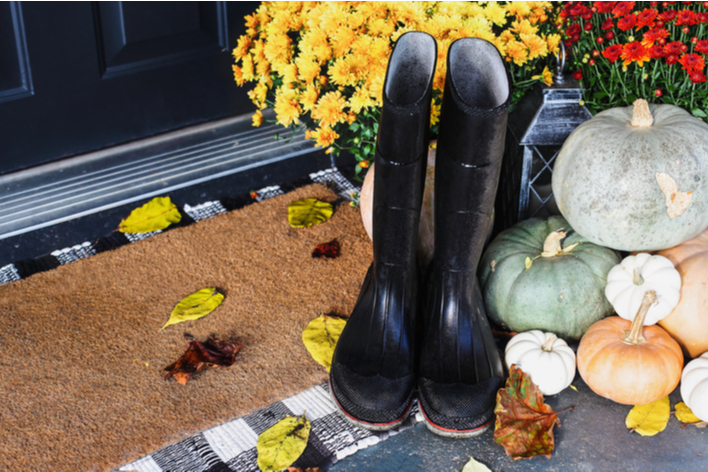 There are so many cool styles, colors, and patterns of doormats, it's a shame we would ever wipe our feet on them. But considering they're your first welcome to guests, it makes sense to keep them fresh and functional as seasons change.
Pick a fall motif or a striking black and white pattern. Maybe choose a cute welcome message like, "Hi there, pumpkin!" or "Boo!" If you do invest in a new fall mat, remember you can always stow it away after the winter holidays and bring it out again next fall.

8) Add a fall-theme door wreath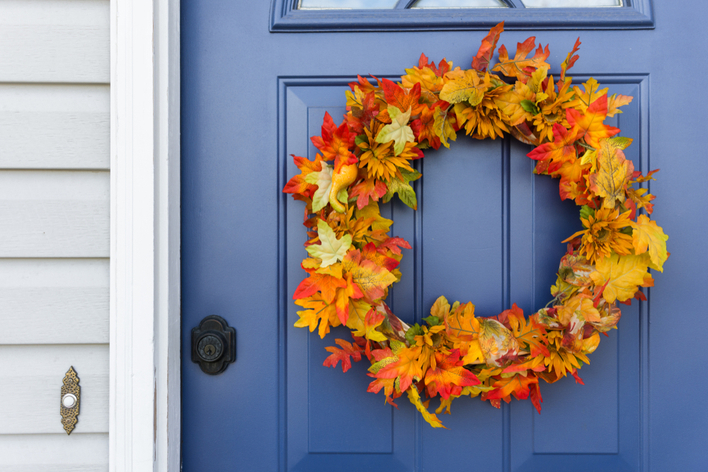 No doubt, one of the first things that comes to mind when you think fall door décor is a fall wreath. The materials you can use are endless. Grapevine wreaths can be trimmed with fall-themed leaves, dried flowers, natural or faux vines, sunflowers, and small pumpkins. Door baskets also make a pretty statement. Fill one with live plants or dried flowers or gourds. Then, trim your wreath or basket with fall-inspired ribbon bows.

9) Think ahead to the holidays
While you plan your front porch decorating for fall, give some thought to how you can extend the use of things for the winter holidays. Containers can be painted and filled with evergreen plants that can be trimmed with ornaments. Your fall garland can be updated to include evergreen boughs and magnolia leaves — simply exchange the fall colors for red, gold, and silver.
Even your wreath or door basket can strike a merry note with a few adjustments. Green or black and white accents can easily blend with a holiday theme. Or, if you're finally tired of looking at that pumpkin, bring it in and make a pie!
As fall weather approaches, now is the perfect time to talk to your friends at Window World about replacing your entry door and windows with energy-efficient Window World designs. We'd love to discuss your ideas with a free consultation and quote. Contact the Window World store near you today.
---