Back to Blog
Wood vs. Vinyl Windows: Which Is the Best Choice?
Are you shopping for new windows for your home? If so, you've probably realized there are several window materials available. Wood and vinyl are two of the most popular options.
Which is better? Let's take a look at these two window options, including their pros and cons, so you can decide which is the best option for your home.
Wood windows: Pros & Cons
Wood windows are a classic choice, and many people love the look of wooden windows. However, this traditional choice has some definite drawbacks.
Here's a glance at some of the pros and cons of wood windows.
Pros of Wood Windows
Natural Beauty – Natural wood windows have an unmistakable natural beauty.
Energy Efficiency – Wooden windows are very insulative, which can help protect homes from warm and cold weather.
Good ROI – A wooden window replacement can help increase the value of your home and provide an average ROI (return on investment) of around 67.4%.
Cons of Wood Windows
High Expense – Wood windows tend to be costly, especially when you calculate lifetime maintenance costs.
Susceptible to Rot and Insects – Wood is incredibly vulnerable to water damage and rot, so you should avoid using wooden windows in areas with a lot of rain or high humidity levels. Wood windows are also in danger of pest infestation and damage.
Requires Regular Repainting and Sealing – Wood naturally wears down over time, so wooden windows have to be regularly repainted and stained to maintain their appearance and function.
Chipping, Peeling, Cracking, and Warping – There's no getting around it. Wood windows will chip, peel, crack, and warp when exposed to the natural elements. Regular maintenance can help prevent and protect them. You will always have to be on the lookout for these things with wooden windows.
Vinyl Windows: Pros & Cons
Vinyl windows are generally made from high-quality extruded PVC. They're affordable, durable, and low maintenance, making them a top choice for many homeowners.
Pros of Vinyl Windows
Water and Rot Resistant – Vinyl resists water and pests, making vinyl windows a long-lasting, durable, and low-maintenance window choice.
Cost-Effective – Vinyl window replacements cost at least 15% less than wood window replacements.
A Range of Colors and Styles – Vinyl windows come in a variety of colors and styles. They can even mimic the look of wooden windows!
No Need to Repaint or Stain – Vinyl windows will never need to be repainted or stained to maintain their appearance and function.
Energy Efficient – As long as you choose a high-quality exterior home remodeler that sells high-quality products, vinyl windows can be extremely energy efficient and insulative.
High ROI – A full vinyl window replacement can increase the value of your home by over $13,000 with an ROI of around 68.6%, – even higher than wood windows.
Cons of Vinyl Windows
There aren't many cons associated with vinyl windows. The main thing to beware of with vinyl windows is low-quality manufacturing. When choosing vinyl windows, it's best to go with a reputable, high-quality home improvement company.
Vinyl Window Options from Window World
All Window World windows are 100% made in the USA. We work exclusively with the largest and most reputable vinyl window manufacturers in the country. We have over 200 locations, a trove of accreditations, and have installed over 20 million high-quality energy-efficient replacement windows. You can rest easy knowing that with Window World, you're getting the high-quality windows your home deserves.
Here are a few of our vinyl window options to show you how versatile vinyl windows really are.
Vinyl Sliding Windows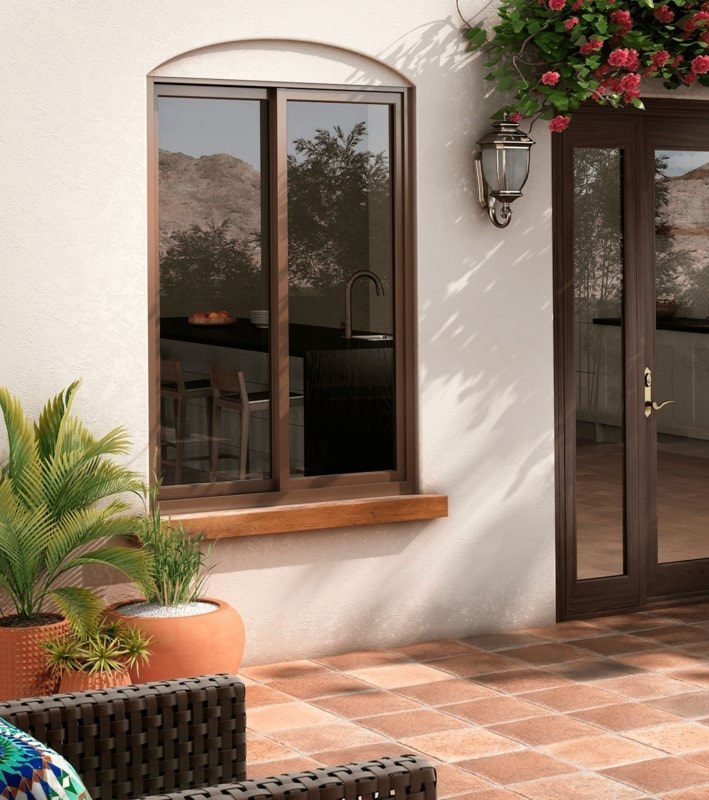 These sliding vinyl windows open horizontally to allow fresh air and light into your home. They have superior strength and durability, so this beautiful option is excellent for any room that needs a little extra light, air, and style.
Vinyl Picture Windows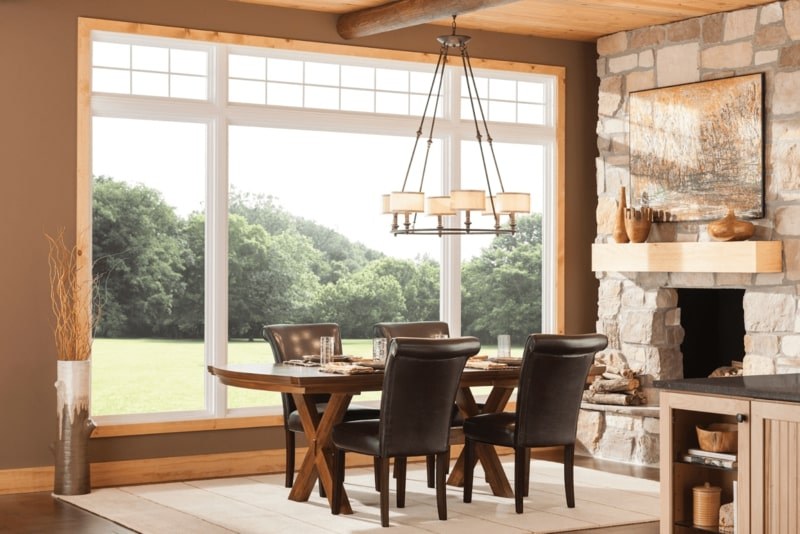 Our vinyl picture windows are custom-made and available in numerous shapes. They're the perfect choice to frame your window and add pizzazz to your space. They have a permanently sealed finish, so these windows will stand the test of time.
Vinyl Casement and Awning Windows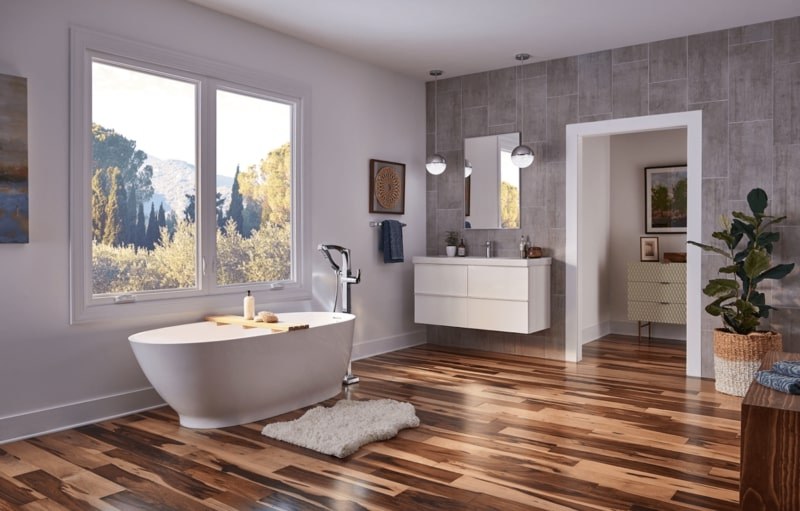 Vinyl casement and awning windows are the perfect windows for creating cozy spaces. Using a simple crank, these windows open to allow air inside your home. In addition, their superior strength and triple-barrier weatherstripping will keep your house safe – even in inclement weather.
Vinyl Bay Windows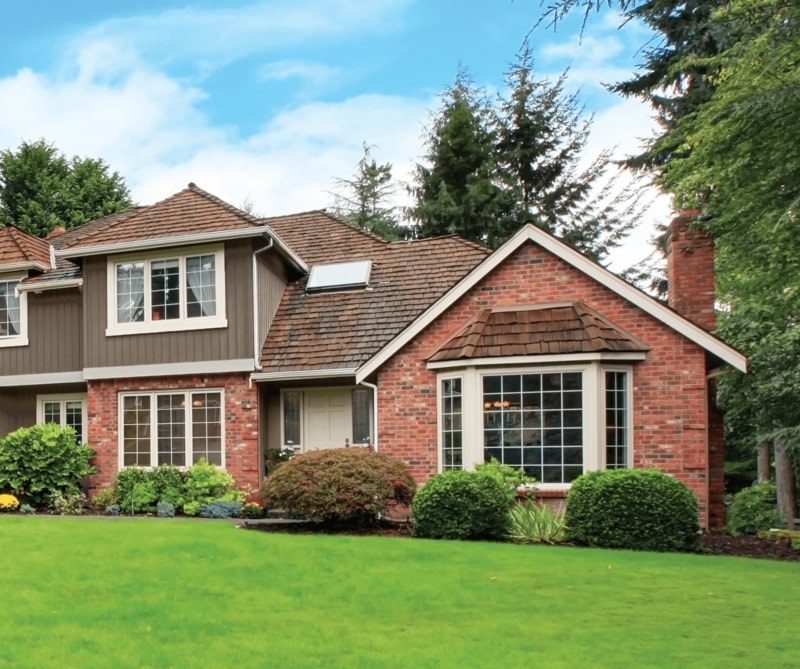 Snuggle up and read a book or create a showstopping architectural element with a gorgeous bay window. Our heavy-duty cable-hanging system ensures that your window is safe from bowing and sagging.
Architectural Shapes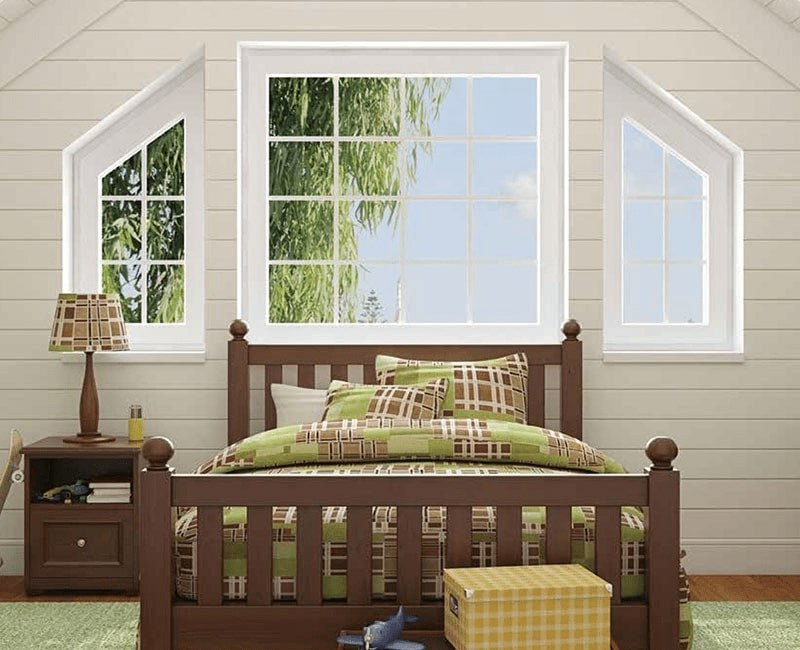 Who says windows have to be rectangular or square? We offer an array of architectural shapes to accent your space perfectly. From circles, hexagons, ovals, and more, we can create a dramatic addition to your home with our vinyl windows.
Range of Interior Colors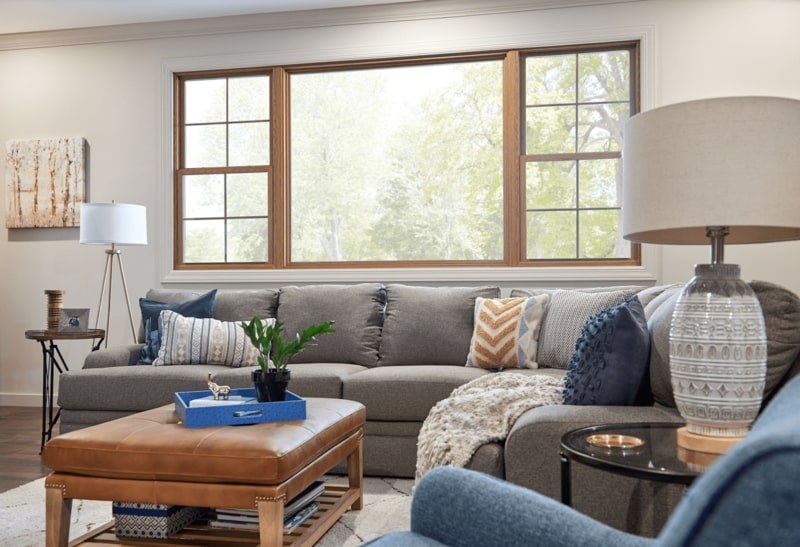 You can get the color you want with our range of custom window colors. In fact, we even have windows with a woodgrain finish so that you can get the look of wood windows without the cost or maintenance hassles.
Wood vs. Vinyl Windows: The Clear Choice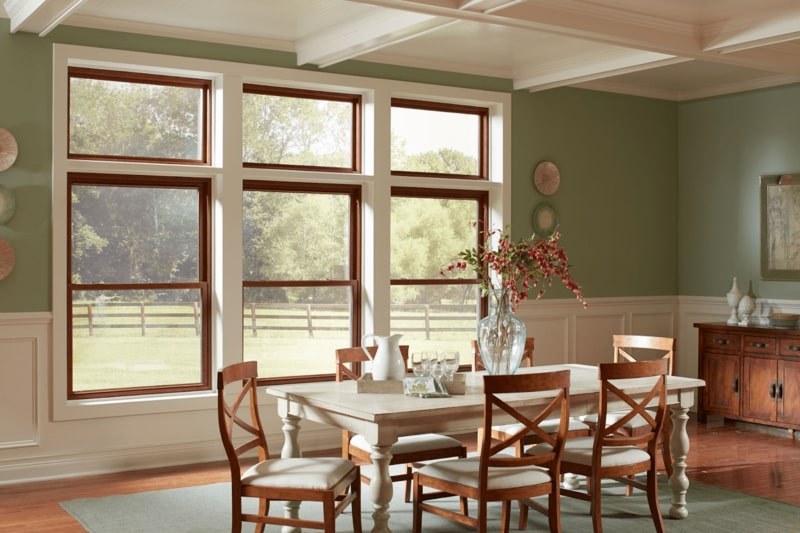 When weighing the options head-to-head, vinyl clearly comes out on top. Better cost, lower maintenance, and a higher ROI make vinyl windows edge out the competition. In fact, vinyl windows provide all the same benefits as wood windows – without the wood price tag!
If you're ready to find the perfect vinyl windows for your home, get started with a free virtual consultation today!
---