Back to Blog
Inspirational Front Doors of Dublin, Paris, and London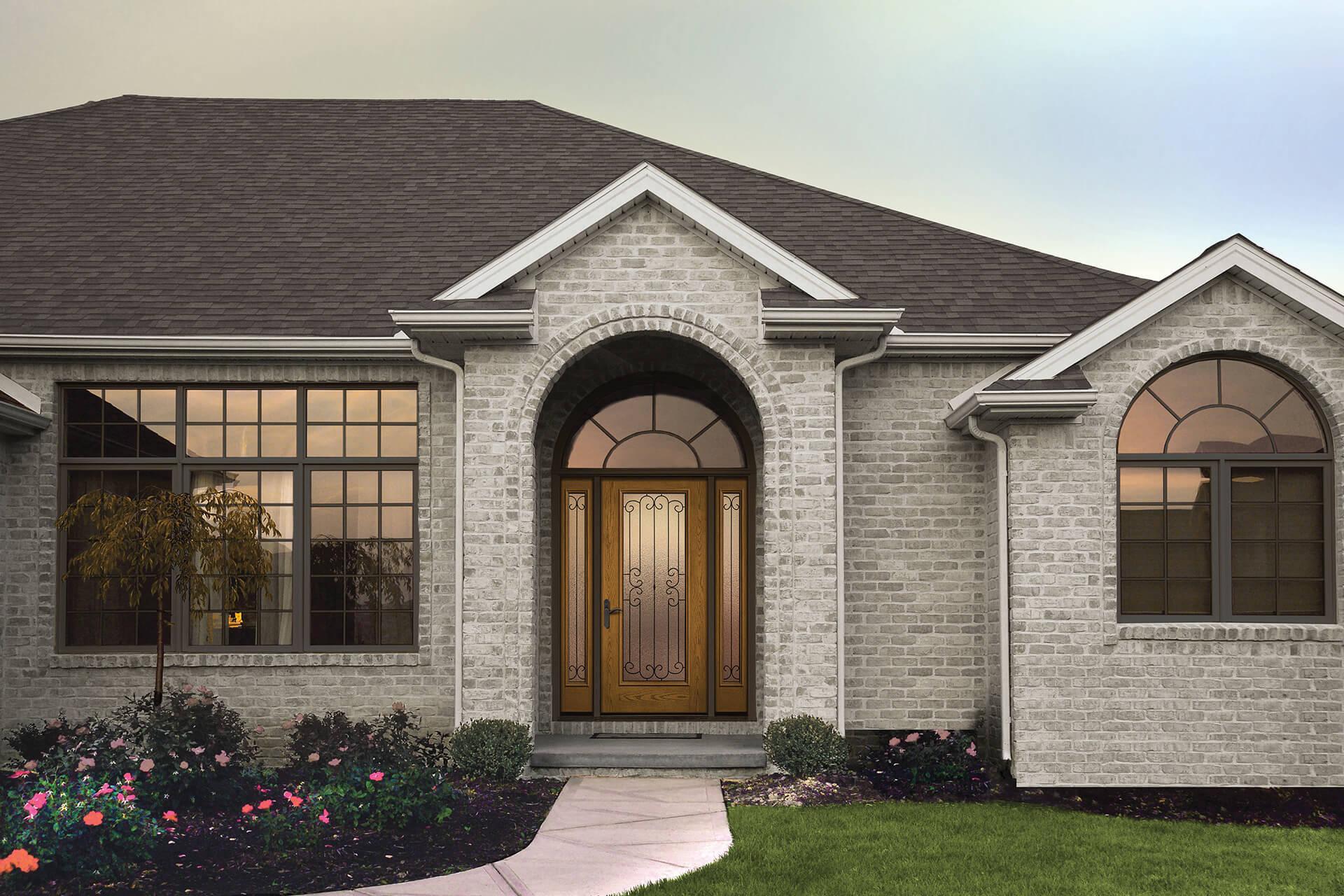 The doors of Dublin and beyond — classic European-style entry doors for your home!
You only get one chance to dazzle or delight your guests, so why not make your first impression a great one?
Lots of homeowners don't know what kind of impression they want to make. There are dozens of door styles and accessories to think about, ranging from transoms and sidelites to knockers and mail slots.
If you've been stumped for inspiration, you're in luck — you can look at classic door designs from around the world to find a style that's perfect for your home and personality. Let's check out some of the world's most iconic European-style entry doors from major cities like Dublin, Paris, and London.
Doors of Dublin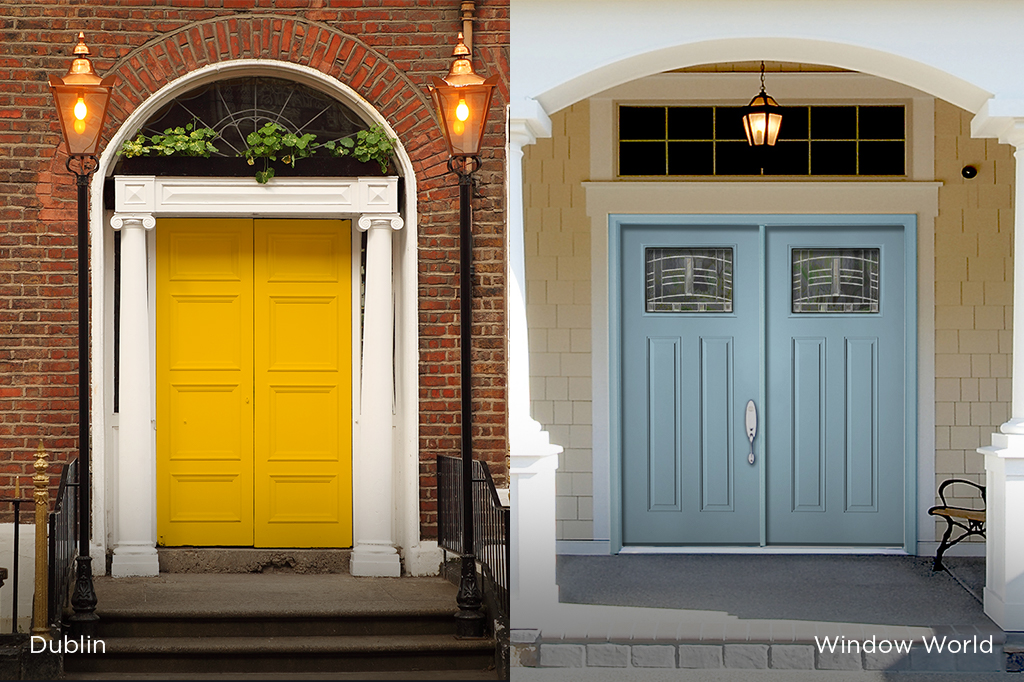 Chances are you've seen at least one photo collage featuring Dublin's iconic colored doorways. These famous doors are painted in bright primary hues like red, yellow, green, and blue. Many also include artistic fanlight transoms above their entrances, which are half-circular windows that have radiating or symmetrical panes.

Although they're usually set into uniform brick buildings, Dublin's bright doors help distinguish different homes from one another and add a colorful flair to any trip through its Georgian neighborhoods.
Dublin's beautiful doors became popular after the Fifth Avenue Irish Tourism Office posted an artistic collection of the best examples in their window. Soon after, the "Doors of Dublin" became a national icon.
Why are the doors of Dublin so colorful?
And where and when did Dublin's doors really start?
One common story goes that the writers Oliver St. John Gogarty and George Moore lived as neighbors at Ely Place. Gogarty often came home drunk and knocked on Moore's door in the middle of the night. To solve the problem, Moore painted his door green, starting the tradition.
The truth is probably a little more complex. Dublin's bright doors probably first appeared in the early 18th century when the city started growing quickly. As hundreds of new Georgian houses and apartments were constructed, rigid building regulations forced each home to look exactly the same.
To make sure they could find their homes in the dark and to express their individuality, Dublin residents started painting their doors in whatever colors they pleased!
The result?
Vibrant doors stretching like rainbows from Fitzwilliam Square through Merrion Square. Since Georgian homes were most likely to have bright doors, Dublin doors are sometimes called Georgian-style entryways.
Luckily, it's easier than ever to emulate the gorgeous Georgian-style doors with ready-to-paint fiberglass options. Not only are these doors easy to customize with color, but they're also durable, rot-resistant, and insulated for excellent energy efficiency. Fiberglass doors are a perfect way to boost curb appeal and enhance practicality at the same time.
Parisian-style entryways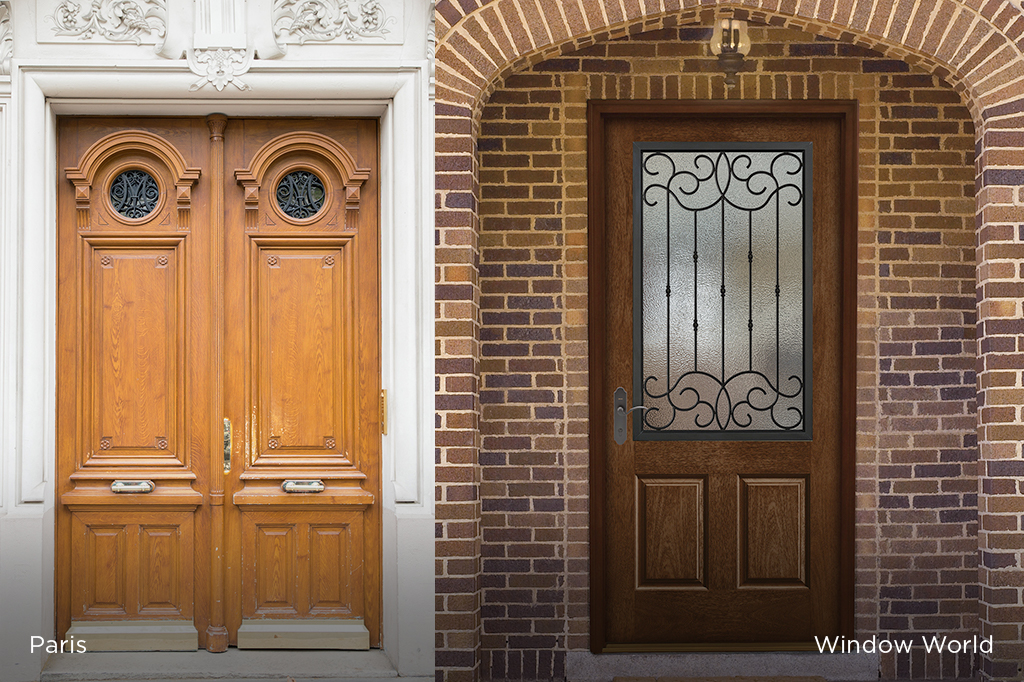 Take a stroll through Paris's historic streets, and you'll see thousands of beautiful doors, each with a unique story and look. Picking just one style to emulate for your home might be tough since you'll have so many choices: Renaissance, Gothic, and Art Nouveau are just a few of the most popular aesthetic themes found throughout the Parisian streets.

Who can deny the elegance and artistic complexity seen in the doorways of the Louvre? Most of this famous museum's doors are taller than average, perhaps to inspire a sense of stepping into a building greater than oneself.
You might also be inspired by the doors that guard the borders of old mansions and other homes for royals. Custom, lion-faced knockers add a bit of old-fashioned grandeur to many of these doorways.
Other Parisian doors have metallic accents or windowed sidelites and transoms across the top. Some of the most beautiful entryways use stained glass transoms, casting color onto the floors inside.
If this sounds like a style you appreciate, good news — you can emulate the Parisian style with woodgrain entry doors. These fiberglass doors are perfectly textured to mimic the appearance of woods like oak and cedar. You can create the look with decorative glass options and a classic door knocker.
Curious "chasse-roues"
One elegant decoration you'll find in many Parisian doors is chasse-roues: metal or stone pieces found at the bottom corners of some of the city's larger doorways.
"Chasse-roue" is a French term meaning "wheel chaser." (They're also called "guard stones.") The Parisians initially installed these to stop carriages and carts from damaging the walls as they were driven around town. They're delightful and downright charming reminders of how the city has adapted to new inventions over time.
Doors of London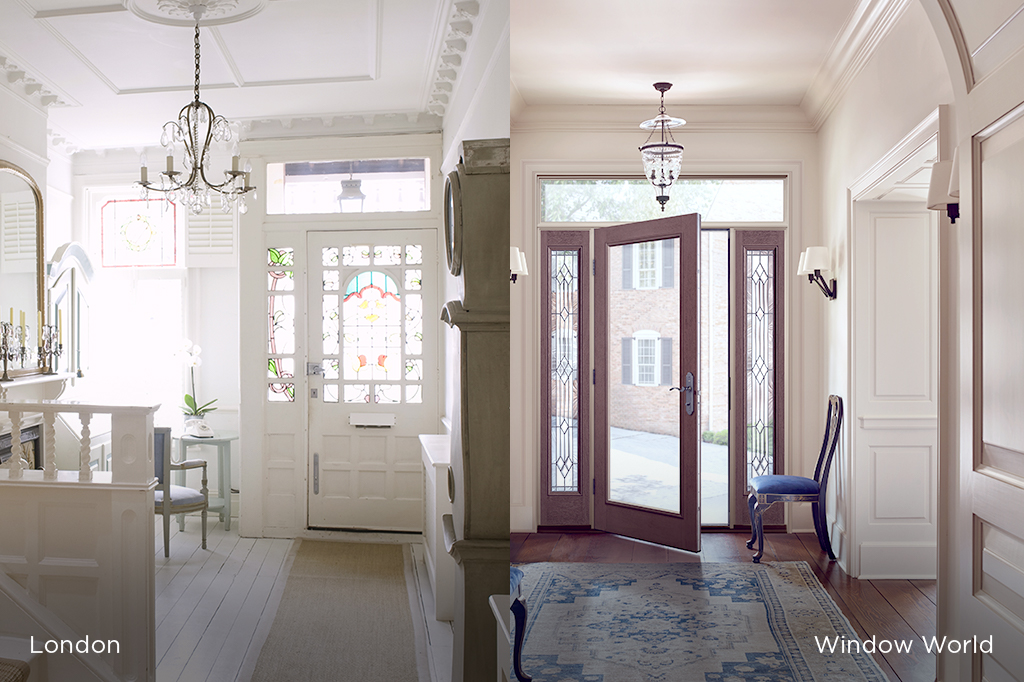 Visit London, and you'll quickly become familiar with overcast, dreary days. But the city's individualized and quirky doorways add lots of life and color to the streets. In fact, you can find all kinds of homes, pubs, and restaurants with unique or brightly painted entrances to help set them apart from some of the city's more modern but uninspiring apartments.

Many of the most beautiful London doorways have vertical windows in their centers, which are perfect for letting in natural light and greeting guests before you open the door. Others have decorative doorways, including gorgeous arrangements of wreaths, flowers, or other greenery — these are great ideas you might consider for your home's entrance to liven it up!
Among the variations, many London doors include distinct, wide-handled knockers and mail slots. Others feature themed or matching transoms with neighboring doors, so each entrance feels like part of a group while keeping some uniqueness. London doors are fascinating to examine since they so often combine similarity with individuality in their designs.
Georgian architecture aplenty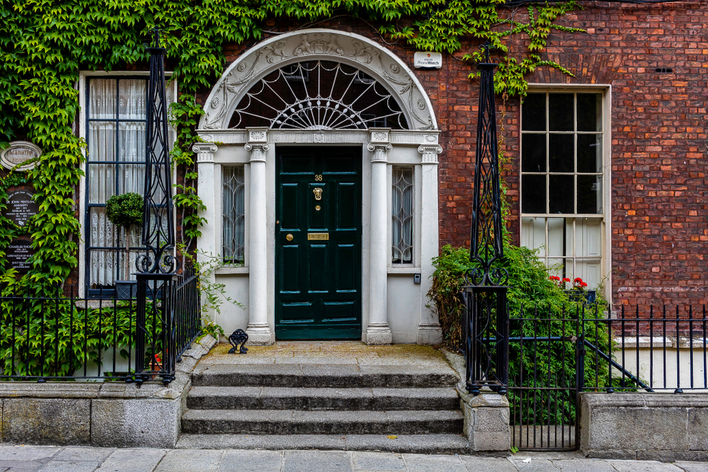 Of course, being the source of the Georgian-style doors found in Dublin, it's no surprise that you can find several excellent examples in London. Many of London's Georgian doors are so symmetrical that they have handles installed in the center instead of on one side.

But Georgian doors aren't the only ones that use center handles. You can find this unique handle style in plenty of other London doorways, often aligned perfectly with a knocker or door number (or both).
Inspiration is everywhere
Ultimately, only you can decide what door design will look best for your home. The world's most iconic cities offer inspirational examples that you can emulate to help your door both stand out and stand the test of time.
What will your home's new entry door look like? We can't wait to find out. You can get the professional help you need to install your front door at Window World. Contact your local store today for a free in-home or virtual consultation.
---