Ready to get started?
Window World offers free in-home consultations! Click below to schedule today!
Get started!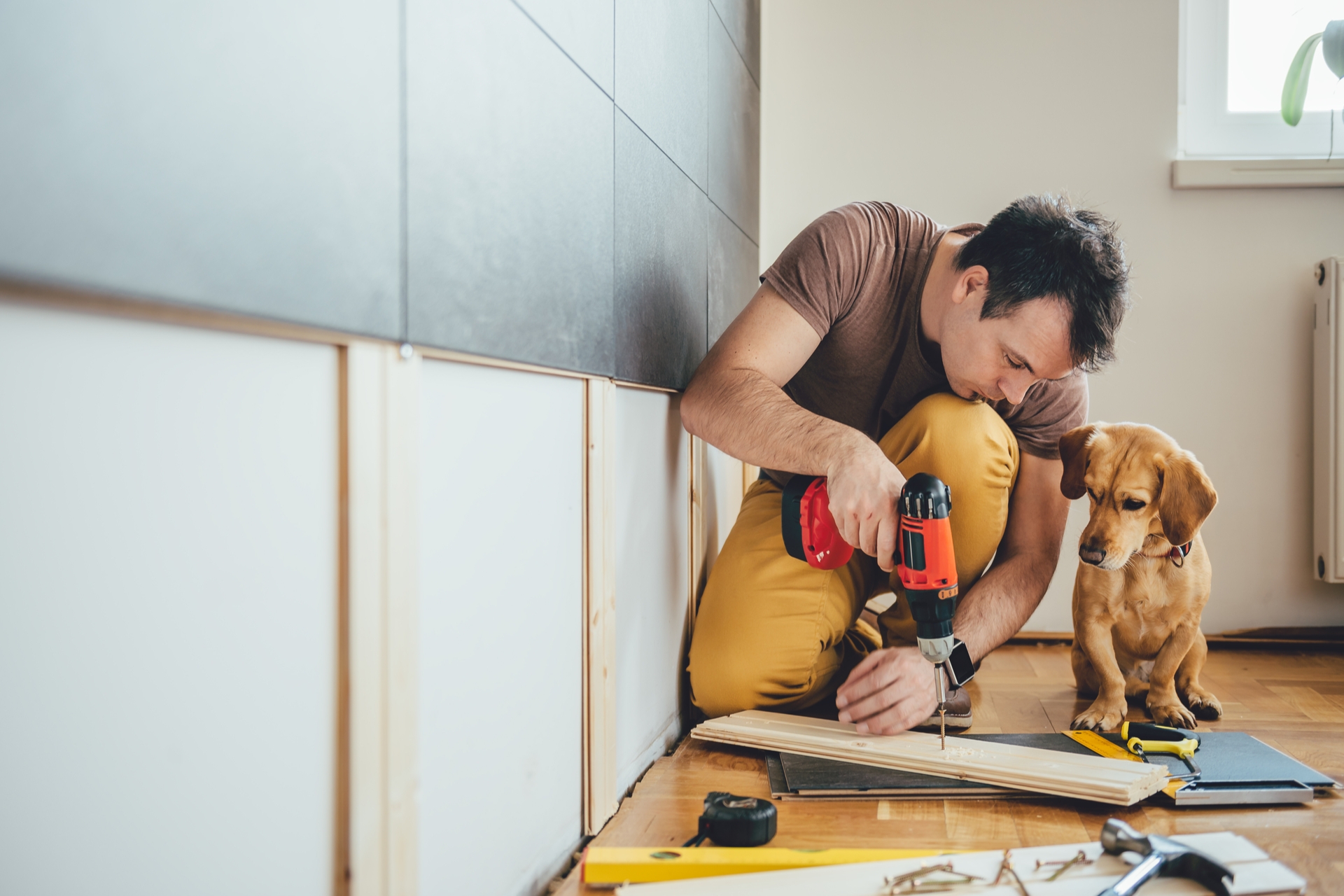 How to know when to pick up a hammer or pick up the phone.
We all watch the home improvement shows, fascinated by the before-and-after transformation. It looks so easy. After all, the work is planned, completed, cleaned up, and decorated within an hour, right? Surely, we can do it ourselves. What do they have that we don't?
Well, for starters, a behind-the-scenes staff, some serious insurance coverage, an extensive background of professional success and failures, workshop space, and tools far beyond what you may have in your catch-all drawer, toolbox, or on your toolbelt. (We all have toolbelts, right?)
Don't be discouraged, though! There are tons of projects that are perfect for DIY. That said, there are certain kinds of projects you shouldn't try to tackle on your own. To learn which is which, let's start with a few basic questions.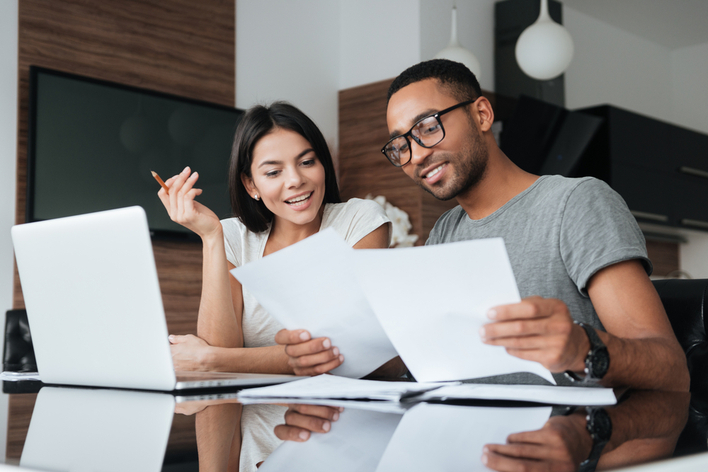 Ask yourself:
Do I have the necessary skills to complete the project?
Could I learn the skills I need by watching tutorials online?
Is the project dangerous?
Does the job require special permits or licenses?
Is it cost-effective to try and do it myself?
How long will it take a beginner to finish the job?
If I fail, do I risk lowering my home's property value?
Depending on how you answered, you might already know which route to take. If not, we've made it easy to choose between DIY and hiring a contractor by giving you a few things to keep in mind below.
Cost vs. time
First thing's first. There's no doubt you can likely save money by doing a project yourself, and if you don't mind living with a project while it's completed in your spare time, it could be worth it. But remember, your time is valuable, too.
You should consider the time required to learn what's involved in taking on a task, the cost of acquiring tools and materials, and the time to do the project, assuming you get it right the first time. Paying a professional may be cheaper in the long run for a shorter completion time.
Risk vs. reward
The perfect DIY project strikes a delicate balance between time, cost, and risk. Some jobs could be faster and more affordable to do yourself, but the consequences for failing could have major impacts on your home's value. In the same way, some jobs are safe and affordable, but they might take months to do alone.
Before you begin a project, consider making a pros and cons list between DIY and hiring a professional. If the project is affordable, reasonably quick, and low-risk, it might be better to do it on your own.
DIY these projects: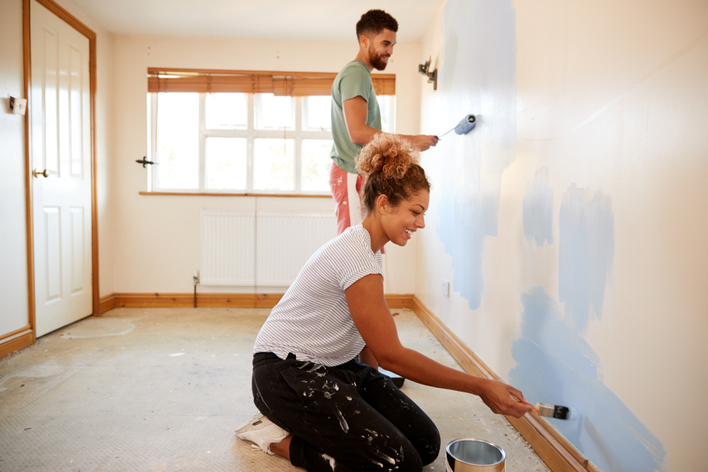 If you've made it this far and you haven't thrown up any red flags, the project you have in mind might be perfect for DIY. Here are five home renovation projects to take on yourself.

1) Interior paint
Time consuming? Somewhat. Messy? It can be. Absolutely doable? You know it. Painting the inside of your home is one of the easiest and most affordable ways to customize a space to your taste. It can even help increase your property value.
Be sure to take your time, use painter's tape, protect your floors, sand where needed, and choose colors that the next homeowner will be sure to love. The best part is that paint is easily changed and repaired. If something goes wrong, grab another can and start on take two!
2) Simple upgrades
Believe it or not, it's the simple things that can quickly turn a house into a dream home. With a little know-how, replacing items like light fixtures, doorknobs, drawer hardware, and even faucets can be super simple.
There are plenty of online tutorials that can help walk you through the process, and the potential risks are minimal.
3) Vinyl or linoleum flooring
While most flooring types are better left to the pros (especially hardwood), vinyl and linoleum are actually quite cost-effective and easy to work with. Do your research beforehand, make sure you know which tools you'll need, and take your time when measuring. Installing your own vinyl floor can be quick and easy, and it can even help you save a few hundred dollars. Most people can get a full room's floor installed in a single day!
4) Install shelving and storage
If you know your way around a saw and a measuring tape, building your own built-ins or shelves can be a quick, easy, and cost-effective project. This addition not only adds visual interest to your room, but it can also help make your space more functional while boosting your property value at the same time.
5) Create an outdoor space
Whether you're considering building a new deck or installing a swing set in the backyard, outdoor DIY projects can be a great way to add personality, functionality, and value to your home. While building your own deck requires some research and know-how, it can save you hundreds (or even thousands) of dollars in the long run. Sprucing up your outdoor space with flower beds, a fire pit, or even a gazebo can also help increase your home's appeal to future buyers.
Hire a pro for these projects: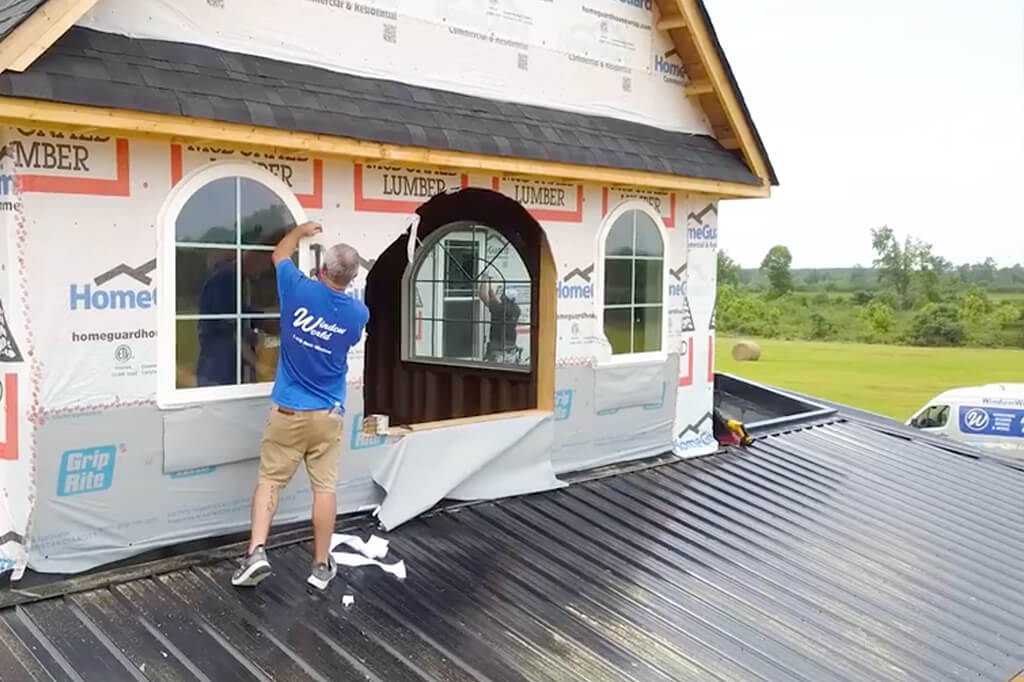 In some cases, your safety, financial well-being, and the value of your home are worth calling in an expert. Here are five projects that you should hire a contractor to handle.

1) Electrical work
If you're not a professional electrician, don't even think about rewiring your house. Not only can electrical work be fatal, but it can also lead to major issues that cost more to repair than simply hiring a pro in the first place. Between building codes, regulations, and dangerous situations, you should always rely on a contractor or professional electrician for these projects.
2) Plumbing and gas
Much like electrical work, plumbing and gas are no joke. One poor decision could lead to a flooded basement or a burst pipe, and once again, those situations can be significantly more expensive than the original project. While some projects are simple enough (like repairing a toilet), anything involving pipes is best left to the pros.
3) Siding and doors
If your siding is in desperate need of some TLC and a simple pressure-washing treatment won't cut it, it's time to hire a professional. While it's certainly possible to replace it yourself, doing so will likely take a toll on your free time, budget, and sanity.
We suggest finding a local siding expert that can deliver a fast, affordable, and top-notch solution. They'll have plenty of options to choose from in terms of aesthetics, and they'll also be able to complete the job significantly faster than you could on your own. Plus, you'll be able to rest easy knowing that the job was done flawlessly. The same is true for doors! If you're considering changing the style of your door, contact an expert that can walk you through the process and let you know if there will be any challenges with the project.
4) Structural changes
Before you go knocking down any walls to create the open floorplan you've always dreamed of — don't. As simple as they make it look on TV, these projects can end in disaster for non-experts. Consult a professional contractor before making any structural changes to your home to ensure the direction you're going is even possible. The last thing you want is to sacrifice the structural integrity of your home.
5) Replacing windows
This seems like a simple project, right? You're just removing one window and replacing it with another, after all. Unfortunately, it's rarely that easy. Often, older windows aren't of a standard size, which means they'll require new framing, insulation, and a significant amount of work.
Here, the time, cost, and headaches simply aren't worth it. Hire a professional that specializes in window replacement. A contractor will be able to find the perfect solution for your home and your unique needs, and their craftsmanship will ensure your new windows will perform for years to come.
Final thoughts
So, should you hire a contractor or attempt to do it yourself? Well, that's a question that only you can answer. If you have the skills, time, and courage to take on a new project — give it a shot! But remember, the ideal DIY project should be safe, it should save you money, and it shouldn't take years to complete. If it's out of your league or too big to tackle, hiring a contractor is always the way to go.
If you need the help of a pro to take on an exterior remodeling project, get in touch with the experts at Window World. Whether you need new windows, updated siding, or a stunning new front door, our team is always ready to learn about your vision and help you bring it to life. For more remodeling inspiration, check out our blog.
---