Ready to get started?
Window World offers free in-home consultations! Click below to schedule today!
Get started!
Your entry door is the first thing your guests see as they approach your home, so you want to make sure you've got it just right. Fiberglass entry doors offer a wide variety of front door design options, with different styles for the panel, casing, and sidelites, along with many unique finishes.
With so many options, these main door designs from Window World could be just the inspiration you're looking for.
1. Classic Woodgrain Entry Doors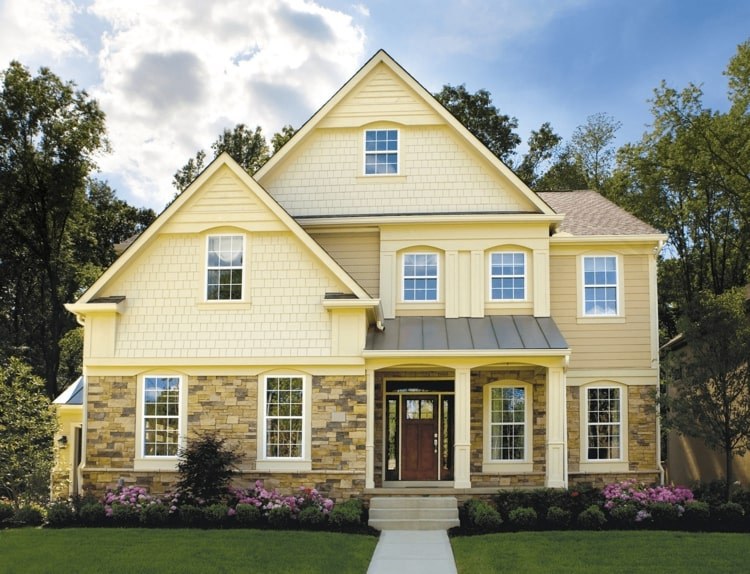 Fiberglass doors can mimic woodgrain exceptionally well, providing exquisite entry door design and style without the cost and maintenance issues associated with wood doors.
2. Woodgrain Entry Door with Sidelites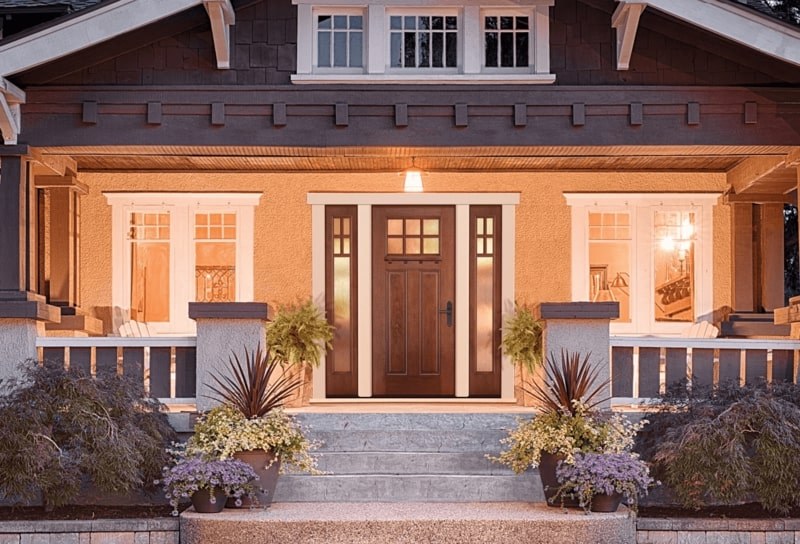 These front entry doors come in colors and stains to emulate any type of wood. Grids on both the panel window and sidelites can add even more style.
3. Classic with Shaped Panel Windows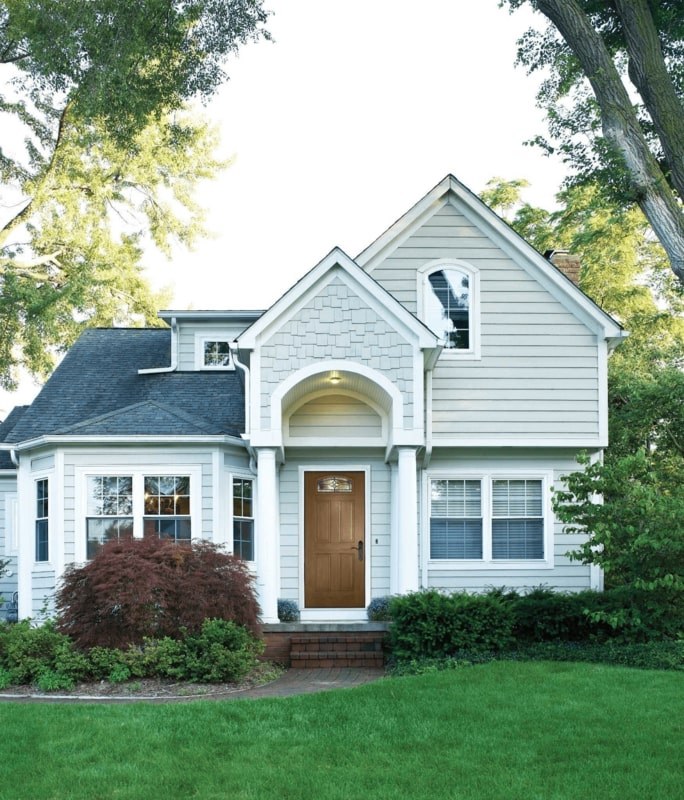 We also make simple entry door designs without sidelites that are extremely stylish due to shaped panel windows with stylish grilles that can be suited to accent any home.
4. Woodgrain with Ornate Grille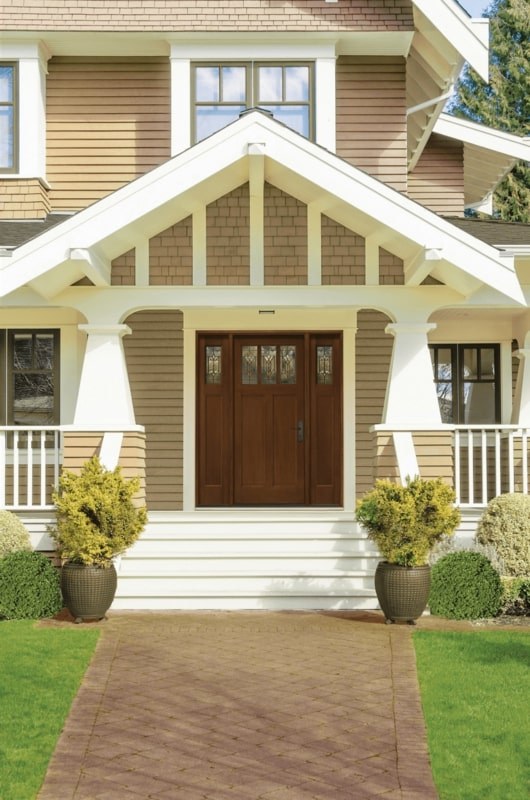 A more ornate grille can be a great choice for doors with sidelites, as these entry door design ideas show. High sidelites and panel windows can provide additional privacy as well.
5. Mixed Panels and Sidelites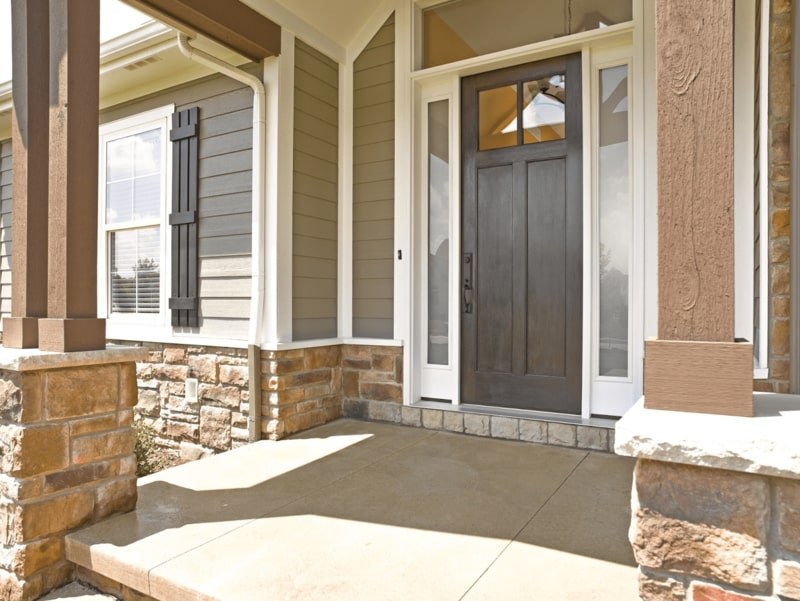 For bolder front entry door designs, you can incorporate mixed panels and sidelites, and alter these two components' style and finish in order to provide a stylish contrast rather than a solid color.
6. Stark Contrast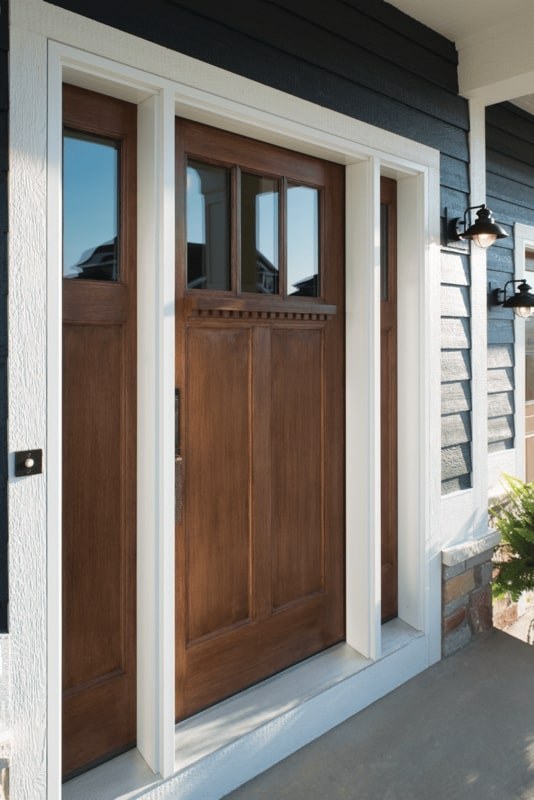 You can also achieve contrast with a stark difference in color for the door and frame. This contrast can serve to highlight the exquisite woodgrain pattern and color of the panel and sidelites.
7. Dramatic Transom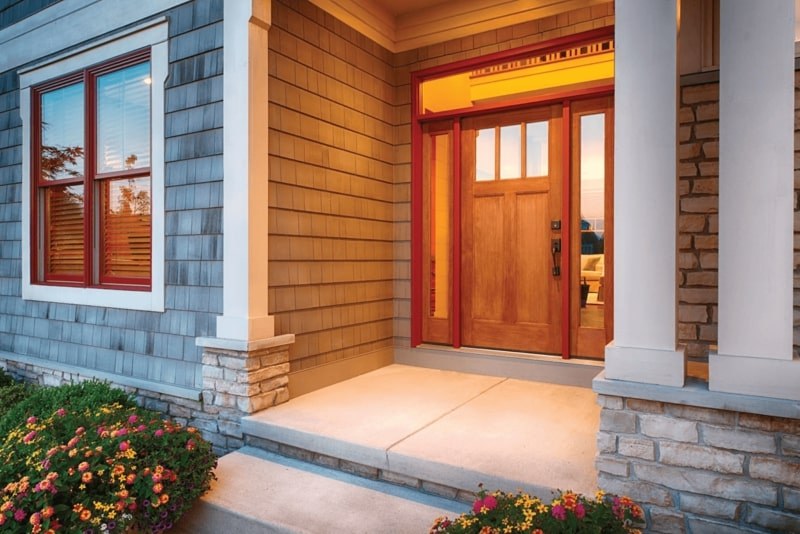 These gorgeous front door designs can be improved with large transoms, which also let in additional light. A transom above your door can be part of your main door design, either plain or with a grille.
8. Multiple Design Elements Combined for a Bold Entry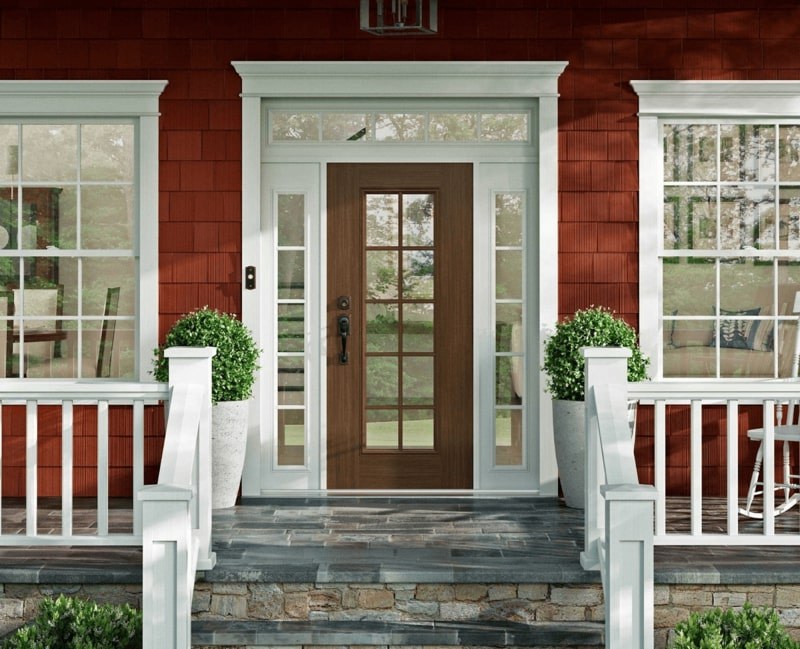 For your entry door design, you can combine all of the essential elements however you would like. A full door, transom, and sidelite combination with matching grilles is certainly an attractive entry door design.
9. Smooth, Painted Entry Doors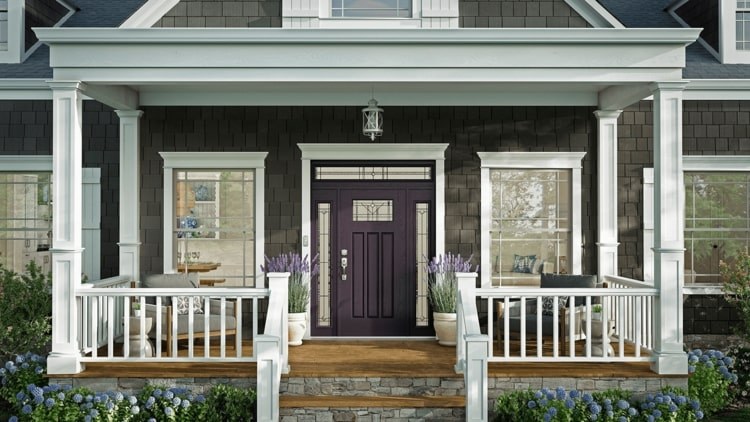 A fiberglass entry door in a subtle blue, grey, or earth tone can go with essentially any siding. You can also match your panel window to your existing windows with a variety of grille styles.
10. Black Front Door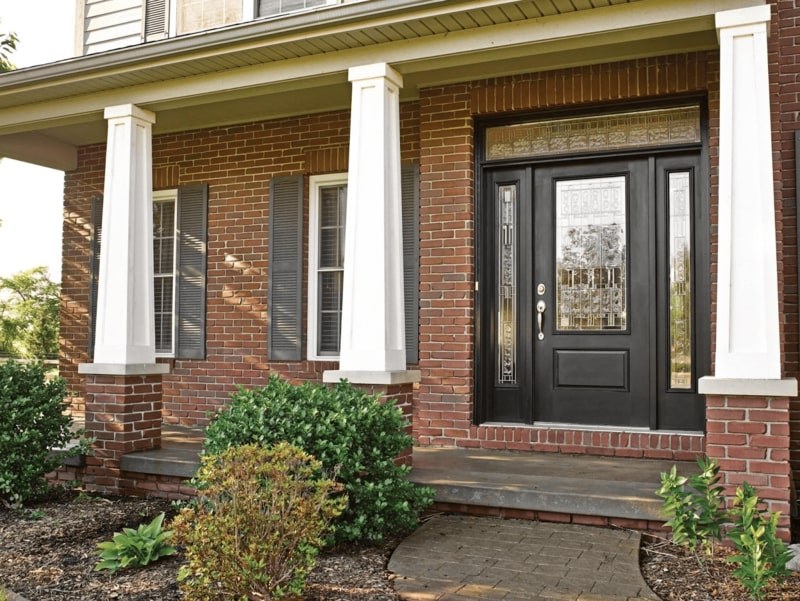 Dark entry door colors can lend prestige, especially when combined with fine hardware and ornate grilles. You can add sophistication to your home with these options.
11. Traditional Entry Door with Matching Shutters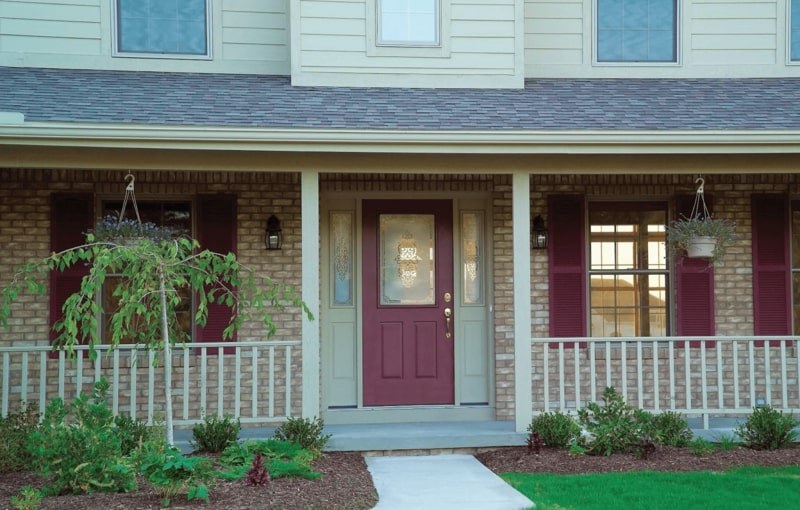 The variety of entry door colors is truly staggering, letting you match sidelites to your siding and the door to your shutters. The entry door design potential is practically limitless with smooth, painted entry doors.
12. Ultra Modern Entry Doors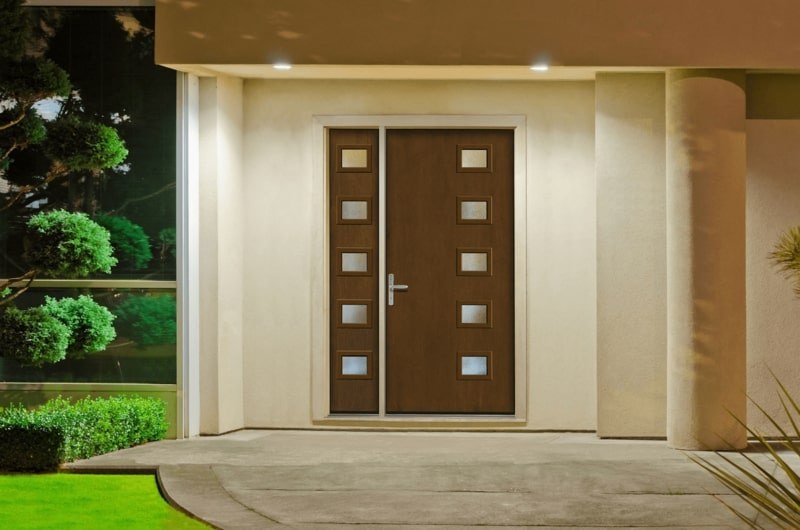 Fiberglass construction allows for any and all shapes to achieve the finest modern entry door designs. Glass shapes in essentially any quantity and configuration can make your entry door design ideas truly unique.
13. Simplified Elegance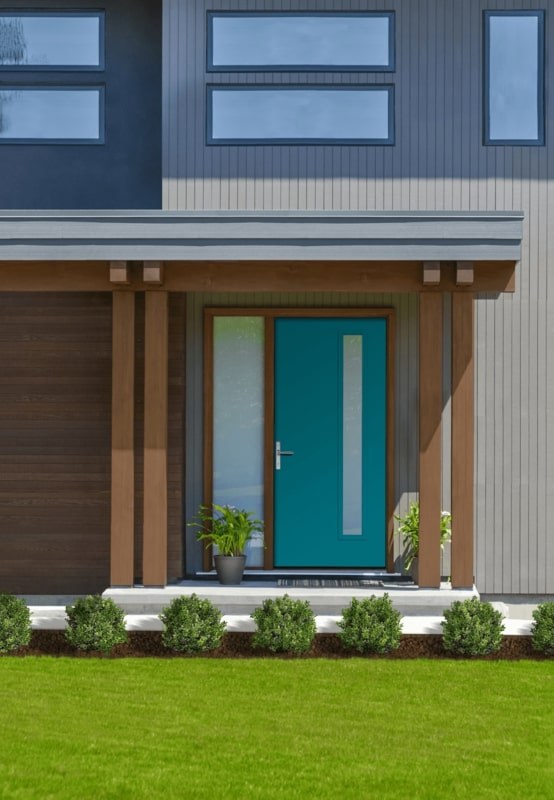 These modern entry door designs can deliver such simplified elegance. A stark vertical window and accompanying full sidelite create a striking entry door design.
14. Windows and a Pop of Color
Of course, the number and configuration of windows in your front door design can be practically anything, such as the unique three-lite design of this entry door design idea.
15. Contrasting Colors and Clean Lines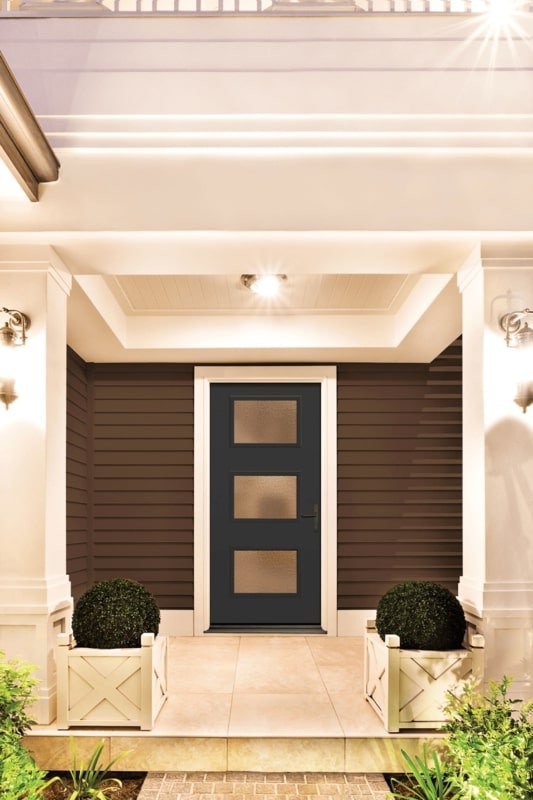 Entry door colors and their variety again take center stage with these modern entry door designs. The variety is nearly endless, and the opportunities for complementary and contrasting designs follow suit.
16. Daring Design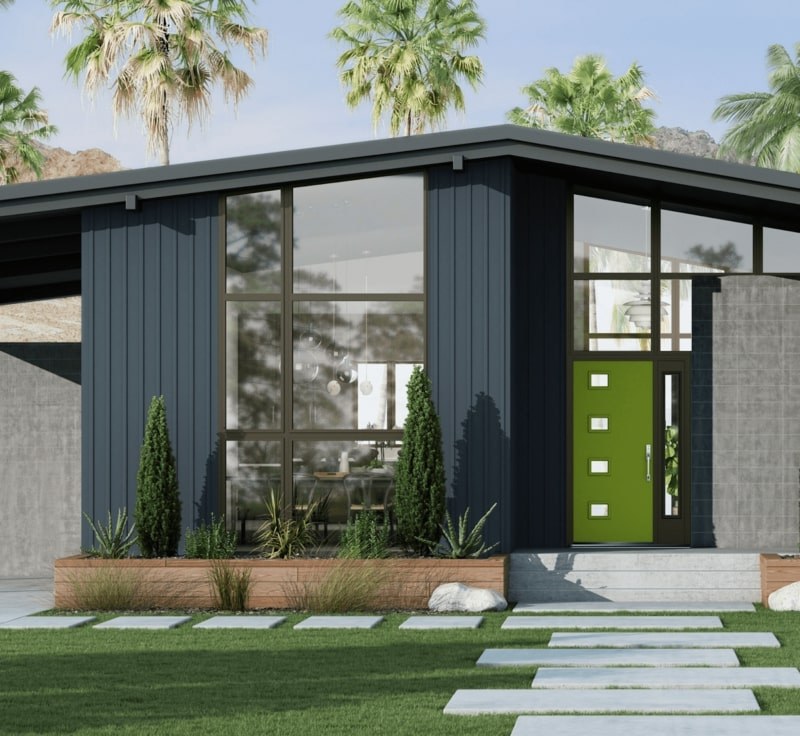 A daring 4-lite panel with the lites arranged off-center can provide additional charm to any modern design, letting the main door design speak for itself when it comes to style.
17. Customized Sidelites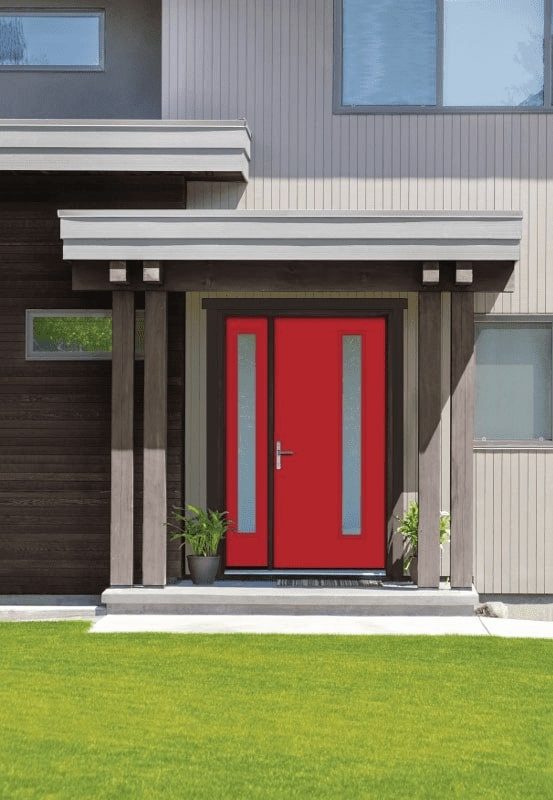 Sidelites are available in many configurations, including a simple full-lite to match the panel. Both can be customized in almost any entry door color, making your home truly unique.
18. Double Entry Doors with Glazed Glass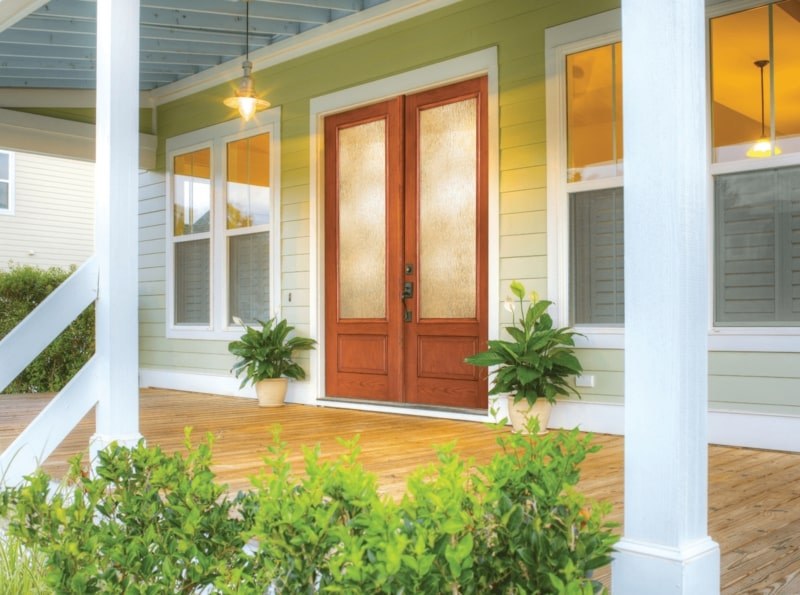 Double entry doors can add a lot to any home. A double entry door design can be simple and elegant, incorporating beautiful woodgrain texturing and large, glazed lites.
19. Double Entry Doors with Ornate Grilles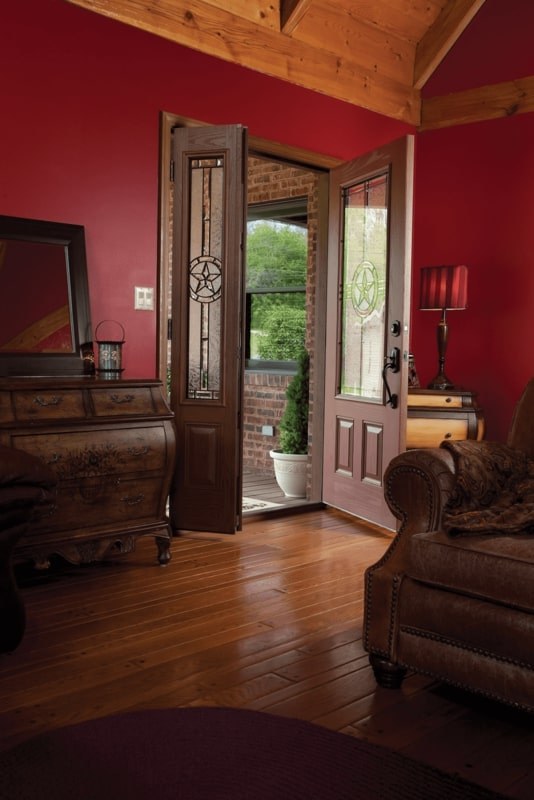 These double entry door designs can also be much more elaborate with intricate grilles to complement any home. The doors can also be asymmetrical, with the sidelite opening as well.
20. Ornate Grille and Full Transom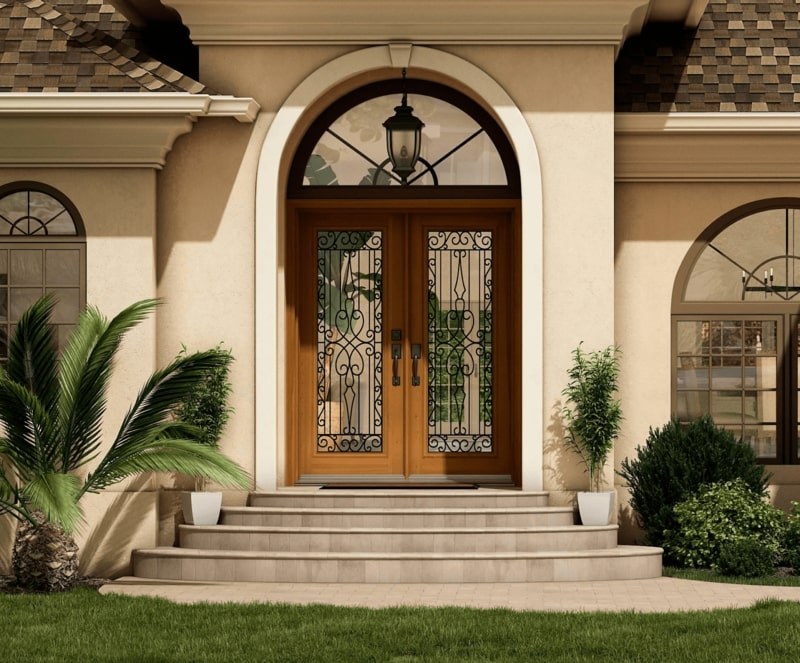 A full transom can add to an entry double door design. Coordinated with the home's windows, the combination of half-round transom, woodgrain texture, and ornate grilles will make any home stand out as the finest in the neighborhood.
Find These Front Door Designs at Window World
Window World has a huge selection of stunning entry door designs. Whether you want simple, smooth, modern doors or more ornate woodgrain or double entry doors, we have you covered.
For custom entry door design ideas, pictures may be hard to find. Window World can generate a preview of any look you can imagine. Find a Window World location near you.
---