Back to Blog
Dirty Little Secrets: How To Design a Combination Mudroom Laundry Room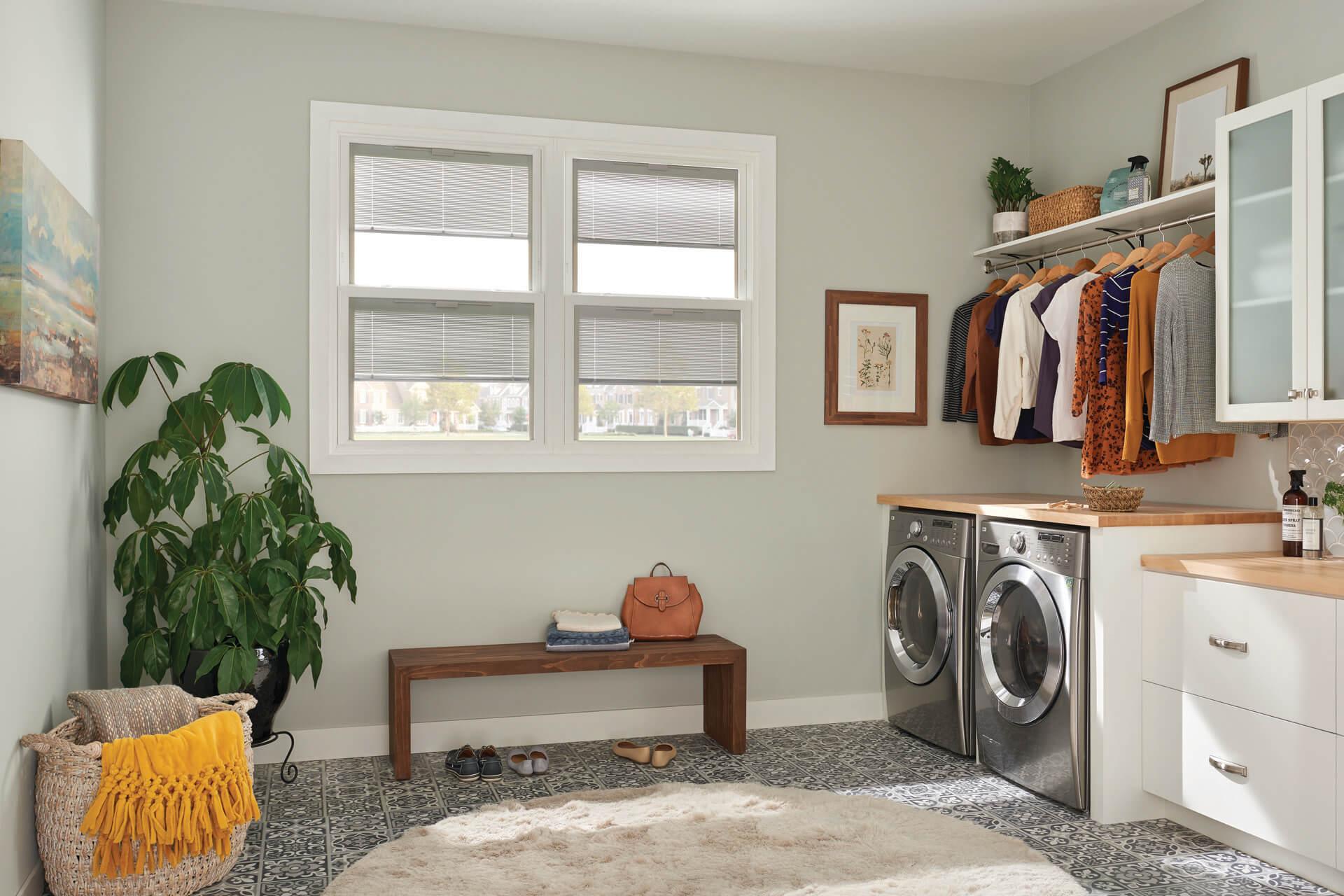 Tips for remodeling the hardest working room in the house.
A laundry mudroom can be a Godsend. It gives us a place to remove muddy clothing and put it straight in the wash — without having to drag it around the house, dirtying up otherwise clean rooms in the process. With the right planning, you can use many of the features of laundry and mudrooms to serve the needs they're intended for — and maybe even a few more! Here are a few design ideas to help make your space work for you.
Tons of storage and cabinetry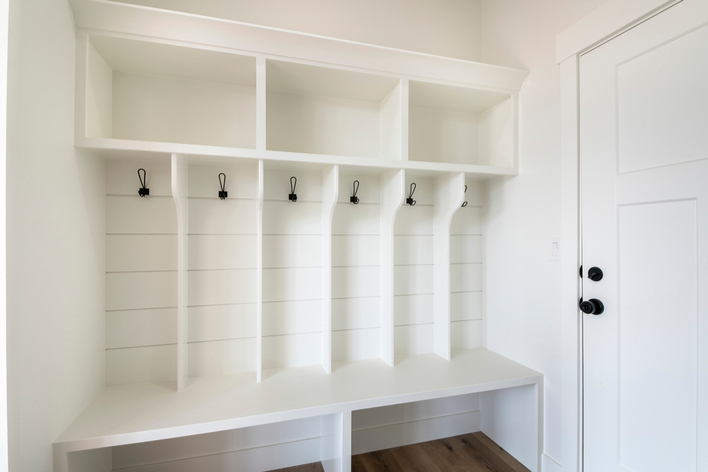 If you can add floor-to-ceiling storage to your mudroom, do it. You may wonder how you'll ever fill it all, but trust us, it'll happen. Naturally, you'll want cabinets and shelves to store laundry products. We recommend storing them on higher shelves to keep them out of reach of small children. You can also find clever laundry room organization features such as pull-out cabinets that work great for dirty clothes hampers!

Use these laundry room storage options to store out-of-season clothing like gloves, hats, boots, flip-flops, shoes, and coats. It's also nice to have a drawer for keys and a charging station for any handheld electronics.
A drop zone for everyone
Adding locker-style cabinetry to your home's mudroom with a bottom drawer and an upper shelf is a great way to keep everything organized for the family. With this type of storage, you can hang up backpacks and coats, put hats on the shelf, and tuck all of your important odds and ends in the drawer below. Plus, locker-style cabinetry makes the things you use most often easy to grab when you're on the go!
Utility/farmhouse/undermounted sink
A utility sink can be a fantastic addition for everyday laundry use and muddy hands (and even the occasional dirty dog). This important water feature makes life much easier by providing a convenient space to deal with impromptu messes. It can also be beneficial because it offers a space to use non-food-safe chemicals such as bleach and stain remover away from your kitchen and where you eat. Even if you only have room for a small bar sink in your laundry room, you'll find it comes in handy every day.
Sunlight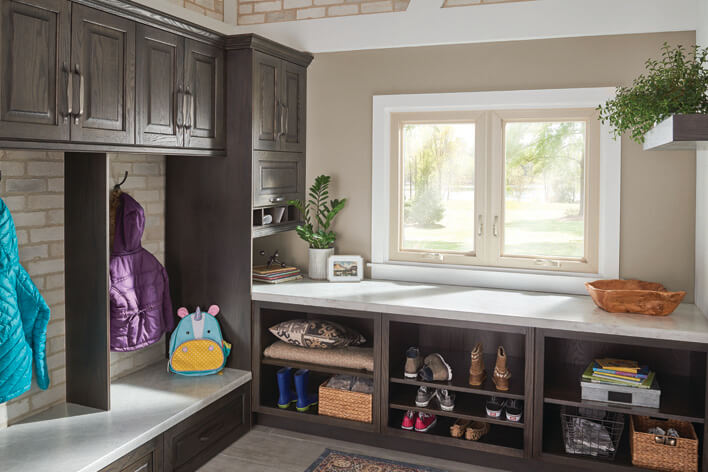 Adding windows and glass doors to your laundry room mudroom can both make the space feel bigger and more cheerful. Not only can they improve your outlook while you wash, but they also let you see exactly where to aim that stain spray. A sliding patio door is a good design option that doesn't take up floor space for a small laundry room. Lastly, adding a sliding glass door or windows that open — such as casement windows — allows you to air out a stuffy laundry room or smelly mudroom with ease.

A place to sit
A padded bench with storage beneath is great for removing boots and shoes, making it one of the best mudroom organization ideas out there. Or, you can use it in your laundry room as a peaceful place to sit and read.
Ironing space
Yes, we all hate ironing. But if you hate wrinkles, it's hard to avoid. A tip for small laundry rooms is to find a wall-mounted ironing board that folds away into its own cabinet. If you have the square footage, remember to leave enough floor space to unfold your board. Be sure it's near an electrical outlet, or better still, buy a rechargeable, cordless iron.
Folding surface
Folding laundry isn't fun, but it's extra challenging if you don't have a flat surface to do it on. If you have a front-loading washer and dryer in your home's laundry room, add a countertop above it to maximize space. You can also add a wall-mounted shelf that folds flush to the wall when not in use (a great design tip for smaller laundry rooms).
Hanging bar and rack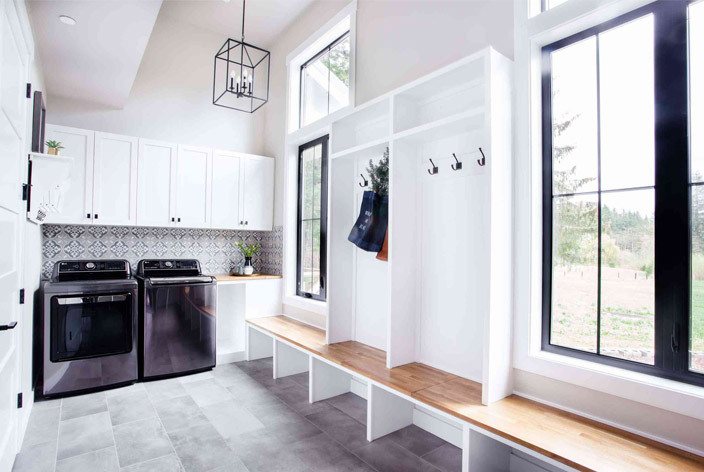 Be sure to include a closet bar and hangers when creating your mudroom. This allows you to hang up laundry from the washer that needs to drip dry. You can also find pull-out drying racks for smaller items like underwear and socks.

Durable flooring
It makes sense to have a weatherproof floor in your mudroom to handle foot traffic coming in from the rain or snow. And waterproof flooring can be doubly beneficial by preventing potential warping that can result from a leaky washing machine. (You may want to put a washing machine drain pan under your washer for added protection.)
Pet wash station
Consider installing a pet wash station. If you have the space, install an edged shower floor and a sprayer hose for bathing Fido. Bonus tip: Include a wall hook for leashing the dog, so it doesn't escape and shake water everywhere. This area could have some versatile use for hosing down muddy boots and children too.
Interior pocket door
Install a pocket door as your interior mudroom door to keep the sound of the washer and dryer from spilling into the kitchen or living room. Pocket doors make great interior sliding doors and won't take any space away from either side of the entry.
Whether you need windows to brighten the laundry room or entryway mudroom ideas, our experts are here. Schedule a free consultation for all your remodeling ideas, including entry doors, garage doors, siding, shutters, and of course, windows. Find the Window World store near you today.
---