Ready to get started?
Window World offers free in-home consultations! Click below to schedule today!
Get started!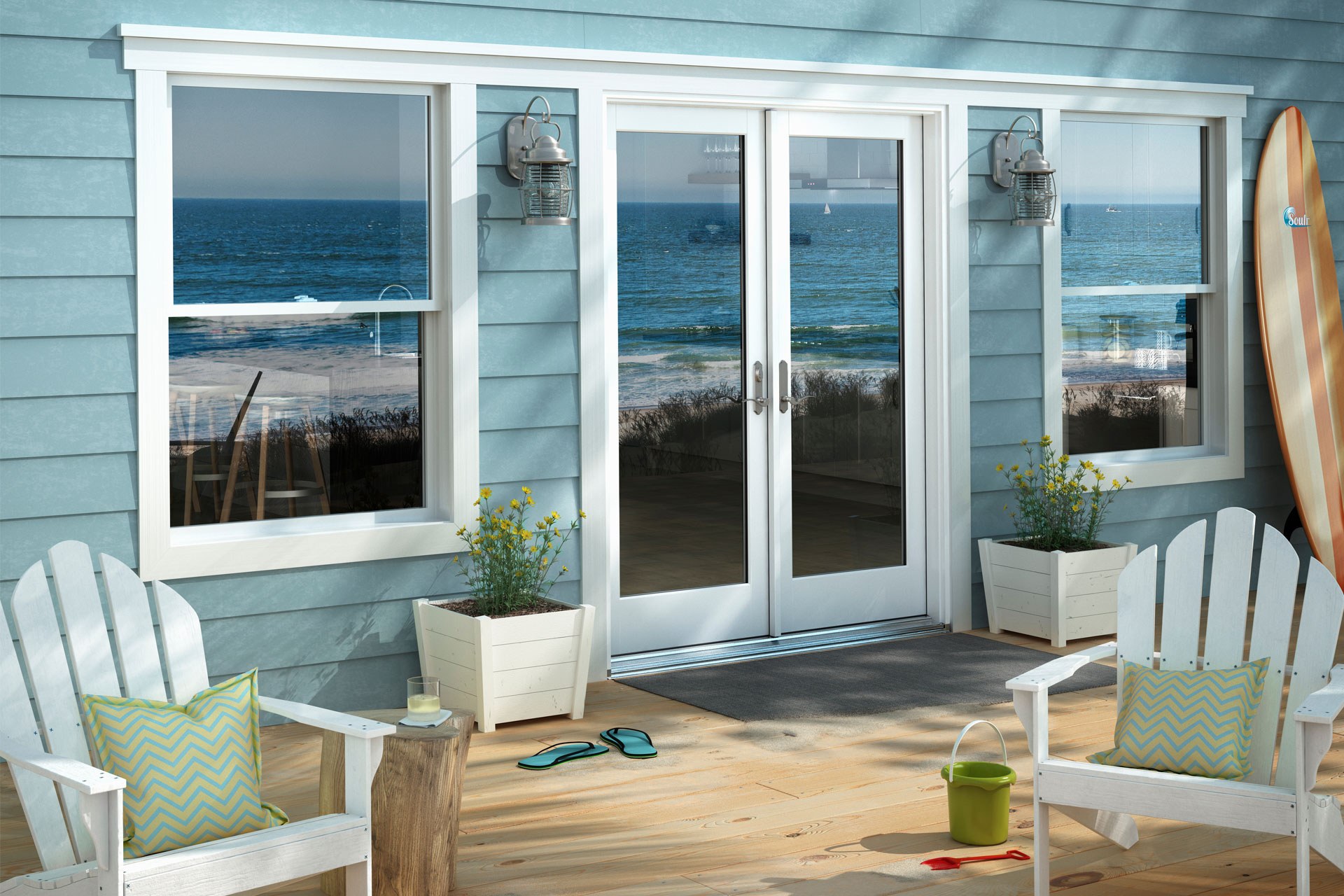 Refreshing ideas that give any home a vacation vibe.
Everyone dreams of owning a beach cottage. Just the thought conjures up ideas of salty breezes through a beach house window, bare feet, the slam of a screen door, and umbrella drinks.
Ahhhh. Yes, we're feeling beachy already.
Some of our favorite aspects of beach home living can also be borrowed to make a land-locked home feel a little more casual and relaxed. Here are six ideas that feel as natural as flip-flops on a hot day.
1) Wide-open windows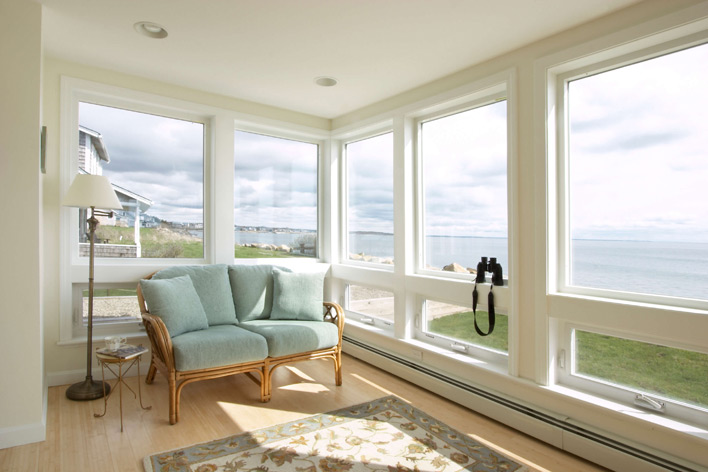 When we say "wide-open," we have two meanings:

First, have as much window space as possible. The view and sunshine are what the beach is all about. Large picture windows with upper transoms to let in additional light; sliding glass doorways opening to decks, patios, and porches; sliding kitchen windows to pass drinks and snacks to friends outside; and acrylic block windows that allow a sunny feel while maintaining privacy in a bathroom are ideas that bring in light and make interiors shine.
Second, make sure your windows are easy to open. If your windows are old and difficult or impossible to open, replacement windows are the cure to let in the fresh air.
Large casement windows crank open easily to give a wide-open feel. You can use a series of casements along a wall for a sunporch ambiance.
Awning windows that open with a top hinge are a great way to let in fresh air while deflecting rain showers. They work well in kitchens or in living rooms below large picture windows to give open-air versatility to a solid glass expanse.
Naturally, beach or coastal homes require windows that can take a beating by the elements. Impact windows are made especially for such conditions. They can stand up to hurricane-force winds and flying debris and protect your dream home from drastic air pressure changes that can do serious damage. Impact-resistant windows and doors are also laminated to prevent shattering. But enough about bad weather.
There are other advantages to the laminated impact glass in windows, too. It filters 99% of UV rays, helping to protect carpet, furniture, and drapes from the sun's damaging effects while adding sound dampening qualities to reduce the noise of traffic or too many happy beach revelers.
2) Easy-care flooring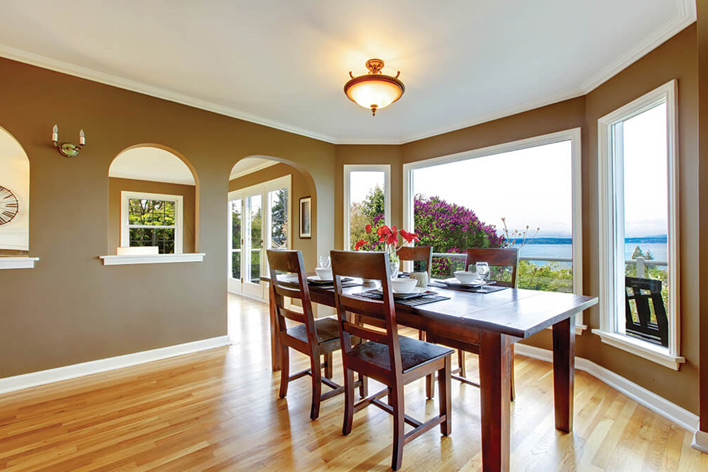 Sandy feet, saltwater, moisture, and humidity can really do a number on any kind of wood flooring or carpet. The last thing you want to do on your beach vacation is worry about wear and tear.

Make sure your flooring is durable and warp-resistant. Today's laminated floors are available in a wide range of styles that look and feel like hardwood or ceramic tile. The surface is incredibly durable, and they resist stains and fading. Of course, ceramic or porcelain tile are other options that lend a cool touch on hot days.
Wall-to-wall carpet is not recommended for beach houses as moisture and humidity will give them a musty odor. But if you love the feel of carpet under your feet, use indoor/outdoor area rugs that are easy to clean or natural fiber rugs like sisal that can stand up to sandy feet.
3) Fade, spill, and stain-resistant slipcovers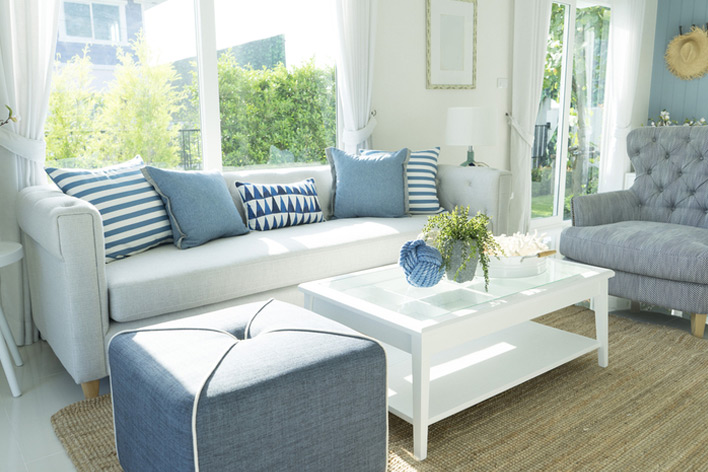 Beach house furniture should be comfy, cozy, and carefree. Select upholstery fabrics that resist stains, or better still, use slipcovers that can be washed occasionally. Light-colored fabrics give an easy, breezy look.

Add bright or patterned throw pillows to your beach house decor. You know they're called "throw pillows" because you should feel comfortable throwing them on the floor for more room on the sofa or for resting your head while watching TV from the ground. Big floor pillows or pouf ottomans are great for extra seating.
Since your beach home has a distinctly indoor/outdoor feel, you might consider using outdoor furniture inside. All-weather wicker designs can be charming and comfortable. They're already designed not to fade, leave watermarks, or scratch while standing up to rough use and wet bathing suits.
4) Light and airy interiors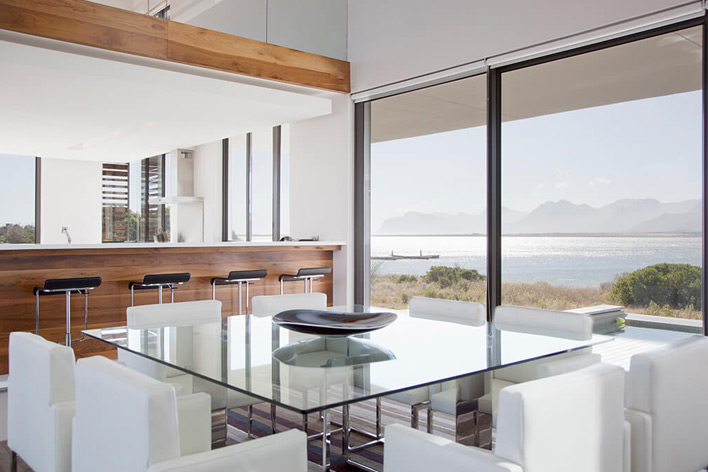 We've already covered the light feeling that comes from having multiple windows, but it's also smart to keep the interior walls light and bright. This helps make small spaces feel bigger and throws focus to the view outside. White or off-white walls give you lots of options to add pops of color, like sea blues and greens, throughout your décor. And painted shiplap is a perfect rustic touch for any beach interior.

5) Unbreakable dining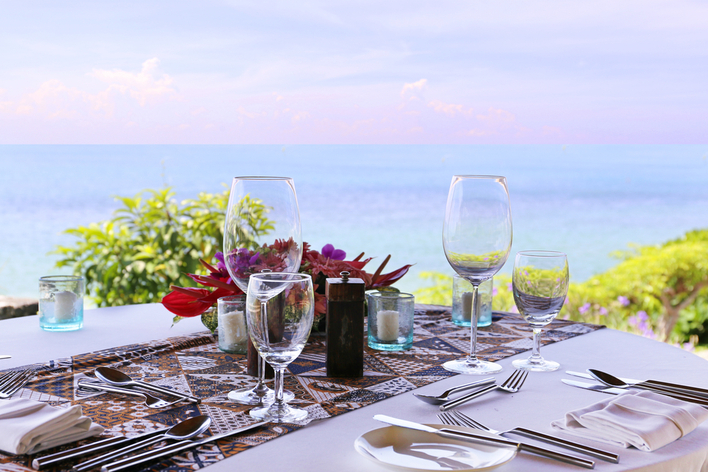 It seems like any fine dinnerware is now available in unbreakable melamine or acrylic versions that defy gravity's destructive effects.
The beach is perfect for alfresco dinners on the deck or pulled from a picnic basket and served directly on the sand. So it only makes sense to invest in unbreakable glasses, plates, pitchers, and serving pieces to use inside and out. Most are microwavable and dishwasher safe. And their durability makes them easy to transport without the worry of breakage.
6) Outdoor shower
It's the ultimate luxury — taking a warm shower outside to rid yourself of sand and salt so that you can step inside squeaky clean and ready for the next adventure. An enclosed shower large enough to hang up towels, get undressed, and wash your hair, all while enjoying the sunshine above, is a valuable vacation home asset. It can be used for bathing pets, packs of sandy kids, and as an extra house shower for visitors.

When you're ready to transform your home with new replacement windows, talk to your friends at Window World. We'll be happy to help you select the best designs that are eye-catching, energy-efficient, and easy to open and clean with a free in-home or virtual consultation. Contact your local Window World store today.
---